Mario Gotze will be staying at Bayern Munich this summer despite rumours linking him to Premier League trio Manchester United, Arsenal and Chelsea.
Gotze's agent Volker Struth sparked various transfer rumours after telling a newspaper that Bayern boss Pep Guardiola had "destroyed" Germany's World Cup final hero.
The 23-year-old started 40 matches last season, scoring 15 goals, but wasn't used in some big games at the end of the campaign and was notably on the bench for the Champions League and German Cup semi-finals.
"Guardiola has destroyed Gotze. He feels like the coach doesn't have faith in him and yet still he is asked to be decisive when he gets on the pitch," Struth told Bild earlier this week.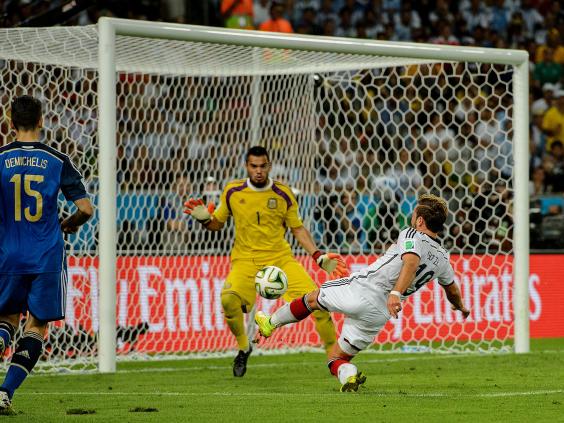 "I'm surprised that Guardiola didn't use Gotze in important matches like the German Cup and Champions League semi-finals. He only plays in the easy games.
"I wonder why no one at the club has realised that and defended Mario. Bayern need a figure like former president Uli Hoeness again."
But the agent stated that despite what he sees as a lack of support, Gotze, who has received criticism for failing to live up to his huge price-tag, did not ever think about leaving the club.
Top 10 sporting moments of 2014 on Twitter
Top 10 sporting moments of 2014 on Twitter
1/10 10. April 9th – Bayern Munich defeat Manchester United in the second leg of their Champions League Quarter Final

The full-time whistle of the Champions League quarter-final second leg saw Manchester United's run in the tournament come to an end. Despite taking the lead, goals from Mario Mandzukic, Thomas Muller and Arjen Robben combined with the 1-1 draw at Old Trafford saw the holder through to the last-four.

Getty Images

2/10 9. May 17th – Arsenal winning the FA cup final against Hull City

Nine years of hurt and desperation poured out on Twitter when Aaron Ramsey completed the 3-2 comeback in extra-time to win the FA Cup for Arsenal. Their trophy drought had become such a burden that fans were calling for Arsene Wenger's head, and when they went two goals behind to Hull the Gunners feared the worst. Luckily for the Arsenal faithful, Santi Cazorla and Laurent Koscielny managed to send the game into extra-time, and Ramsey scored the winner with just 12 minutes remaining to give Wenger his fifth FA Cup success.

AP

3/10 8. April 1st – Manchester United take the lead in their Champions League quarter-final against reigning champions Bayern Munich.

There's not much more surprising than a David Moyes-led Manchester United side taking the lead against Bayern Munich, but when the goal comes from a Patrice Evra thunderbolt, Twitter practically stops. Despite the Frenchman's efforts, it was a case of awakening the giant, and when the full-time whistle rang out 33 minutes later, Bayern had triumphed 3-1 on the night and 4-1 on aggregate. But for Evra, the moment is likely to stand as his best ever goal when he reflects back on his career. And for Moyes? The rest, they say, is history.

Reuters

4/10 7. May 24th – Real Madrid score in the dying seconds to that the Champions League final against Atletico Madrid to extra-time.

The fourth non-World Cup moment to feature on the list came when Real Madrid were on the cusp of coming so near yet so far to La Decima. But up popped Sergio Ramos in injury-time to cancel out Diego Godin's opening header, and soon enough Garteh Bale, Marcelo and Cristiano Ronaldo secured the 4-1 victory in extra-time to see Real finally win their tenth European Cup.

Getty Images

5/10 6. June 13th – Netherlands thrash Spain 5-1 in their opening World Cup group match.

Spain had been simply untouchable when it came to the major tournaments since their run of success began in the 2008 European Championships. However, they hadn't accounted for Arjen Robben and the rest of a pumped up Netherlands side, eager for revenge from their defeat in the World Cup Final four years previous. The Spanish were completely outplayed by the Dutch, and would go on to crash out at the Group Stage in one of the most surprising turns in international football.

AP

6/10 5. June 12th – Croatia score the opening goal of the 2014 World Cup against Brazil.

Is there anything more dramatic than an own-goal from the World Cup hosts in to open the scoring of the entire tournament? Probably not, and unfortunately for Brazilian left-back Marcelo, he will be remembered for putting the Selecao behind in their Group A game against Croatia. Neymar managed to inspire the home side into recovering a 3-1 victory with a brace plus an Oscar penalty, but the own-goal from Marcelo was perhaps a sign for things to come.

Getty Images

7/10 4. July 13th – Germany beat Argentina in the 2014 World Cup Final

Somewhat surprisingly, Germany's World Cup success only made it to fourth place in the list, despite being the biggest football game on the planet. Mario Gotze wrote himself into football folklore as he came off the bench to net an extra-time winner when the match looked certain for penalties. Ending Germany's 24-year wait for a World Cup victory, the team received a rapturous welcome when they returned home, but at least this is one contest they won't be winning.

Getty Images

8/10 3. June 14th – England equalise through Daniel Sturridge in their opening World Cup defeat to Italy

Sturridge got the ball rolling for the Three Lions in Brazil when he tapped home Wayne Rooney's left-footed cross beyond Italian goalkeeper Salvatore Sirigu to level the score. Unfortunately, Mario Balotelli had other ideas as he headed in the winning goal shortly after half-time, but at least Sturridge can claim third place in the most talked about events of the year. Every cloud and all that…

Getty Images

9/10 2. June 19th – Wayne Rooney equalises for England in the 2-1 defeat to Uruguay in the World Cup.

The wait for a Wayne Rooney World Cup goal finally ended this year when the Manchester United striker bundled home an effort to drag England back into the match and back into contention for a last-16 berth. In the end it wasn't to be, as football's favourite villain Luis Suarez scored a late winner to condemn England to near-certain elimination at the first hurdle.

Getty Images

10/10 1. July 8th – Germany beat Brazil 7-1 in the 2014 World Cup semi-final

The complete demolition of World Cup hosts Brazil not only shocked the South American nation (as well as the 11 Germans on the pitch) but the world over. Such was the astonishment that the Selecao, forever a powerhouse of the World Cup, could be dismantled with such ease and in such brutal fashion, it recorded as the most talked about event of the year on Twitter.

GABRIEL BOUYS/AFP/Getty Images
"No. Mario did not even think about that [a summer exit] for a second," he continued. "He is an unbelievably professional footballer who works very hard. Many people don't see that at all.
"I think the evaluation of his two years at Bayern is often incorrect. He played around 50 games each season and won four titles. And you should never forget that he recently became only 23 years old.
"I am convinced: if Mario feels confidence it is easier for him to bring his unbelievable potential on the field. Then he will be one of the best players in the world."
Reuse content