Nicolas Otamendi would be a worthy addition to Manchester United's defence, if a deal for the Valencia centre-back was to be made.
The 27-year-old Argentina international is reportedly keen to clear up his future before 27 July, the date Valencia are set to return to pre-season training. The Spanish club are set on keeping the centre-back, despite the threat of strike, unless a club meet his €50million (£35m) release clause.
Statistics, complied from Squawka, from last season show that should Manchester United boss Louis van Gaal move for the defender, he would be a worthy addition over the four players who were used most regularly last season.
Manchester United in training in Seattle
Manchester United in training in Seattle
1/8 1)

Antonio Valencia and Ander Herrera

Getty Images

2/8 2)

Fitness coach Gary Walker puts Wayne Rooney and Co through their paces

Getty Images

3/8 3)

Phil Jones, Marouane Fellaini and others stretch

Getty Images

4/8 4)

Bastian Schweinsteiger chats to Jesse Lingard

Getty Images

5/8 5)

Louis van Gaal addresses his squad

Getty Images

6/8 6)

Memphis Depay and his new team-mates

Getty Images

7/8 7)

United players on exercise bikes

Getty Images

8/8 8)

Goalkeeper David De Gea in action

Getty Images
Otamendi was more reliable than any of Van Gaal's regular centre-backs, playing 35 matches in La Liga last season. Chris Smalling played 25 games, Marcos Rojo and Phil Jones 22 and Jonny Evans – who wasn't often picked – just 14.
Of course it stands to reason that Otamendi would have more tackles, blocks, interceptions and clearances over the course of a campaign after playing more than a thousand minutes more, but it is his per game averages that prove he is a step above what United currently have.
Playing style and quality of opposition should also not be forgotten, obviously, but looking purely at the numbers the Argentina man is impressive.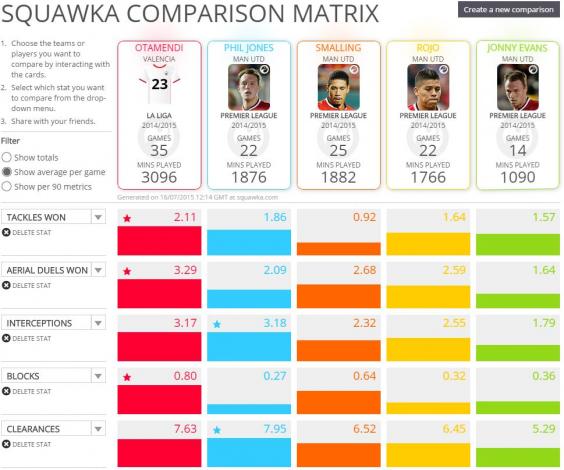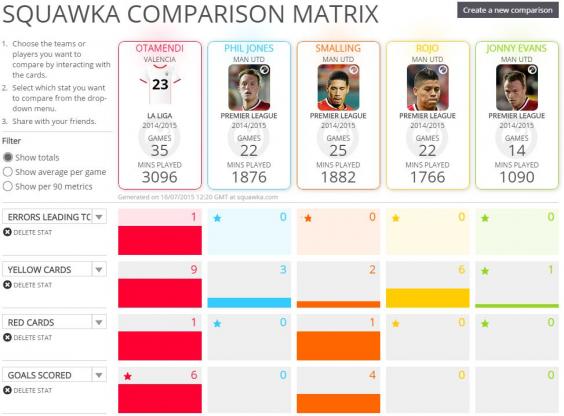 He averaged 2.11 tackles, 3.29 aerial duels and 0.80 blocks per game, all higher than the United quartet, while his average of 3.17 interceptions per game was only better by Phil Jones by 0.01 per game. Jones also averaged 0.32 more clearances than the 7.63 that Otamendi had last season.
There are a couple of instances where Otamendi comes off worse, he had one error that led to a goal – none of the United players made such a mistake – and his disciplinary record was much worse, with nine yellow cards and one red card in La Liga. Marcos Rojo picked up six bookings last term, Jones three and Smalling two bookings and a red.
Otamendi is known as a fiery, aggressive player, but he did play 1,200 minutes more than the others; he averaged 0.26 yellow cards per game, just less than Rojo (0.27).
It may be in the opposition penalty area where Otamendi will prove even more valuable to United. As John Terry has shown for Chelsea, and Nemanja Vidic in his heyday, goalscoring defenders are extremely valuable.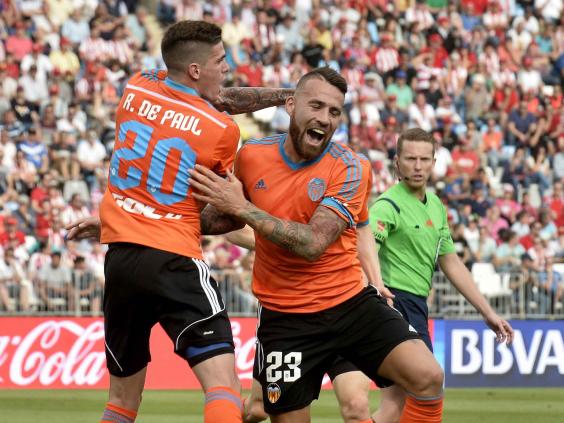 Otamendi scored six goals for Valencia last season, Smalling had four (a career high), while Jones has only scored five goals in his four seasons at the club despite playing in midfield and at full-back at various points. Marcos Rojo had just one goal and Jonny Evans failed to score.
As a further comparison, Otamendi is also better statistically than fellow Manchester United target Sergio Ramos, with better averages in tackles won, aerial duels won, interceptions and clearances.
Ramos also scored two fewer goals and picked up three more yellow cards even though he played 800 fewer minutes than the Valencia man.
Again, the statistics do not tell the full story. Real Madrid play a much more attacking style and are often camped in the opposition half – Ramos does not always have to do as much defending as others.
Statistics from Squawka
Reuse content