No sooner than leaving Manchester United after a dismal season, Radamel Falcao could be on his way back to the Premier League to join champions Chelsea.
Despite scoring just four goals for United – which came at an eye-watering £3.95m each – Falcao is being linked with a move to Chelsea to replace Didier Drogba after the Ivory Coast striker announced he is leaving the club ahead of an expected move to the MLS.
The Telegraph reports that Falcao has emerged as a shock candidate on the Blues radar this summer, though he will have to be prepared to take a large pay cut from his £265,000-a-week wages he receives at Monaco.
Where could Radamel Falcao end up?
Where could Radamel Falcao end up?
1/9 Monaco

His parent club just about managed to squeeze into third place in Ligue 1 this season, securing another year of Champions League football. After paying about €60m for him in 2013 (and only getting 22 matches out of him) Monaco will want to recoup some of that but could find it tough. With no club likely to stump up such a fee, Falcao could be back in red and white soon.

GETTY IMAGES

2/9 Chelsea

Jose Mourinho and Roman Abramovich are long-term admirers of the striker and are actively seeking another striker after Didier Drogba announced his intention to leave for more football. Diego Costa is clearly and Falcao could try and regain his form in a reserve role. He could provide a very useful reserve option when Chelsea look to defend their Premier League title next season.

Getty Images

3/9 Liverpool

Were in the race to sign the striker last summer before he chose a move to Old Trafford. The failings of Liverpool's strikers this season are well documented but with Brendan Rodgers' side not in the Champions League next season it would be hard to attract a player of Falcao's reputation, despite his poor form.

Getty Images

4/9 Real Madrid

The Spanish giants will always be attracted to stellar names, especially the kind with Falcao's reputation who will be a big marketing attraction in South America. Javier Hernandez is making his way back to Manchester United and Real Madrid's next manager will need another option behind Karim Benzema.

5/9 Paris Saint-Germain

One of the few clubs who could spend really big on the Colombian, a possible move is linked with the future of Edinson Cavani. The Uruguayan is reported to be unhappy in Paris and if he goes - Manchester City, Arsenal and Chelsea have been linked - Laurent Blanc will need someone to partner Zlatan Ibrahimovic.

Getty Images

6/9 Manchester City

City look set for an overhaul after a trophyless season, with around 10 players reported to be heading for the exit. Falcao's capture has echoes of Carlos Tevez's move a couple of years ago, but after signing Wilfried Bony to provide back-up for Sergio Aguero, City have priorities elsewhere (or at least they should).

GETTY IMAGES

7/9 Tottenham Hotspur

Harry Kane has enjoyed a breakout season but beyond the young England star options up top for Mauricio Pochettino are very thing. Emmanuel Adebayor and Roberto Soldado should have no future at the club but Kane needs rest - he looked tired at the end of the season and managed just two goals in his final eight matches. Like Liverpool, Spurs are out of the Champions League, but players are attracted to London.

GETTY IMAGES

8/9 Juventus

With two thirds of a treble complete this Juventus side doesn't have any glaring weaknesses but a number of their star players are already being linked with moves away this summer. Falcao is yet to test himself in Italy and should Carlos Tevez return to Argentina would become the figurehead of a new look side.

Getty Images

9/9 Manchester United

They won't, will they? Just because Manchester United turned down his option, don't be surprised if they were looking into a cut-price move. United would be sick if he went on to score bags of goals elsewhere after a season of slowly finding his way back to fitness. Manchester United fans seemed to take to him and Louis van Gaal has praised his effort all season.

GETTY IMAGES
However, it's believed that the Colombia international is so desperate to secure a move to Stamford Bridge and prove that he can cut it in the Premier League that he is prepared to slash his wages, and the fact that Falcao shares his agent Jorge Mendes with Jose Mourinho can only help to secure a move.
Chelsea hold the bargaining power against Falcao given that the PFA Player of the Year Eden Hazard, who has performed to a significantly higher level than Falcao this season, is currently on a £200,000-a-week deal that he signed earlier this season, and any chance of earning more than the Belgian winger would be highly unlikely.
It's still not a given that Mourinho will want to move for the 29-year-old once the transfer window reopens though. The perception is that Falcao's knee injury, which ruled him out of the 2014 World Cup, has clearly had a detrimental effect on his form and while he has not suffered another long-term injury since, there remains doubts over his fitness.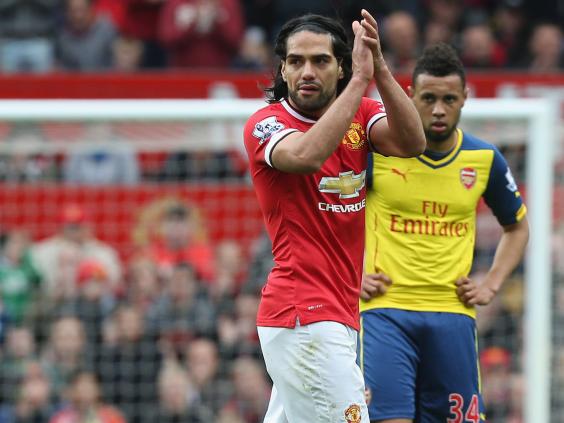 The move could depend on Falcao's performances for his country in this summer's Copa America, though one Chelsea star is already in danger of missing Colombia's campaign after Juan Cuadrado limped out of the final day win over Sunderland.
Reuse content