Chelsea continue to be linked with Radamel Falcao, with Blues boss Jose Mourinho apparently convinced he can resurrect the Colombian's career.
Falcao's troubles at Manchester United are well documented - four goals and four assists - and the club opted against taking up the chance to sign the 29-year-old on a permanent deal.
Taking into account his £6million loan fee and reported wages, Falcao cost United around £25m last season; four goals is not an impressive return.
The striker struggled to find his place under Louis van Gaal and eventually started just 17 matches in all competitions for the club, looking a shadow of the striker who scored more than 150 goals in Europe before arriving at Old Trafford.
Where could Radamel Falcao end up?
Where could Radamel Falcao end up?
1/9 Monaco

His parent club just about managed to squeeze into third place in Ligue 1 this season, securing another year of Champions League football. After paying about €60m for him in 2013 (and only getting 22 matches out of him) Monaco will want to recoup some of that but could find it tough. With no club likely to stump up such a fee, Falcao could be back in red and white soon.

GETTY IMAGES

2/9 Chelsea

Jose Mourinho and Roman Abramovich are long-term admirers of the striker and are actively seeking another striker after Didier Drogba announced his intention to leave for more football. Diego Costa is clearly and Falcao could try and regain his form in a reserve role. He could provide a very useful reserve option when Chelsea look to defend their Premier League title next season.

Getty Images

3/9 Liverpool

Were in the race to sign the striker last summer before he chose a move to Old Trafford. The failings of Liverpool's strikers this season are well documented but with Brendan Rodgers' side not in the Champions League next season it would be hard to attract a player of Falcao's reputation, despite his poor form.

Getty Images

4/9 Real Madrid

The Spanish giants will always be attracted to stellar names, especially the kind with Falcao's reputation who will be a big marketing attraction in South America. Javier Hernandez is making his way back to Manchester United and Real Madrid's next manager will need another option behind Karim Benzema.

5/9 Paris Saint-Germain

One of the few clubs who could spend really big on the Colombian, a possible move is linked with the future of Edinson Cavani. The Uruguayan is reported to be unhappy in Paris and if he goes - Manchester City, Arsenal and Chelsea have been linked - Laurent Blanc will need someone to partner Zlatan Ibrahimovic.

Getty Images

6/9 Manchester City

City look set for an overhaul after a trophyless season, with around 10 players reported to be heading for the exit. Falcao's capture has echoes of Carlos Tevez's move a couple of years ago, but after signing Wilfried Bony to provide back-up for Sergio Aguero, City have priorities elsewhere (or at least they should).

GETTY IMAGES

7/9 Tottenham Hotspur

Harry Kane has enjoyed a breakout season but beyond the young England star options up top for Mauricio Pochettino are very thing. Emmanuel Adebayor and Roberto Soldado should have no future at the club but Kane needs rest - he looked tired at the end of the season and managed just two goals in his final eight matches. Like Liverpool, Spurs are out of the Champions League, but players are attracted to London.

GETTY IMAGES

8/9 Juventus

With two thirds of a treble complete this Juventus side doesn't have any glaring weaknesses but a number of their star players are already being linked with moves away this summer. Falcao is yet to test himself in Italy and should Carlos Tevez return to Argentina would become the figurehead of a new look side.

Getty Images

9/9 Manchester United

They won't, will they? Just because Manchester United turned down his option, don't be surprised if they were looking into a cut-price move. United would be sick if he went on to score bags of goals elsewhere after a season of slowly finding his way back to fitness. Manchester United fans seemed to take to him and Louis van Gaal has praised his effort all season.

GETTY IMAGES
But with Falcao apparently willing to take a pay cut, Monaco happy to accept another loan move and Didier Drogba not at the club next season, the Colombian appears to tick all the boxes to be a decent option for Chelsea next season - if he can find his goalscoring form.
Statistics from last season (via Squawka) show that Falcao actually compares pretty decently to Chelsea's strikers, except where it truly matters for a striker.
Mourinho will be hoping that a season in England to acclimatise to the style and speed of the Premier League, plus a relatively injury-free year, will be able to see Falcao return to what he does best, score goals.
BUILD-UP PLAY
In terms of his build-up play, Falcao has been decent. He has a higher pass completion percentage than Chelsea's trio of strikers last season (86 per cent), and had more assists (four), than Diego Costa, Loic Remy and Didier Drogba combined (three).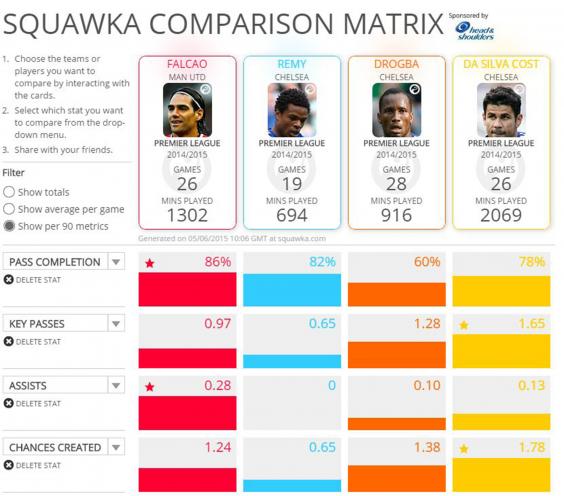 He did average the fewest total passes of the four players per 90mins, 27.30 (finding the mark with 23.50), almost four fewer than Drogba (31.05).
Falcao also created 1.24 chances per 90 minutes, more than Remy but fewer than Drogba and Costa; the Colombian also averaged fewer key passes than that pair. Drogba and Costa were expected to play in roles slightly different to Falcao, who is usually on the shoulder of the last man, rather than a target man expected to bring others into play.
If he were to arrive at Stamford Bridge he would likely be expected to play as a lone striker in Mourinho's 4-2-3-1 system rather. He rarely did that under Louis van Gaal, but he has done it in the past and there are some encouraging signs that he could play that role again.
Falcao is a pretty hard worker as well and covered an average distance of around 10.9km per game last season, above the norm for a Premier League player. Anything over 11km puts a player in the top 15 in the division, with the top five players above about 11.4km.
By way of comparison Costa averaged around 10km per 90 in Chelsea's Champions League campaign.
CONTESTING
One thing is clear - don't play the ball long to Falcao and expect success. Standing at 5ft 10in, the Colombian has a decent record at scoring headed goals but he is not one to bring the ball down or flick it on.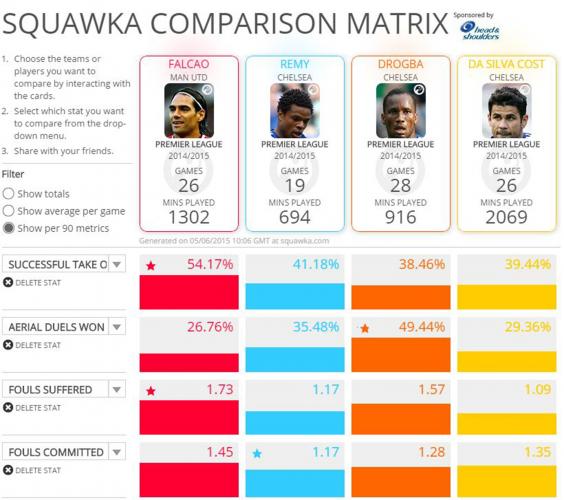 He won just 26.76 of his aerial duels last season (19 in total), way below expert target man Drogba, who won just shy of half (49.44 per cent, 44 in total).
However, Falcao was better at 'take ons' (dribbling round players), than any of the Chelsea trio, finding success 54.17 per cent of the time, plus he suffered more fouls per 90minutes (1.73) than the Chelsea strikers.
His frustration last season often boiled over, leading to him committing 1.45 fouls per 90, more than even the famously short-tempered Costa (1.35).
DEFENSIVELY
Costa and especially Drogba have long won praise for their work as additional defenders when Chelsea are defending corners and free-kicks.
Falcao isn't the best defender to have around, averaging 0.69 clearances compared to Drogba's 1.18, but he did win the ball back 0.48 times per 90, way ahead of the other three and trailed only Drogba in the number of blocks he made.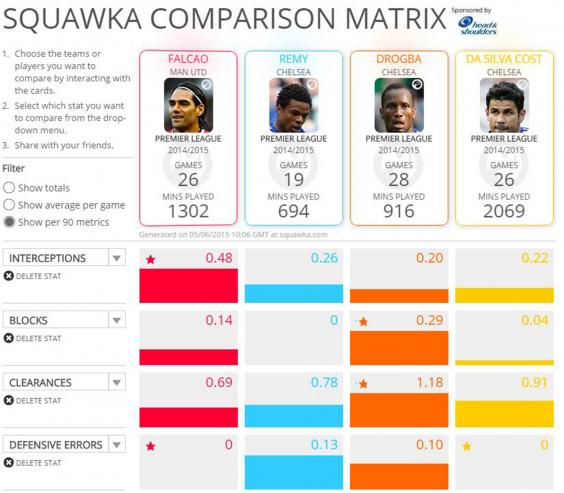 IN FRONT OF GOAL
This is where the statistics start to turn against Falcao. Not only did he score fewer goals than each of the other three, he also took many fewer shots and his accuracy with those shots was only worsened by Drogba.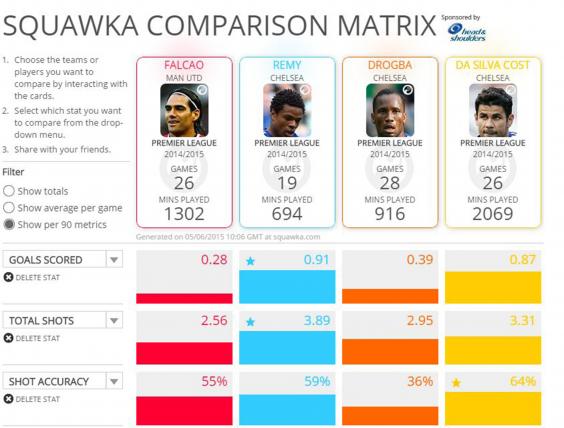 He took 37 shots (producing just four goals) in his 1,302 Premier League minutes - just 2.56 per game - trailing Remy by more than a whole shot per 90 minutes.
Falcao got 55 per cent of his shots on target, ahead of only Drogba. Costa, one of the deadliest strikers in the League last season, had a whopping 76 shots in total, 64 per cent on target, on his way to 20 goals.
--
In summary, it is obvious where Falcao fell down at Manchester United - when he actually has to put the ball in the net.
But Falcao has shown just about enough in the rest of his game that a calculated gamble for the Blues seems like good business. They need a third striker after the loss of Drogba and the Colombian could be a cheap, low-risk option to replace the veteran - the other route seems to be to target the likes of Gonzalo Higuain or Christian Benteke for around £25-£30m, a lot of money for a back-up when Diego Costa is the undisputed first choice.
It's a big 'if' but the Blues will be hoping Falcao can rediscover his confidence and goalscoring touch.
Reuse content