Khaldoon al-Mubarak, the Manchester City chairman, last night signalled the club's intent to be a huge presence in the summer transfer market, competing "head to head" with Europe's biggest sides to become equipped for "the next level", with Raheem Sterling, Kevin De Bruyne and Paul Pogba in their sights.
In a marked shift in tone from last summer, when City were hemmed in financially by their punishment for failing to meet Uefa's financial fair play regulations, Mubarak said the club would be bringing in "high-quality individuals". He made no secret of the scale of disappointment at a trophy-less season – "I think to end the season empty-handed: this is not what we have built here," he observed – but said that City were capable of challenging the continent's best clubs for the best players.
City's capacity to spend is expected to be dramatically increased by the relaxation in FFP rules, which the club have been at the forefront of lobbying for and which will be announced by Uefa within three weeks. It would be a "hot" and "huge" summer market in which City would be aggressive players, Mubarak said.
The 13 Manchester City players under threat from the axe
The 13 Manchester City players under threat from the axe
1/11 Yaya Toure

Getty Images

2/11 Samir Nasri

Samir Nasri cushions the ball down

Getty Images

3/11 Pablo Zabaleta

Pablo Zabaleta vies for the ball with Philippe Coutinho

Getty Images

4/11 James Milner

Getty Images

5/11 Edin Dzeko

Edin Dzeko only managed four minutes against QPR

Getty Images

6/11 Martin Demichelis

Reuters

7/11 Bacary Sagna

AP

8/11 Stevan Jovetic

Getty Images

9/11 Aleksandar Kolarov

Getty Images

10/11 Fernando

Albert Adomah of Middlesbrough chases Fernando of Manchester City as he underhits a backpass

Getty Images

11/11 Micah Richards

Liverpool bound? Micah Richards is one English player who may leave City

Getty
Though the looser FFP system is not a blank cheque to spend, Sterling is a hugely attractive prospect, given City's lack of home-grown players, even if as expected Liverpool demand a price in the region of £50m. L'Equipe yesterday said that City are waiting for the all-clear to spend before seeking to entice Pogba on a salary of £12m a year. The club would not stand in striker Edin Dzeko's way if a competitive bid came in, though Liverpool's initial inquiry has not been firmed up into serious interest and there is no desire to see him leave.
"We have created a nucleus and we want to preserve that nucleus, but at the same time, we want to go to the next level and a squad that has the capability and quality to win the Premier League and compete in and win the Champions League and go all the way in two cup competitions in England," Mubarak said.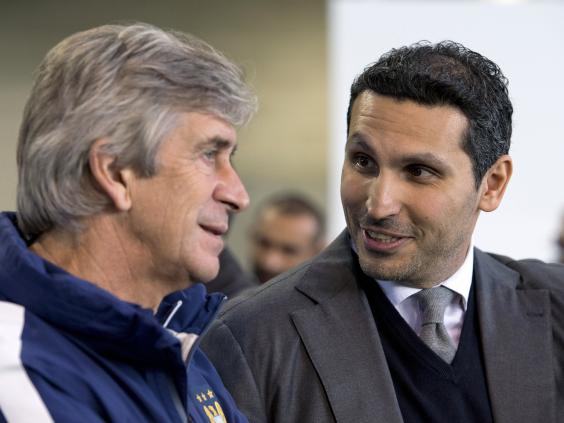 "You will see some changes. Some players who have served us well, but they will move on to the next challenges, while you will see us in the market bringing high-quality individuals to fit in with what we are aspiring to coming in this summer," he told cityTV.
"We're definitely in a different competitive position [from the one we inherited]. We're a club players want to come to play for, we're an institution today, we can compete head to head with all the top clubs and players look at the track record of Manchester City over the last couple of years, they look at the CFA [academy], the facilities we have, the infrastructure, the people we have in terms of management and coaches and the environment we have created in  Manchester.
"We're a very attractive proposition. So we can go right now and compete head to head and have a valued proposition that is attractive for players .
"I think this year also will be an aggressive market. You have a lot of movement that you're seeing right now. I expect it will be a huge market this summer from what I have heard and sensed so far and we haven't even started."
Reuse content