With Robin van Persie's future far from certain, Manchester United fans are seemingly ready to see the back of the £24m signing.
The Netherlands international has just a year remaining on his contract and could well depart the club this summer.
The 31-year-old has stated himself that he may not remain at Old Trafford beyond this summer, suggesting that the biggest factor for him is the wishes of his family.
Meanwhile, his former Netherlands team-mate Pierre van Hooijdonk has claimed that Manchester United have been secretly offering the former Arsenal player for sale.
With Van Persie's future uncertain, a poll run by 90mins suggests that Manchester United fans are ready to see him leave.
Asking whether they would rather see Van Persie, Adnan Januzaj, Javier Hernandez or Rafael leave the club, 49 per cent of the near 30,000 respondents picked the Dutch striker.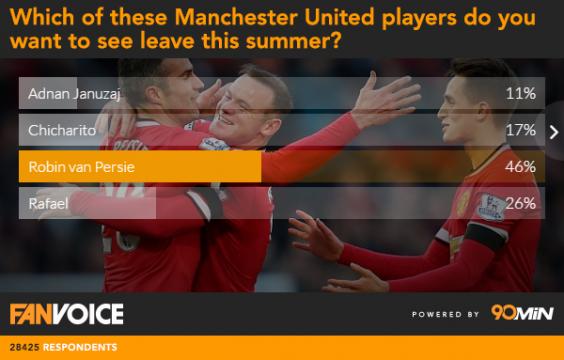 Of the options, Januzaj was the player they would least like to see depart.
Reuse content