Sergio Ramos has been strongly linked with a move to Manchester United this week, unhappy with his lot at Real Madrid.
The Spanish giants value Ramos at around €65million (£46.5m) with Manchester United hoping to make David De Gea, a Real Madrid target, as part of the deal.
Ramos, who is reported to be learning English, is unhappy with the club because he feels he is underpaid and after no one from the hierarchy moved to deny a report that linked him with a move to bitter rivals Barcelona.
Football's dirtiest players - the contenders
Football's dirtiest players - the contenders
1/7 Diego Costa

In addition to his two stamps against Liverpool, the Chelsea striker picked up 10 bookings in all competitions last season. For a defender that might not be a terrible record but for a striker who doesn't strictly need to make many tackles, it's shocking. The chants of 'Diego, Diego' from Chelsea fans just seem to spur him on.

Getty Images

2/7 Pepe

The Real Madrid man has built a career on being a no-nonsense defender. When he appeared to stamp on the hand of Lionel Messi during El Classico in 2012 he took it a bit far. He didn't do his side any favours in the 2010/11 Champions League semi-final either when he managed to get sent off during their defeat to great rivals Barcelona.

GETTY IMAGES

3/7 Sergio Ramos

Real Madrid have not one but two contenders for dirtiest player in the land. Ramos is a great talent, no doubt about it. But he's also an absolute liability. During the course of his career he's seen a stunning 19 red cards (although he didn't get sent off at all last season). To put that in context, that's more than Roy Keane (7) and Patrick Vieira (8) saw in the Premier League combined.

Getty Images

4/7 Luis Suarez

The Barcelona forward picks up bookings and red cards, but he also bites opponents (as Branislav Ivanovic, Giorgio Chiellini and Otman Bakkal can testify) and flips the bird at supporters that give him stick. A real contender.

5/7 Sergio Busquets

However, Suarez might not even be the baddest man at the Nou Camp. Busquets has been a central player in Barcelona's brilliant team over recent years but whilst the rest are playing tiki-taka, the midfielder can usually be found kicking opponents in the shin. He once stood on the head of Pepe, regularly dives and was accused of calling Marcelo a "monkey".

Reuters

6/7 Philippe Mexes

If Mexes already had a reputation as a bad boy on the pitch he confirmed it just this weekend when he grabbed Lazio captain Stefano Mauri by the throat, an incident that earned him a four-match ban.

GETTY IMAGES

7/7 Joey Barton

Whilst the QPR midfielder parades as a reformed character more interested in philosophy than fighting, there remains a sense that trouble is never far from Barton. Away from the pitch he has stubbed a cigar into the eye of a young team-mate and been sent to prison for assault and affray for an incident in Liverpool city centre. Meanwhile he's been banned numerous times for on-field offences and most notably for 12 games for a training ground incident involving Ousmane Dabo in which he left his team-mate unconscious.
It could all be a bluff for Ramos to negotiate better contract terms - much like Dani Alves being linked to Old Trafford last month - but United are now confident as there is not a strong sense Real Madrid want to keep the experienced international.
Ramos is regarded as one of the world's premier centre-backs. At 29 he has spent 10 years as a first choice for both Spain and Real Madrid, winning three Spanish titles, the Copa del Rey twice, the Club World Cup and the Champions League.
He has been a key member of Vicente Del Bosque's international side, helping Spain become the most dominant team in the world between 2008 and 2012, where they won two European Championships and the World Cup.
But Ramos has a serious weakness in his game, one that could cost him if he was to arrive in the Premier League next season; his short fuse.
The defender has a well documented and lengthy rap sheet on the field, which includes being sent off more times than any player in Real Madrid history.
His red card total stands at a whopping 19, and while he managed to control his temper last season, avoiding red in a season for the first time since 2004-05, he made up for that by being booked a massive 22 times in all competitions for Real (plus once for Spain).
In his 445 Real Madrid games, along with his 19 dismissals Ramos has been booked a total of 157 times, approximately once every 2.8 matches. In comparison Gareth Barry, the most booked player ever in the Premier League, has picked up 105 yellow cards in 562 league matches, one every 5.3 games.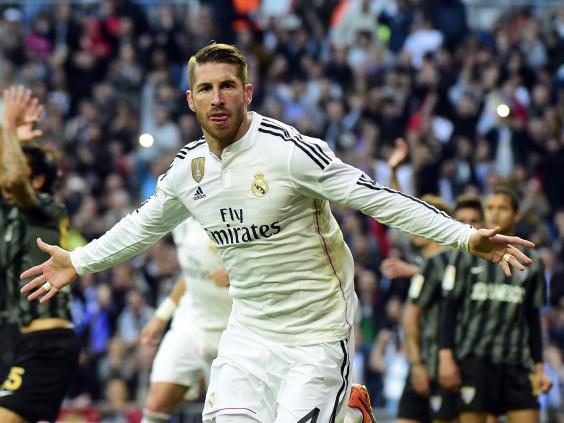 Seven of Ramos' 19 red cards have been straight dismissals and the remaining 12 for a second yellow.
Last season, Ramos got 12 La Liga yellow cards, a mark that would have only been beaten by Sunderland midfielder Lee Cattermole, who got booked 14 times in his 28 matches.
Ramos would have almost tripled the amount of bookings of Manchester United's dirtiest player - Ander Herrera was booked a total of eight times last season, with six in the Premier League and two in the FA Cup.
Under Premier League rules Ramos would have only missed one match because of yellow cards, as his last three cards came after the cut off point (the second Sunday of April) that would produce a two-match suspension.
But in since his professional debut in 2004, Ramos has played 622 competitive matches for Sevilla, Real Madrid and Spain and picked up a total of 188 yellow cards and 19 red cards.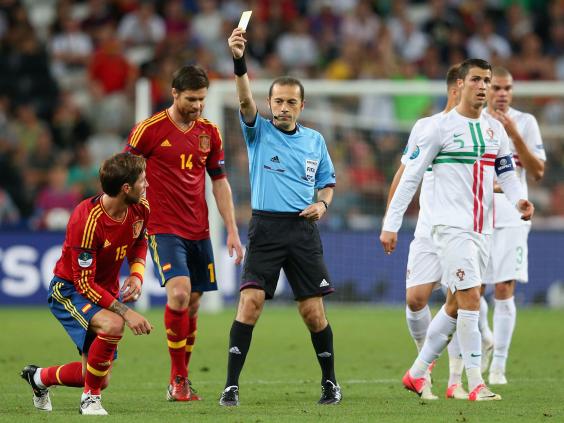 Ramos does have a major strength that makes him all the more valuable as a defender - he loves scoring goals.
John Terry is regarded as the most prolific goalscoring defender on these shores in recent years, with 62 goals in 670, a record of one every 10.8 matches. Terry also scored six goals in 78 matches for England.
Ramos' record is as good as you can find. He averages a goal every eight games for Real Madrid, with 55 in just 445 matches, with another 10 in 128 international matches.
--
RAMOS' RECORD
Real Madrid total: 157 yellows, 19 reds - 445 apps (55 goals)
Spain: 16 yellows, 0 red - 128 caps (10 goals)
Sevilla: 15 yellows, 0 red - 49 apps (3 goals)
Career total: 188 yellows, 19 reds - 622 matches
Reuse content