Liverpool made no attempt to keep Steven Gerrard at Anfield by offering him a coaching role at the club, while his manager, Brendan Rodgers, denied on Saturday that the club captain's decision to leave had been prompted by a disastrous climax to a dire year in 2014.
Within the space of a few months Gerrard saw a wildly romantic bid for a first Premier League title disintegrate, led England to their worst-ever World Cup performance, and Liverpool's return to the Champions League fell flat. When he resigned the England captaincy and retired from international duty after the squad's return from Brazil, Gerrard, 34, had spoken of spending another two or three years at Liverpool.
However, Rodgers, speaking for the first time since Gerrard announced his decision to reject a new contract – and on the day he confirmed he would finish his playing career in Major League Soccer in the United States – said that those disappointments had little to do with what Gerrard had called "the hardest decision of my life".
Steven Gerrard in pictures
Steven Gerrard in pictures
1/11 England Under-21s

Steven Gerrard of England celebrates his 13th minute strike during the England v Luxembourg European 2000 Under-21 Qualifying match at the Madejski Stadium, Reading, England. The match finished in a 5-0 win for England

Getty Images

2/11 England 5 Germany 1

Gerrard celebrates his goal in the 5-1 win over Germany, one of his England highlights

Getty

3/11 Euro 2004 qualifiers

Gerrard celebrates after scoring the equaliser during the Euro 2004 European Championships Group 7 against Macedonia at St Mary's Stadium in Southampton, England

Getty Images

4/11 2006 World Cup qualifiers

Gerrard celebrates with Michael Owen during the FIFA World Cup 2006 group six qualification after scoring against Austria in Vienna

EPA

5/11 Beckham and Gerrard

David Beckham and Gerrard in England colours together. The pair were at the heart of England's 'golden generation'

Getty Images

6/11 Beckham and Gerrard

And now Gerrard could follow Beckham in a move to the MLS and LA Galaxy

GETTY

7/11 Champions League success 2005

Gerrard captained Liverpool to their famous penalty shootout European Cup victory in 2005

Getty

8/11 England Player of the Year

Gerrard was named England player of the year in 2013

AFP

9/11 2014 World Cup

Gerrard captained his country to the 2014 Fifa World Cup in Brazil last summer

AP

10/11 An early exit

But was unable to prevent defeats to Italy and Uruguay that paved the way to England's early exit from the tournament

Getty Images

11/11 International retirement

Gerrard would go on to announce his international retirement after the ill-fated trip to Brazil

Getty Images
Rodgers said: "I can only talk about the conversations I've had with Steven, and he has never felt unhappy. I have not been party to whatever has gone on between the club and his agents but I still wanted Steven to be a party to what I was doing at the club.
"But it went on and on and nothing was agreed, and the closer you get to January, a player who is in the last year of his contract is not going to rush into things because he can speak to other clubs. Any player would do that. It gave Steven more thinking time."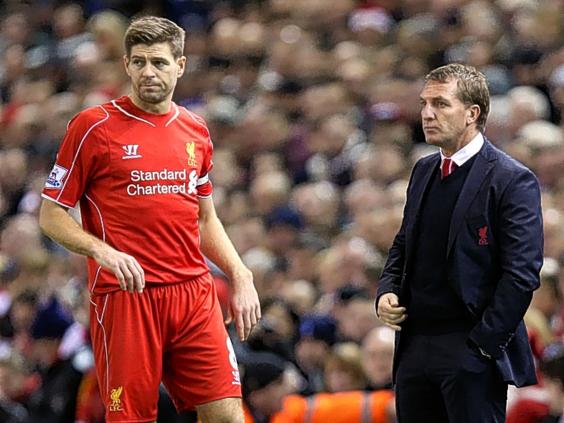 Liverpool only offered him a new one-year contract in November, and neither the club nor Gerrard had any enthusiasm for him joining Rodgers's coaching staff in the summer. "Steven had an ambassadorial role at the club but there wasn't a coaching offer made to him," said Rodgers. "Steven hasn't got his badges and he is not the sort who would go into coaching blind. His focus was very much on the present, which means playing, because he believes he can play on beyond this season."
Reuse content