Steven Gerrard has been given a warm, stereotypical American welcome to the United States by none other than NBA great Kobe Bryant, who has instructed the current Liverpool captain to "kick some ass" when he joins LA Galaxy in the summer.
Gerrard's departure from Liverpool was announced last week with the 34-year-old set to end his 17-year Anfield career when his contract expires at the end of the season. In a further announcement on Wednesday, Gerrard confirmed that he will join Galaxy upon the expiration of his current deal and make his MLS debut in July.
Gerrard will hope that his Galaxy side are able to outshine the other franchises located in the city with the NBA's LA Lakers, the MLB's LA Dodgers and LA Angels, the NHL's LA Kings and Anaheim Ducks and the soon-to-be established MLS side LA FC – with reports also linking the St Louis Rams with a relocation to the city.
Steven Gerrard in pictures
Steven Gerrard in pictures
1/11 England Under-21s

Steven Gerrard of England celebrates his 13th minute strike during the England v Luxembourg European 2000 Under-21 Qualifying match at the Madejski Stadium, Reading, England. The match finished in a 5-0 win for England

Getty Images

2/11 England 5 Germany 1

Gerrard celebrates his goal in the 5-1 win over Germany, one of his England highlights

Getty

3/11 Euro 2004 qualifiers

Gerrard celebrates after scoring the equaliser during the Euro 2004 European Championships Group 7 against Macedonia at St Mary's Stadium in Southampton, England

Getty Images

4/11 2006 World Cup qualifiers

Gerrard celebrates with Michael Owen during the FIFA World Cup 2006 group six qualification after scoring against Austria in Vienna

EPA

5/11 Beckham and Gerrard

David Beckham and Gerrard in England colours together. The pair were at the heart of England's 'golden generation'

Getty Images

6/11 Beckham and Gerrard

And now Gerrard could follow Beckham in a move to the MLS and LA Galaxy

GETTY

7/11 Champions League success 2005

Gerrard captained Liverpool to their famous penalty shootout European Cup victory in 2005

Getty

8/11 England Player of the Year

Gerrard was named England player of the year in 2013

AFP

9/11 2014 World Cup

Gerrard captained his country to the 2014 Fifa World Cup in Brazil last summer

AP

10/11 An early exit

But was unable to prevent defeats to Italy and Uruguay that paved the way to England's early exit from the tournament

Getty Images

11/11 International retirement

Gerrard would go on to announce his international retirement after the ill-fated trip to Brazil

Getty Images
With Gerrard agreeing an 18-month contract worth a hefty £3.9m a year, another well-paid star that shines in LA has admitted  that he can't wait to see the former England captain in action and hopes to witness him get his hands on a first league title of his career.
Speaking to LA Galaxy's official website, Bryant said: "What can I say, man? Welcome to Los Angeles.
"Welcome to La La Land, and hopefully that means bringing another championship to the Galaxy. I'm sure it will.
"I'm looking forward to getting out there and watching you do your thing.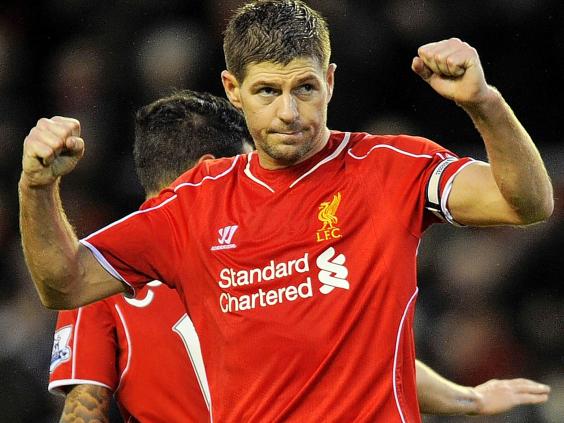 "I've been a fan of yours for a very, very long time, and your versatility, and your aggressiveness, and your leadership.
"Welcome to Los Angeles, man. Enjoy.
"Kick some ass in the process. I'll be down there rooting you on my man. Peace."
Bryant's excitement at seeing Gerrard in action came after he the Liverpool legend spoke to the LA Times to reveal what his motivation was behind the move.
"I think it's a match made in heaven really. One of the reasons I chose LA Galaxy was because of the success they've had recently," said Gerrard.
"I want to finish my career very strong. I want to add some medals and trophies to my collection."
Reuse content