Arsene Wenger has said that Arsenal's pursuit of Liverpool striker Luis Suarez is on "standby" until his contract dispute with his current club is resolved.
Wenger gave the go ahead to submit a £40m plus £1 offer for the Uruguayan last month which the Reds promptly rejected, but Suarez responded by revealing he had been lied to by Liverpool officials who had promised he could leave if they missed out again on Champions League qualification.
Manager Brendan Rodgers reiterated earlier today that Suarez would not be sold, but he is unlikely to want to keep an unhappy player at Anfield and could look to sell him should they be offered the right price – although his reluctance to sell to a Premier League rival could force the Gunners to up their bid.
The 63-year-old Frenchman, who is yet to make a significant signing this summer despite having a reported £70m transfer budget, has told Al Jazeera Sport that any disagreement between Suarez and Liverpool had "nothing to do" with Arsenal.
"At the moment, the situation is on standby," confirmed Wenger. "I heard [Suarez could take legal action] but this is sometimes linked with things that you don't know as a potential buyer.
"That is the story between Suarez and Liverpool and I don't know what has been said, what has been promised and what has been written and that is only Suarez and Liverpool that can decide that."
"It's nothing to do with us. We have been told that the player wants to leave and that's why we've acted.
"We try and get what we want; if that doesn't work we will look somewhere else," Wenger added.
"The clubs with talented players don't want to lose them.
"Some clubs acted very early so the choices were reduced and there is more competition coming from France with Paris St Germain, who buy big players for huge amounts of money, so it's tough, difficult and slow.
"I can assure the fans we will try very hard to keep them happy.
"We are certainly ready to spend the money, but the process is going slowly, but surely."
The disagreement comes over the extra £1 that Arsenal included as part of their latest offer, with the 26-year-old forward believing any offer over the £40m-mark entitles him to discuss with the interested party.
Liverpool on the other hand insist that they only have to inform the player of the offer, and are free to either negotiate a deal or reject it completely, which they have done.
"We have no intention of selling one of the top players in the world to one of our rivals," Rodgers said in the wake of Suarez's outburst.
"The message is very clear: Luis Suarez is very much a Liverpool player.
"We've obviously had a couple of bids from one club that has been nowhere near the valuation.
"I repeat - nowhere near the valuation of what he is worth in this market. There's no change to that.
"It's the same with any of our players - we're very much a team that's trying to build and go forward. For that, we want to keep our best players.
"There's not even really a discussion point, unless someone comes within anywhere near the valuation of Luis.
"At this present time, that's not the case."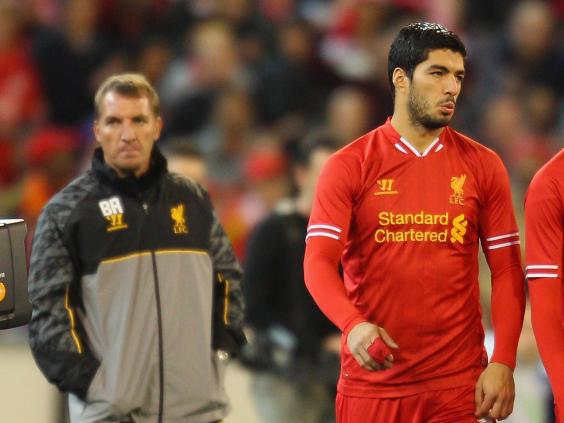 The Professional Footballers' Association confirmed on Wednesday that they have been asked to mitigate the dispute between the two parties, and it seems the situation could take some time to complete – something that Gunners' fans will not want to see as they grow impatient at the lack of transfer activity from the club.
Suarez claimed that he had the backing of the PFA, and also confirmed that it was Rodgers himself that made these assurances to him.
"Last year I had the opportunity to move to a big European club and I stayed on the understanding that if we failed to qualify for the Champions League the following season I'd be allowed to go," Suarez told the Daily Telegraph and Guardian.
"I spoke with Brendan Rodgers several times and he told me, 'Stay another season, and you have my word if we don't make it then. I will personally make sure that you can leave'.
"I gave absolutely everything last season but it was not enough to give us a top-four finish - now all I want is for Liverpool to honour our agreement.
"They gave me their word a year ago and now I want them to honour that.
"I have the club's word and we have the written contract and we are happy to take this to the Premier League for them to decide the case, but I do not want it to come to that.
"We have the backing of the PFA."
Reuse content