Arsene Wenger has not given up hope of signing Liverpool striker Luis Suarez this summer despite the owner of the club John W Henry's strong comments that they will not be selling the Uruguayan to their Premier League rivals.
Arsenal saw a £40m plus £1 offer for Suarez immediately rejected last month, but Suarez has since claimed that Liverpool and manager Brendan Rodgers have reneged on their word that they would allow him to leave should they fail to secure Champions League football.
Liverpool are adamant that no such clause or agreement exists, and Rodgers has since forced Suarez to train with the reserves after he showed a "total disrespect" to the club.
Wenger, speaking in a press conference ahead of today's pre-season friendly against Manchester City in Helsinki, admitted that the Gunners interest remains undeterred, and they continue to look at ways of improving the squad despite bringing just one new signing so far – that of French Under-20 striker Yaya Sanogo.
When asked if he had been put off Suarez by Henry's statement, Wenger said: "No because we are in the middle of the transfer period and we are looking at possibilities to strengthen our squad.
"I didn't read his statements but that's how it will work or not work. We'll be faithful to the way we want to behave.
"I've nothing to add to what I said already about the transfer of Suarez. If it will be done, it will be done in a respectful way with Liverpool.
"To make a transfer happen you need the agreement of three parties – the buyer, the seller and the player. We know we want to do.
"Liverpool at the moment do not agree. Whether they change their mind or not we don't know. We'll respect that.
"Suarez is one of the targets. If he's not for sale, he's not for sale we have to accept that."
Suarez has spoken of his desire to leave Anfield, warranting the wrath of Rodgers who immediately responded by insisting under no uncertain terms that Suarez  would remain with the club.
Wenger wasn't about to elaborate on whether Liverpool could handle the unhappy player though by forcing him to remain at the club despite his obvious desire to leave.
"That's not for me to asses that," admitted Wenger. "I don't know the relations between the player and the club.
"Every situation is different. I was in that situation with Robin van Persie last year but Van Persie had a one-year contract so the situation was a bit different. Every club has its own way to deal with things. We have our own way and we respect that all the other clubs."
Wenger was quick to move on to matters that he was happy to talk about regarding the north London club, and commented on the "strange" Champions League play-off draw which will see them face Turkish side Fenerbahce, who were reinstated to the competition pending an appeal into claims of match fixing.
"It's a strange situation," said Wenger. "They are basically suspended. It is a strange situation in different ways.
"They have been suspended to play in Europe, have appealed to a tribunal to the Arbitration of Sport. On top of that, nobody knows if they lose the case what will happen. It's a very strange situation.
"But it's a difficult draw. Fenerbahce is a strong team with history in the Champions League. They have good players who have played in England – (Joseph) Yobo, Dirk Kuyt.
"I looked at their squad and there is a lot of experience. We need to have a good performance and I am confident we can go through but it is a big task."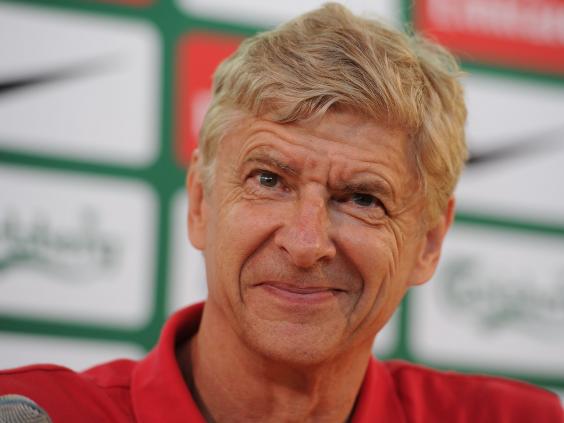 The Frenchman also spoke on Jack Wilshere's latest condition, saying he would have no qualms if he was to take part in England's friendly with Scotland on Wednesday, but suggesting that he should only play a half as he looks to control the midfielder's return to fitness.
"Jack Wilshere is on his way back to full fitness. He is not completely ready yet but he is in a good way so if he plays half the game, why not? He needs games at the moment."