Liverpool manager Brendan Rodgers expects Luis Suarez to remain at Anfield for the next season, but he did admit that he could move clubs should the right offer come in for the striker.
Suarez had been linked with a move to both Arsenal and Real Madrid, and he expressed his desire to leave the club due to the British media for making his life impossible in England.
Despite the speculation regarding his future, Suarez linked up with the rest of the club over the weekend in Australia ahead of the club's pre-season match against Melbourne Victory on Wednesday.
When asked whether Suarez's would remain with the club, Rodgers said: "Yeah, very much so.
"He's a player that obviously is talked about and there's been a been a lot of speculation over the course of the off-season.
"But the reality is that he's a player that's very much valued at Liverpool.
"Unless there's any sort of offer that comes in which is anywhere near his value then there's nothing to consider and we haven't had that.
"So at the moment, in this present moment in time, he's back in, he's reported as he should do for training at the right time.
"He's had a good rest and he's now looking forward to getting fit with the rest of his team."
Arsenal made an original £30m bid for the forward that was immediately rejected by the Liverpool hierarchy, although they are expected to return with an improved offer as they attempt to strengthen their squad ahead of the new season.
Rodgers was asked if he had a fee in mind that he deemed to meet their valuation of Suarez.
"I didn't say we would sell him," he replied. "I said that every player has a value and a worth. Doesn't mean you've got to sell them."
Suarez joined Liverpool in January 2011, and his brilliance on the pitch has been offset by his lunacy off it, as he is due to sit out the first 6 games of the new season following his 10-match ban for biting Chelsea's Branislav Ivanovic.
However, with Suarez set to appear in a Liverpool shirt for the first time since the biting incident in Wednesday's friendly, Rodgers said he was yet to sit down with Suarez and understand how he wanted his future to play out.
"I haven't had it yet," Rodgers said. "We only arrived late last night.
"He was obviously here earlier coming from a different part of the world but as we've always been as a club and certainly as a manager and a coach I'm quite relaxed about it.
"Luis was out here as expected. He's an integral part of our squad. We'll chat at some stage like I do with all the players.
"He'll join training today with all the other players and over the course of these next few weeks we'll all communicate but him and I have been in regular communications throughout the summer."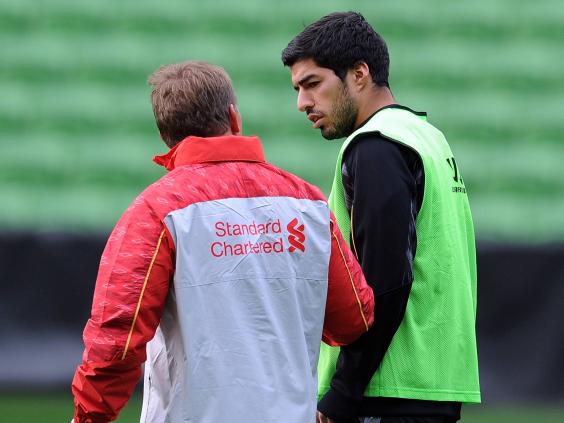 To see Suarez back in action with Liverpool - CLICK HERE.