Real Madrid captain Iker Casillas has spoken of his admiration for Gareth Bale, claiming he is one of the top three or four players in Europe.
Casillas was speaking on Real's tour of the United States, after the squad arrived in Los Angeles where they begin their trip against David Beckham's former side LA Galaxy.
The Spaniard said: "He is one of the best three or four players in Europe.
"All these big transfers are controversial for good or bad reasons, but he is a player who decides games. I am sure there will be a new player with us before the transfer window closes."
Casillas also thanked former coach Jose Mourinho, who controversially dropped the Spanish No one in favour of Diego Lopez, though he did admit that the club need's to forget about both Mourinho and their trophyless campaign last year.
"It is too soon to comment on the differences between the new coach and the old," admitted Casillas, commenting on his new coach Carlo Ancelotti.
"We have to thank Mourinho for what he achieved but we should not be looking back; we should be looking forward at a new era in which hopefully the club will be winning things."
Real president Florentino Perez has made it clear he is determined to bring Bale to the Santiago Bernebeu, and he usually gets his way after the transfer sagas of Luis Figo, David Beckham, Cristiano Ronaldo and Luka Modric in the past.
Reports this morning claim that Tottenham could accept anything from £80m to £130m, with very little coming out of the Spurs camp as they keep their cards close to their chest.
Some have also claimed that Bale will leave as part of a player exchange-plus-cash deal, with Fabio Coentrao and Angel Di Maria rumoured to be the sacrificial lambs to accommodate the Welsh wizard.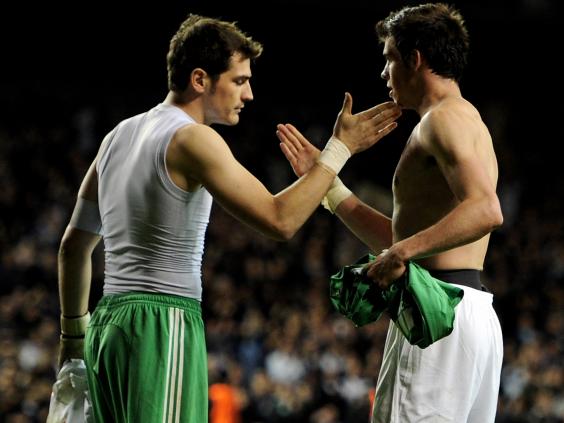 But until either Tottenham or Bale confirm what an actual asking price is, the speculation is set to continue in what has quickly become the transfer ordeal of the summer.
Related articles...
Poll: Is Bale worth more than £80m?
Comment: Spurs should sell. The offer will be too good to refuse
Comment: Bale is entitled to Real Madrid riches but spare us the love-for-Tottenham rot
Who could Tottenham sign if they sell Gareth Bale to Real Madrid?
Daniel Levy v Florentino Perez: The big hitters from Tottenham and Real Madrid battling over Bale
Reuse content