Germany coach Joachim Low has criticised Real Madrid's decision to sell Mesut Ozil to Arsenal, labelling the move as "incomprehensible" although he does feel that the switch will benefit the attacking midfielder.
Low has worked with Ozil since 2009 when he handed the then Werder Bremen player his international debut against Norway. The 24-year-old has since gone on to make 47 appearances for Low's side, and has asserted himself as one of the best attacking players in the world.
The Germany international joined Arsenal late on Monday night for £42.5m, with Real Madrid attempting to regain some of the money they lost in their world-record signing of Gareth Bale, for what Tottenham have claimed cost them a staggering £86m.
Real's squad have since spoken out against the move, admitting their surprise and shock that one of their best players was allowed to leave, while Ozil claimed it was the confidence shown in him that Carlo Ancelotti didn't which convinced him to join the Gunners.
Ozil's German team-mate Sami Khedira admitted his regret at the club's decision to sell, and Low has also expressed his confusion as to why the Spanish club would sell one of their best players.
"Many Real players like Sami Khedira or Cristiano Ronaldo are sad about the transfer," Low said at a press conference ahead of Germany's clash against Austria on Friday.
"For me, it's incomprehensible that Real would sell one of their top scorers."
Although he disagreed with the move, he did claim to understand why Ozil would jump at the chance to move to the Premier League, where he will turn out alongside international colleagues Lukas Podolski and Per Mertesacker as well as German youngster Serge Gnabry.
"Mesut is a sensitive player and he needs the faith from the club and the coach," Low added.
"It seems that was not longer 100% there at Real whereas Arsenal and their coach Arsene Wenger pulled out all the stops to get him.
"He has a top coach there and, with Lukas Podolski and Per Mertesacker, he has two German colleagues.
"Arsenal are a strong team who play technically high-quality football."
Low is also confident that the change of clubs has not affected Ozil, and that he is more than happy to play him in the match against Austria and Tuesday's clash with the Faroe Islands, claiming he "looks perfectly happy and satisfied. He is fully focused".
Low knows that six points from the back-to-back World Cup qualifiers would open the door to next year's tournament, and victory on Friday would open up an eight point gap over their neighbours Austria.
However, Low is not taking the match for granted, and says his side will need to be on top of their game when the two sides meet at the Allianz Arena.
"We were lucky the last time we played them," he said.
"We know that they have taken a step forwards and Austria are serious opponents. Nobody will under-estimate this very strong team."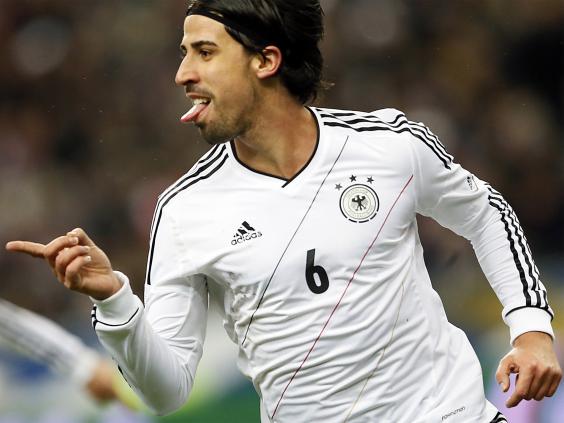 Both Bastian Schweinsteiger and Ilkay Gundogan have been ruled out with injury, meaning that Khedira is almost certain to start, and Low has said that the Real defensive midfielder "has got to give the commands" on the field.
"Either (Lars) Bender or Toni Kroos will play alongside Khedira, but I haven't decided who yet."
Reuse content