Chelsea manager Jose Mourinho has admitted that the club will continue their attempts to sign Manchester United striker Wayne Rooney because "nobody forbids you to try".
The Blues have already had two bids rejected for the England international, with the second thought to be around the £25m mark, but Mourinho will continue his attempts until the end of the transfer window because there is no ruling that says he can't.
The 50-year-old manager was quizzed over his desire for Rooney to move to Stamford Bridge after United have made it clear he is not for sale, but Mourinho shrugged off the idea claiming that David Moyes could simply reject any approach they make for the 27-year-old – just like Chelsea have done to Barcelona over David Luiz.
"You try, because nobody forbids you to try," said Mourinho, who was speaking ahead of the rearranged match with Aston Villa to accommodate Chelsea's Uefa Super Cup match against Bayern Munich.
"When you think that you'd like to have one player and the market is open and the official bids are not forbidden, official bids are always accepted in an ethical way.
"Of course, the player's owners they can do exactly what we did in relation to David Luiz and Barcelona."
Chelsea meet United on August 26, and Mourinho could look to ruffle a few feathers at Old Trafford by making a bid for Rooney before the two sides meet.
Mourinho's side have been linked with a move for Anzhi Makhachkala striker Samuel Eto'o, with the Russian club informing the Cameroonian that he can look for a new club as their billionaire owner Suleyman Kerimov looks to reduce the wage bill.
The self-proclaimed "Special one" admitted that he does have alternative options, but refused to name them while they belong to another club.
"We have plans B and C," he admitted. "Don't ask me names because it's difficult to speak about players from other clubs."
Both Roberto Martinez and Alan Pardew have spoken out over the continuation of the transfer window beyond the opening fixture of the Premier League season, and Mourinho did sympathise with the pair although he does hope to remain active before the deadline.
"At a certain point I agree with what Alan was saying, that the transfer window goes too far, the transfer window goes to the third, fourth fixture of the season, which I also agree that is too much," Mourinho said.
"But at the same time it gives everybody a chance to be in the market while we are winning or losing points.
"We have conditions to try to improve our team by bringing in one more player and we are going to try that till the end."
Aston Villa head to Stamford Bridge after coming away from the Emirates with a 3-1 victory over Arsenal – a result that has plunged Arsenal further into complete disarray – but Mourinho insists he always knew tomorrow's opponents could turn over their London rivals.
"It's not such a big surprise because Aston Villa can do that to any one of us," Mourinho said.
"Last season they had more points away from home than at Villa Park.
"They are a team with qualities to play away, to play the counter-attack game they played at the Emirates.
"They are a good team. It's not such a big drama, they can beat any one of the contenders."
Mourinho watched as his side earned a comfortable 2-0 victory over Hull on Sunday, though it could have been easier had Frank Lampard converted a first-half penalty. The England international made amends when he scored a free-kick that Tigers' goalkeeper Allan McGregor should probably have saved, but Mourinho was happy with what he saw from the midfielder.
It had seemed that Chelsea would allow Lampard to leave after running down his contract, but he signed a one-year extension at the end of last season to keep him at Stamford Bridge, and it's something that his manager claims he couldn't see any other way.
"I told him when I was not Chelsea manager and he didn't have a new contract, just by being a friend, I told him that I didn't see him playing for another English club and I wouldn't see him play in another small league, because of his nature," former Real Madrid boss Mourinho added.
"He demands a lot from himself. He wants to play at this level and I think he can."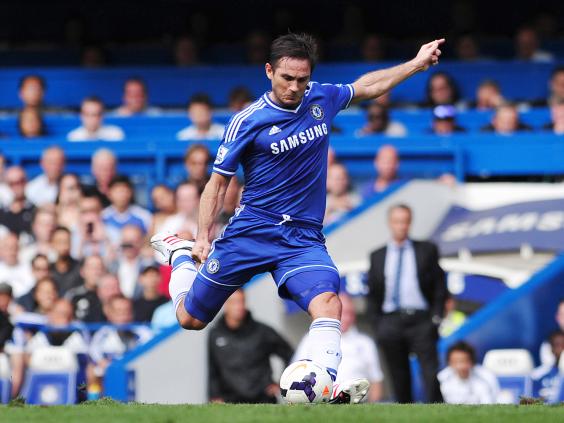 Mourinho did concede however that he would need to manage the 35-year-old's fitness as he heads into the twilight of his career.
"He is not 25 anymore, so the crazy Lamps that wants to play every minute of a Carling Cup match against a team from the Championship, the crazy Frank that wants to play and beat the record of appearances and play every minute every match is not here anymore," Mourinho said.
"Now it's about to keep his performance high for the most time we can, for the most seasons we can."
Reuse content