Anzhi Makhachkala attacking midfielder Willian has put Premier League clubs on alert after he spoke of his desire to move to England, with Liverpool leading the way for the Brazilian's signature.
Tottenham are also believed to be interested in the 25-year-old, but his admission that a move to the Premier League would be good for his career has drawn the interest of Manchester United boss David Moyes.
Liverpool are reported to be in advanced talks with the Russian club over a transfer, and officials at Anfield remain confident that they will get their man, who has been put up for sale along with the rest of the Russian club's squad after billionaire owner Suleyman Kerimov lost patience with the underachieving squad.
However, United have made an enquiry over the availability of Willian, and it has been said that Old Trafford is his preferred destination despite the long-term interest of Spurs.
Should they complete the record-sale of Gareth Bale to Real Madrid, Spurs will likely move for Willian in an attempt to replace the 26 goals the Welsh winger scored last season for the club.
Speaking to ESPN, Willian said: "There was the Manchester City bid that was turned down. Now I'm waiting for a new bid to arrive in the next days from a few clubs, like Liverpool. If it's really Liverpool, then it is surely a great club. I'm hopeful and very calm, just waiting for the best.
"England is my goal. I like the Premier League very much, I enjoy the English football and certainly, if that happens, it will be very good for me and for my image."
The Merseyside club insist that the purchase of Willian does not signal the departure of striker Luis Suarez, despite any deal set to be the club's second most expensive transfer after the purchase of Andy Carroll in 2011 – which was funded by the £50m sale of Fernando Torres.
But £35m is still a considerable sum of money for a club that won't play in Europe this season, having missed out on the Europa League with cup winners Swansea and Wigan joining Spurs in the competition.
In another transfer twist, reports have emerged that Real Madrid have offered Mesut Ozil to United for £40m in an effort to fund the extra cash needed to purchase Bale from Spurs.
United missed out on Barcelona midfielder Cesc Fabregas, although they will monitor the situation surrounding the former Arsenal captain should he change his wish to stay at the Nou Camp.
Moyes is keen on making a big-name signing to ease some of the pressure on his shoulders after taking the reins at Old Trafford, and the addition of 24-year-old German international would be a signal of intent from the former Everton boss.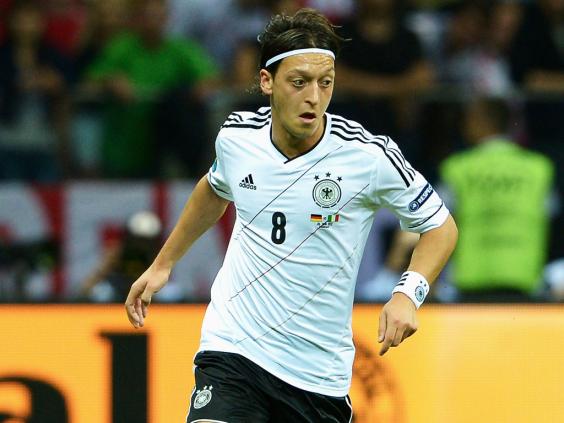 Ozil has become unsettled at the Spanish club after their pursuit for Bale and the signing last year of Luka Modric has put his place in the team into doubt. It is believed that Real will accept around £35m, and with just over two weeks left of the transfer window, could look to sell early to compete their move for Bale.
Moyes admitted yesterday that he always knew it would be a tough ask to bring in the right players so early on in his United career.
"This was always going to be a difficult window for me because I joined United on July 1, so it has given me a short period to get to know the players and the market," he said. "But I'm confident we'll get players in."