Jamie Carragher has labelled his former team-mate Luis Suarez as "laughable" after his complaint over Liverpool's reluctance to let him move to Premier League rivals Arsenal.
The central defender-turned TV pundit retired this summer after a 17-year career with the Reds, and he has now had his say on the Suarez saga.
The Uruguayan claims that the club agreed to let him leave this year should they fail to reach the Champions League, but the club insist that is not true and there is no such clause to back that up – supported by the Professional Footballers' Association chairman Gordon Taylor.
And Carragher has backed his former club in suggesting that Suarez should be showing greater loyalty to the club, although he did admit that the striker is "too good" for both Liverpool and Arsenal, and would be better suited to a Real Madrid, Barcelona or Bayern Munich.
Writing in his Daily Mail column, Carragher said: "It didn't surprise me that Brendan Rodgers has made him train on his own. I never thought Luis would down tools in the way Fernando Torres did when he wanted to leave Liverpool - his attitude over the final 18 months became progressively worse - but now Suarez has given me reason to think again.
"To see it come to this is very dispiriting. A lot of good people have stood by Luis since he joined the club. Rodgers and Kenny Dalglish could not have done more for him. In the darkest times, we wore T-shirts to show we were standing alongside him, even if it was ill-advised.
"So it is laughable to hear he is unhappy with Liverpool for not letting him join Arsenal."
Suarez was banned in 2011 by the Football Association for racially abusing Manchester United left-back Patrice Evra, and he was handed a further 10-game ban at the end of last season for biting Chelsea defender Branislav Ivanovic, for which he still has six games to serve.
Liverpool stood by the 26-year-old though, but Carragher has admitted that he has seen a change in his attitude towards life at Anfield.
"I took part in a training session at Melwood before Steven Gerrard's testimonial last Saturday and I was alarmed by the Luis Suarez with whom I was sharing a pitch," revealed Carragher, who made 737 appearances for the Merseyside club.
"From his first day at Liverpool, I had been used to seeing a warrior who loved his football and charged around with great enthusiasm.
"On this occasion, however, his attitude was completely different. He didn't want the ball and had no interest in getting involved. He stood on the periphery, with shoulders slumped."
This contradicts what Rodgers said at the end of last month, when he claimed that Suarez was happy at Liverpool and is "training well". Since then though, Suarez broke his silence with his outburst earlier this week, leading Rodgers to drop him to the reserves until he can show that he has respect for both the club and his team-mates.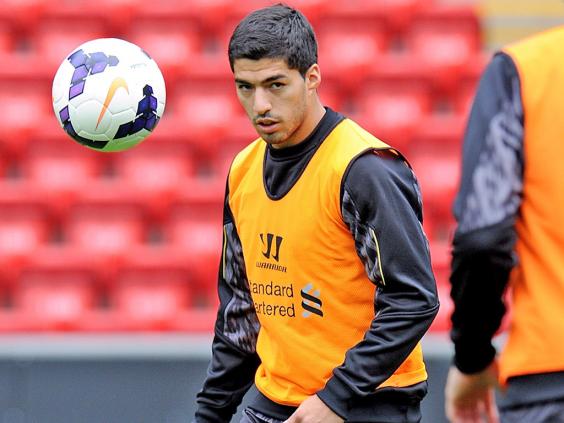 Another former Liverpool stalwart to condemn Suarez was the recently retired Michael Owen, but he also understands his desire to leave for a bigger club and further his career – although he says Arsenal is not that club.
Speaking to the Daily Telegraph, Owen said: "People have this stereotypical view of a footballer that he's just greedy, no loyalty, but you can bet your bottom dollar that if Suarez wasn't as good was he was then Liverpool wouldn't have stood by him [during his misdemeanours]. Of course, you have to bear in mind the things people have done for you along the way, and have some gratitude, but you have one shot.
"Luis has not come through the ranks. He doesn't have a huge affinity with Liverpool but the fans have a huge affinity with him and expect that to be reciprocated. But he wants to go and be at the best club he can.
"This is where I can't quite understand it. If it's Arsenal the only option for him, I can't really understand why he would want to leave given the way the Liverpool fans feel about him and the team is virtually built about him. If Real Madrid came in for him, I could certainly understand that."