Ander Herrera has broken his silence over the controversial collapse of his deadline day transfer to Manchester United, claiming he is "flattered" to be linked with the club but admitted it would have been difficult for the Premier League champions to lure him away from Athletic Bilbao.
The 24-year-old midfielder spoke earlier today about United's late move for him, which at one point seemed close to a completion when 'officials' from United arrived at the La Liga headquarters to finalise the deal.
The offer was believed to be in the region of £30.75m after Bilbao's president Josu Urrutia said United would have to activate his release clause in order to speak to Herrera.
It was later revealed that the four men posing as representatives of the English club were actually Spanish lawyers, involved in negotiating the Javi Martinez deal last summer when the midfielder left the same club to join Bayern Munich.
It remains unclear if United had asked the lawyers to try and complete the deal on their behalf, but Herrera has explained that had talks go to a point where he had to make a decision, it would've been hard to leave the Basque club.
"Obviously when United make an offer for you it's very flattering and I'm very grateful, but I'm very happy with Athletic," Herrera admitted.
"I didn't pass a medical as has been said. Athletic have made things clear in an honest way from the start.
"In the first place the club have to pay the clause, which is 36 million euros for me, and then attract me more than Athletic do, which is very difficult.
"It's totally false that an agreement was reached with me. To talk with me they would've had to pay the clause."
Herrera did say that he didn't feel any ill-feeling towards United though, despite his hopes being built up with reports that a deal was imminent.
"Not at all," he proclaimed. "How am I going to feel mistreated when a club of the level of United make a formal offer?
"I'm grateful for that and also because Athletic have not wanted to negotiate, as that shows how they value their players.
"It makes me proud that one of the leading clubs in the world are interested in me.
"It shows that I'm doing things well."
United denied any knowledge of the lawyers that attempted to push through the deal, although Herrera also ruled out the notion that they were representatives of the player rather than the club.
"They were nothing to do with me, you'll have to ask them," he said. "They don't represent me nor do I know who they are."
The lawyers left after an hour of unsuccessful negotiations, but despite the controversy surrounding the deal, Herrera feels that he maintained a respectable behaviour throughout the ordeal.
"My behaviour has been good, I've never pressured the club and I've not asked to go. I'm very relaxed with the way I've done things. And the club have been faithful and honest with what they've transmitted.
"I was staying quiet because it wasn't planned for me to go out at a press conference and because there was an important game against Real Madrid (on Sunday). I like to show my face, not talk through Twitter."
Herrera also appeared to rule out making a January move to Old Trafford, suggesting that now he has started the season with Athletic he would like to finish it with them, although there is still plenty of time for that to change.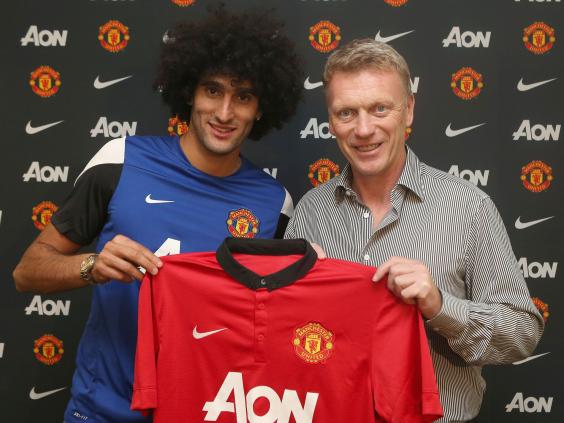 The squad was training at the new San Mames stadium for the first time, and he is hopeful of returning the club to regular European competition having appeared in the Europa League and the Copa Del Rey finals in recent years.
"I started the season with Athletic and I'm thinking of finishing it with them. We have a marvellous stadium which is going to be full. I'm in a special place.
"I'm going to continue showing the performances with Athletic that I have done since the first day I arrived.
"Two years ago I played in two finals (Europa League and Copa del Rey). There's nothing nicer than this. I hope that with the effort that the club have made we can be regular participants in European competition and we don't have to be jealous of anybody."
Reuse content