Real Madrid's squad have been left surprised and stunned at the departure of Mesut Ozil after the 24-year-old German completed a transfer deadline day move to Arsenal.
While Real were unveiling their world-record transfer of Gareth Bale, Arsenal were negotiating a £42.5m move for Ozil, who has admitted Carlo Ancelotti's lack of confidence in him forced him out of the club.
Ozil has been an important part of Real's first team since his move to Spain in 2010, when a string of impressive performances at the World Cup saw a number of Europe's elite contact Werder Bremen for his services.
Established as one of the best attacking midfielders in the world, Real fans chanted "Don't sell Ozil" during Bale's presentation, while his former team-mates have admitted the sale came as a surprise.
Ozil's close friend Sergio Ramos said: "Mesut is a different player. If it was up to me he would be one of the last players to go. But he and the club have made their decision and I can only wish him the best.
"I get on really well with him. He's a unique player and it's a shame. These are personal things, he decides his future. Everyone chooses what's best and he's free to do what he wants.
"We have a great team and hopefully it will be a great season."
When Ozil was briefly dropped from the Real squad under Jose Mourinho's reign, Ramos wore a shirt beneath his kit with Ozil's number on it, to reveal in support of his friend should he get on the score-sheet.
The 47-time-capped Germany international has said it was Arsene Wenger's instilment of confidence that persuaded him to join the Gunners, with Paris St-Germain looking to hijack the deal at the last minute.
One of Real's summer signings, Isco, spoke to Spanish newspaper Marca on the move, and claimed that he thought Ozil would be staying with the La LIga club despite playing in a similar position.
"To be honest it has surprised me, and more so after he said last week that he was going to stay," said Isco
"We all know Ozil, he has a lot of quality and he's a player who is capable of changing a game."
Real Madrid defender Alvaro Arbeloa was another to speak out over the departure, with the former Liverpool full-back also on international duty with Spain alongside Ramos and Isco.
Speaking to AS, Arbeloa said: "I'm a little bit surprised, it's a shame, and it's a big loss to the dressing room, on a footballing level and on a personal level too.
"He said goodbye to us on Sunday, but I thought he was joking. He's very different, there's no player like him in the world. He makes the difference on the pitch.
"He'll have his reasons for moving. But we will keep looking forward, we have other great players. I understand it's tough for the fans, they loved him. He is a phenomenon and got on well with everyone. It's a real loss."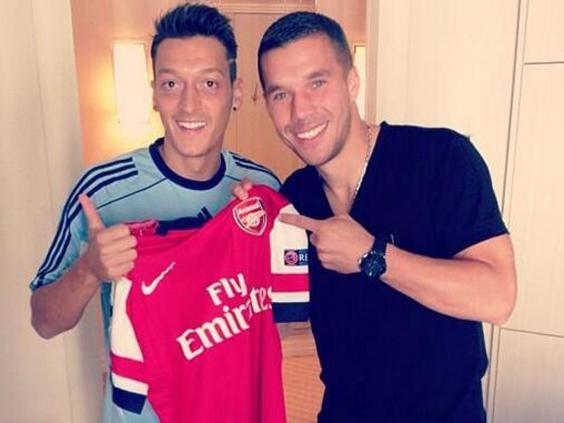 Reuse content