Robert Pires and Jens Lehmann, integral members of Arsenal's unbeaten 'Invincibles' side of 2003/04, have both backed the club in their pursuit of the  £35m-rated of Schalke midfielder Julian Draxler – although former goalkeeper Lehmann doubts the deal will happen in this transfer window.
Gunners manager Arsene Wenger is reported to be fan of the 20-year-old, who has won 10 caps for Germany, and has starred for Schalke in the Champions League this season.
Lehmann, who himself made 61 appearances for Germany between 1998 and 2008, and also started his career at Schalke, claims a move to the Premier League leaders would be "good" for Draxler but suggests it is more likely to go through in the summer .
"I think Julian Draxler is perceived to be one of the greatest, talented young players in Germany. So it would be a good move for him to go to Arsenal," Lehmann told Sky Sports.
"Probably not now in the winter break because he can still play Real Madrid in the Champions League with Schalke. He can see Schalke will be qualified for next year's Champions League.
"With Arsenal, he has a bigger likeness of playing in the Champions League next year, which is quite certain. Of course, it may give him a bigger chance to play at the World Cup with Brazil."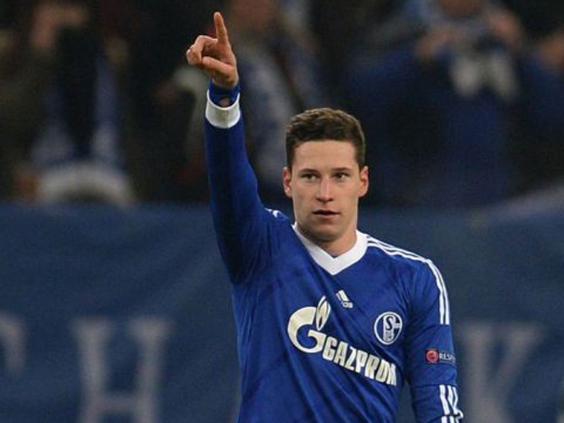 The French winger Pires, meanwhile, says that the attacking Draxler will "fit perfectly" into Arsenal's style of play.
"Julian is a good player. He's young and has a lot of potential for development," Pires told SPOX.com.
"When I watch him play, I always think that he fits perfectly with Arsenal's style of football. I can see him playing well on the left-hand side or in attack. He could really strengthen the team."
Draxler, Benzema, Berbatov: Arsenal's January transfer targets...
Arsenal - January transfer targets
Arsenal - January transfer targets
1/18 Julian Draxler - Another player who Arsenal don't have a desperate need for but have constantly been linked with. There is certainly no denying the quality of the German youngster but a January move seems unlikely as Arsenal need to strengthen elsewhere.

Getty Images

2/18 Karim Benzema - Wenger is a long time admirer of Real Madrid's French striker, although he would not be a cheap option. He is also a player it seems unlikely that the Spanish giants would happily part with. Then again you might have thought the same thing about Mesut Ozil.

Getty Images

Getty Images

3/18 Andrea Ranocchia - Out of favour at the San Siro, Arsenal would probably face stiff competition from Man United and Chelsea if they moved for the highly-rated Italian defender.

Getty Images

Getty Images

4/18 Konstantinos Mitroglou - The Olympiakos forward is in red hot form and could well provide reasonably priced support for Olivier Giroud. Currently playing alongside Arsenal loanee Joel Campbell which could count in Wenger's favour.

Getty Images

Getty Images

5/18 Hakan Calhanoglu - Arsenal couldn't buy another attacking midfielder could they? Well rumour has it they are very keen on Hamburg's Turkish star Calhanoglu.

Getty Images

Getty Images

6/18 Winston Reid - While a West Ham defender from New Zealand might sound an unlikely target for Arsenal, their defence is a serious injury away from looking a little threadbare and Reid could provide value-for-money cover at the back.

Getty Images

7/18 Xabi Alonso - While the free transfer of Mathieu Flamini has helped, Arsenal still look a little lightweight in the centre of the park. The cultured Alonso would certainly improve things.

Getty Images

8/18 Ilkay Gundogan - Another luxury purchase for the Gunners and with interest from other Premier League clubs and Arsenal's more pressing needs in other areas of the pitch, it seems an unlikely move.

Getty Images

9/18 Antonio Sanabria - Arsenal are rumoured to already have a deal in place bringing the Paraguayan starlet to the club from Barcelona. If so then they have secured themselves a fantastic player.

Getty Images

10/18 Javier Hernandez - With Hernandez seemingly growing increasingly frustrated with a lack of first team opportunities at Man United, Arsenal could pounce for the proven Premier League goalscorer. It does however seem unlikely that Moyes would sell to a rival.

Getty Images

11/18 Kurt Zouma - Wanted by London rivals Chelsea as well, Zouma is a highly-rated young defender who could provide some much needed cover. Can Wenger get the better of Mourinho in the transfer market this time?

Getty Images

12/18 Youssouf Mulumbu - An experienced Premier League player who would add a bit of oomph to Arsenal's midfield. The surprising recent sacking of West Brom manager Steve Clarke might also encourage Mulumbu.

Getty Images

13/18 Cheikhou Kouyate - Wenger has tried to sign the imposing defender in two separate transfer windows but with Anderlecht now ready to sell, this January could be a case of third time lucky.

Getty Images

14/18 Ciprian Marica - Another forward linked with a switch to the Emirates, the Romanian could provide a cheaper alternative to some of the bigger names Arsenal are rumoured to be pursuing.

Getty Images

15/18 Alvaro Morata - The young Real Madrid forward has been linked with a January loan move although he has stated a desire to stay in the Spanish capital.

Getty Images

16/18 Alexandre Pato - Linked with Arsenal once again, the Brazilian would be a surprise choice given his relatively modest recent performances since returning to play in his homeland.

Getty Images

17/18 Edin Dzeko - Despite scoring fairly consistently in his time at the club, there is a feeling that Dzeko somehow doesn't quite fit and he struggles to hold down a first team place as a consequence. A move to Arsenal would surely give him more playing time but it seems unlikely City would sell to a rival.

Getty Images

18/18 Dimitar Berbatov - The former Manchester United striker is reportedly keen to move on from Fulham. Appears a decent short term solution for the Gunners

GETTY IMAGES

GETTY IMAGES
Reuse content