1. Swansea show how to succeed in a transfer window
If there is a mantra for how to operate in the transfer window is to move fast, and early. Swansea did just that. They made four main signings; all were completed by July 1 enabling the players to take a full part in pre-season training and settle into the dressing room. Their fast start is no surprise. The recruits include Andre Ayew, an absolute steal on a free transfer from Marseille, snapped up by Swansea while other clubs, including Spurs, Liverpool and Newcastle, hesitated. Honourable mention to Crystal Palace, who have learned from buying deadline day duds in previous season.
2. TV cash means brinkmanship no longer works
Tottenham are the highest profile of those clubs that have made a habit of leaving deals to the last minute in the hope of extracting the best possible price. But the huge TV income not only enables mid-ranking Premier League clubs like Crystal Palace and Stoke City to buy (and pay) players like Yohan Cabaye and Xherdan Shaqiri, it means clubs can no longer be dictated to. Everton were never minded to sell John Stones (just as they have resisted offers for Ross Barkley, Seamus Coleman, Kevin Mirallas and Stephen Naismith these last 12 months). But West Brom clearly would have sold Saido Berahino if Spurs (who rate Harry Kane, a similar prospect, at £50m) had offered a fair price early enough for Albion to get a replacement. They did not, so Albion said no.
3. FFP restraint no longer applies
Manchester City spent £120m, Chelsea tried to spend even more, Manchester United forked out £36m minimum on a raw teenager. With Uefa easing back on FFP restrictions the arms race among the elite is back on, much to Arsene Wenger's displeasure.
Manchester United: Summer 2015 completed transfers
Manchester United: Summer 2015 completed transfers
1/18 IN: Memphis Depay (PSV Eindhoven) £31m

Depay was the top scorer in the Eredivisie last season with 22 goals.

GETTY IMAGES

2/18 IN: Matteo Darmian (Torino) £12.7m

Louis van Gaal signed the specialist full back after employing winger Antonio Valencia at right-back for most of last season.

Getty

3/18 IN: Bastian Schweinsteiger (Bayern Munich) £14.4m

Schweinsteiger has won every competition he has competed in for club and country with the exception of the Euros.

Getty Images

4/18 IN: Morgan Schneiderlin (Southampton) £25m

Schneiderlin had been at Southampton since 2008, overseeing their relegation to League One and then double promotion from the Championship and then to the Premier League in 2012.

Manchester United

5/18 IN: Sergio Romero (Sampdoria) Free

In spite of finding himself second choice at both Sampdoria and Monaco, Romero has been Argentina's number one for the past five years or so.

GETTY IMAGES

6/18 OUT: Tom Cleverley (Everton) Free

Cleverley spent last season on loan at Aston Villa after being frozen out by Van Gaal.

7/18 OUT: Ben Amos (Bolton Wanderers) Released

Amos had been at Old Trafford since 2008 but never in anything more than a back-up role.

GETTY IMAGES

8/18 OUT: Tom Thorpe (Rotherham) Free

Thorpe was United's U21 captain and there was surprise when he didn't make the grade.

GETTY IMAGES

9/18 OUT: Saidy Janko (Celtic) Undisclosed

Janko only started his senior football career last season but has already left his first club.

10/18 OUT: Nani (Fenerbahce) £4.5m

Once considered United's answer to Cristiano Ronaldo's departure, Nani leaves Old Trafford for a small fee following younger signings pushing him from the first team squad.

GETTY IMAGES

11/18 OUT: Will Keane (Preston North End) Loan

Keane failed to impress on a loan deal at QPR in 2014.

GETTY IMAGES

12/18 OUT: Robin van Persie (Fenerbahce) Undisclosed

The man who led United to Premier League glory in his first season with 26 league goals joined Nani at the Turkish side.

GETTY IMAGES

13/18 OUT: Reece James (Wigan) Undisclosed

James was part of the United side that lost 4-0 to MK Dons in August 2014.

Getty Images

14/18 OUT: Angelo Henriquez (Dinamo Zagreb) Undisclosed

Chile international Henriquez leaves United having failed to establish himself in the first team squad after Van Gaal's restructuring of the side.

GETTY IMAGES

15/18 OUT: Rafael Da Silva (Lyon) 12.5m

The Brazilian defender failed to establish himself under Van Gaal with injuries hampering his opportunities to impress.

GETTY IMAGES

16/18 OUT: Angel Di Maria (PSG) £44m

Having arrived in a British transfer record £59.7m deal just last summer, Manchester United allowed the Argentina international to leave after he failed to settle.

GETTY IMAGES

17/18 OUT: Jonny Evans (West Brom) £6m

The defender became surplus to requirements at Old Trafford and ended his nine year stay at Old Trafford.

GETTY IMAGES

18/18 Tyler Blackett (Celtic) Loan

The young defender was sent to Scotland for the season with first-team chances at United likely to be limited

Getty
4. Arsene Wenger is confident
After two seasons of major deadline spending Wenger responded to the renewed spending of rivals by reverting to his parsimonious stereotype. Does this reflect the 'arrogance'  Gary Neville accused him of in buying midfield passers rather than power players? While Arsenal could probably do with an upgrade at centre-half, defensive midfield and centre-forward Wenger's reluctance to spend appears to be rooted more on the belief that he could not find better players than Laurent Koscielny, Francois Coquelin and Olivier Giroud. He may be right. Looking through the best of the Premier League signings in those positions, and bearing in mind the cost and complications of new players, are Toby Alderweireld, Morgan Schneiderlin and Christian Benteke respectively really that much better?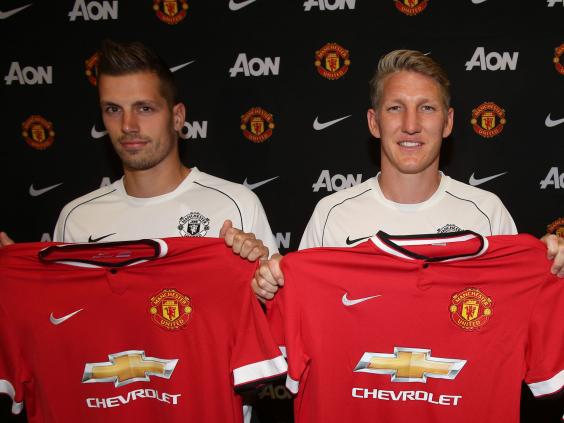 5. West Ham are nervous
Relegation is never good, but with a move to the Olympic Stadium less than 12 months away West Ham know it could be disastrous as well as embarrassing. So though the team won at Arsenal and Liverpool home defeats to Leicester and Bournemouth spooked the board into making four deadline day signings. Hammers now have a squad large enough to compete in the Europa League, shame they are already out.
6. Derby are desperate
Derby's response to starting the season with four draws and a defeat was to spend £10m on Bradley Johnson and Jacob Butterfield. This took to £17.75m their summer spending, a significant figure in the Championship, especially for a club not in receipt of parachute payments and one wonders if they would have spent as much were it not for the continued delay in judgement being delivered by the Football League on QPR for breaching FFP rules two seasons ago. Johnson is 28. His £6m fee is 'dead money' – unless he inspires the Rams to promotion. The pressure is on him – and rookie manager Paul Clement.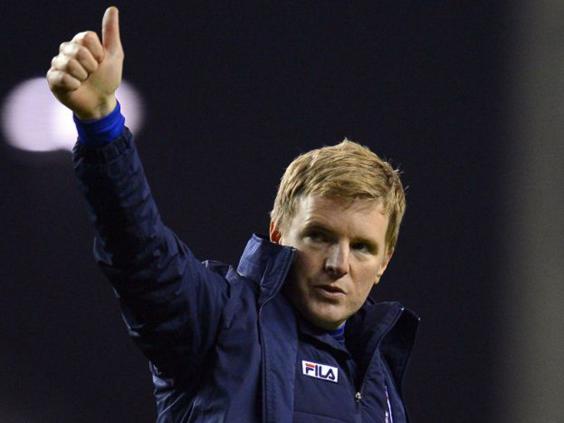 7. Bournemouth are ambitious
Newly promoted clubs have a choice. Spend judiciously with a view to protecting finances and hope to bounce back if relegated then establish themselves in the top flight (the West Brom option), or gamble on staying up. Bournemouth have adopted the latter policy. The club with the Premier League's smallest-ever ground has spent around £25m bringing in 11 new players. After two promotions in three years the Cherries need an upgrade, but their fate will depend on Eddie Howe's ability to integrate this mass of arrivals into a hitherto tight-knit squad.
8. Talented youth is no guarantee
Josh McEachran, released by Chelsea and now with Brentford, is the poster boy for the lost generation, but the list of 'outs' contains many with a glittering future behind them. Dan Potts (West Ham - Luton), John Lundstam (Everton-Oxford), Chris Long (Everton-Burnley) and Andy Cole's son Devante (Man City – Bradford) all played for England youth teams. Northern Ireland's Cameron McGeehan captained Norwich to Youth Cup success but has just joined Potts at Luton. They all dreamed of a top-flight future and might yet get back there, but they will have to do it the long way.
9. France still the place to shop
Looking for a cheaply-priced technically adept footballer? Cross the English Channel. There are more than 30 Frenchmen in the Premier League, taking the total past 200, plus the many more who were brought up in the Gallic coaching system but represent other nations. Aston Villa have supplanted Newcastle as the main recruiters from Lique 1 with a quartet of signings. Meanwhile, the last Englishmen to play in France were David Beckham and Joey Barton.
10. Lack of loyalty goes both ways
Fabian Delph, Raheem Sterling and Berahino have further trashed any concept of footballers being loyal to their club – but it cuts both ways. Johnny Evans probably did not want to quit Manchester United while Jonas Gutierrez and Ryan Taylor certainly did not want to leave Newcastle. Many, many other players have been shown the door, and few are looked after as well as Andy Wilkinson, given a short-term deal by Stoke while he recovers from injury. Football is a brutal business, when a club doesn't want a player he is finished as soon as his contract expires so it is no surprise they wish to control their own destiny.
Transfer window in numbers
Summer windows
2015- £870 million
2014- £835 million
2013- £630 million
2012- £490 million
2011- £485 million
Top 5 leagues
Premier League-£870 million
Serie A- £405 million
La Liga- £400 million
Bundesliga- £290 million
Ligue 1- £220 million
Top 10 transfers
Heung-Min Son – Bayer Leverkusen to Spurs, £18m
Pedro - Barcelona to Chelsea, £21.4m
Morgan Schneiderlin – Southampton to Manchester United, £25m
Memphis Depay – PSV Eindhoven to Manchester United, £27.9m
Roberto Firmino – Hoffenheim to Liverpool, £29m
Christian Benteke - Aston Villa to Liverpool, £32.5m
Nicolas Otamendi – Valencia to Manchester City, £33m
Anthony Martial – Monaco to Manchester United, £36m
Raheem Sterling – Liverpool to Manchester City, £49m
Kevin De Bruyne – Wolfsburg to Manchester City, £54.5m
Net spend
Man City- 101.3
Man United- 43.4
Newcastle- 42
Chelsea- 38.1
Watford- 31.6
West Ham- 29.6
West Brom- 24.8
Bournemouth- 23
Liverpool- 21.7
Leicester- 20.4
Palace- 18.5
Everton- 15.1
Sunderland- 14
Spurs- 12.3
Arsenal- 10.7
Norwich- 9.9
Swansea- 9.6
Aston Villa- 8.9
Stoke- 3.3
Southampton- 3.2
Most/least deals
Arsenal- 1
Watford- 16
Reuse content