Wilfried Bony has signed for Manchester City, according to the Ivory Coast FA - but not according to Swansea City.
The Ivory Coast Football Federation has made a gaffe announcing that the striker is on his way to the Etiahad, tweeting: "Striker Wilfried Bony has just signed with Manchester City on this Wednesday, January 14, 2015."
The two clubs are currently in negotiation over an expected £28million move, but Swansea were quick to dismiss the tweet, posting one of their own that said a deal was yet to be done.
It read: "Wilfried Bony has NOT yet completed his move to @MCFC. Once completed, we will confirm via official channels - not the Ivory Coast FA! #busy."
But despite Swansea's rebuke, Bony was then pictured holding a Manchester City shirt with the president of the Ivory Coast FA (FIF), Sidy Diallo.
A short time after, Swansea officially announced that the deal had gone through.
Bony has scored nine Premier League goals for the Swans this season and was the highest Premier League goalscorer in 2014, scoring 20 times.
He has 34 goals in 70 appearances for the club since his move from Vitesse Arhem in the summer of 2013.
Flash Info #Bony #Wilfried attaquant de l'équipe de #CIV vient de Signer avec @MCFC City ce Mercredi 14 Janvier 2015

— FIFCI (@FIFCI_tweet) January 14, 2015
Wilfried Bony has NOT yet completed his move to @MCFC. Once completed, we will confirm via official channels - not the Ivory Coast FA! #busy

— Swansea City FC (@SwansOfficial) January 14, 2015
Football-Bony avec le numéro 14 de @MCFC aux côtés du président de la FIF, Sidy Diallo, à Abu Dhabi pic.twitter.com/tYORT2Wkxq

— sport-ivoire.ci (@sport_ivoire1) January 14, 2015
The club's manager Garry Monk said last week that Bony's goals could prove the difference in the Premier League champions' title battle with Chelsea and that Swansea chairman Huw Jenkins would negotiate a good price for the club.
"We have had those discussions (over the size of the fee) about what he's worth but the chairman is not stupid either," Monk said.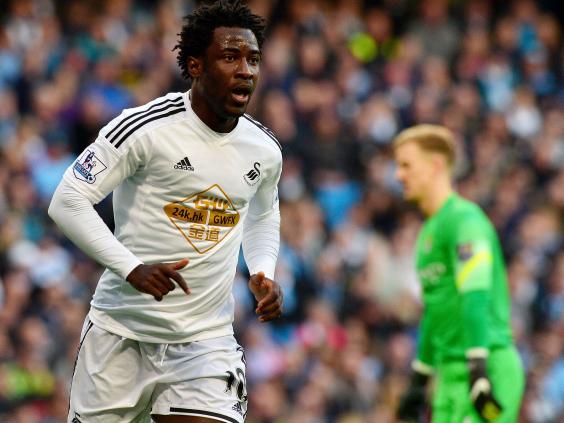 "'The club have a good understanding of these matters and ultimately it depends on what the club feels in terms of how much a player is worth.
"I am sure Huw knows the figure he wants and he will wait for it - and quite rightly so because, whatever figure they have put on it, Bony is worth that, 100 per cent.
"He could be the difference in the title race, couldn't he? That's what City see in him."
Bony will join a City strikeforce that features Sergio Aguero, Edin Dzeko and Stevan Jovetic but all suffered injuries last month and manager Manuel Pellegrini was forced to play midfielder James Milner as a makeshift forward.
The Ivorian is eligible to play in the Champions League but City's transfer dealings are complicated by the restrictions placed on them after they failed to comply with Financial Fair Play rules.
The club's outlay across the summer and winter transfer windows cannot exceed £50million once money from sales is taken into account , but City are confident the Bony deal will comply with FFP as Alvaro Negredo's loan exit is set to become permanent in the summer.
"We are going to replace Alvaro Negredo because it was the decision that we've taken that we're going to sell him," Pellegrini said last week.
"We said we'd see in December if we need another striker. We need another striker so we are going to find which is the best player to play here."
Additional reporting from PA
Reuse content