Frank Lampard's "should have been" goal against Germany in the 2010 was the catalyst for goal-line technology to be rolled out in football: it's now a regular fixture at Premier League and World Cup matches.
Of course, such advancement has not yet reached the lower leagues of England's beautiful game, as can be seen in this Edmonton Rovers video from GrassRootsGoals.
The video shows Lexton Harrison unleashing a fearsome shot that hits the underside of the crossbar, bounces on the line and hits the crossbar again before being collected by the keeper. However, because the ball appears to make the goal net move, Harrison and his fellow Rovers teammates run off in celebration. Many Rovers supporters in the crowd also cheer what they believe is a clear goal.
However, for a shot that is almost identical in its positioning as Lampard's 2010 goal and Sir Geoff Hurst's infamous strike from 1966, there obviously follows a lot of controversy.
The referee runs over to the goal and stands on the line, looking over to where the goalkeeper is still holding the ball. The keeper has remained on the ground, holding the ball, claiming that it never crossed the line after hitting the bar twice.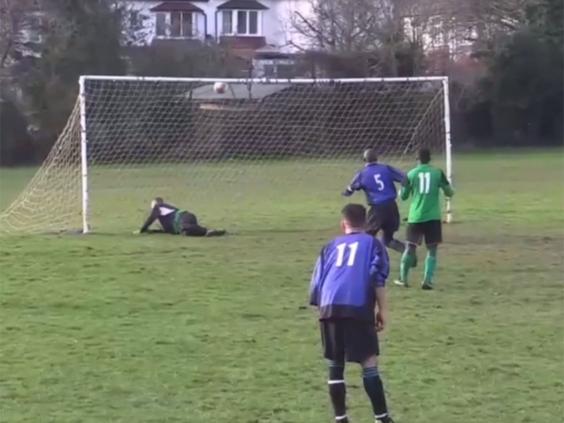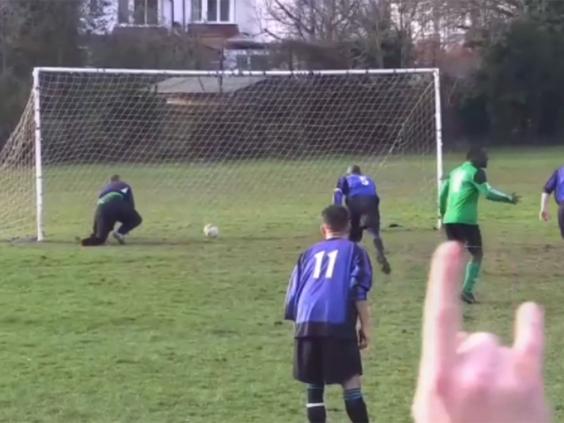 "It hit the net!" members of the crowd can be heard yelling. Still, the referee decides it was not a goal.
"That's appalling ref" and "No way" are screamed by exasperated fans on the touchline but the decision is final. There are no reviews and no technology in the Orc Sports Waltham Football League, Division One.
Lexton Harrison, with one goal in five starts, is robbed of another to add to his tally.
Edmonton Rovers are currently third in the league, seven points off the leaders AC Enfield but with a game in hand.
Video courtesy of GrassRootsGoals.
Reuse content