Bodies lie slumped on the Kenyan roadside. An interval hill run has taken its toll in Iten, a town in the Rift Valley known as the "Home of Champions".
Unlike the rest of the group, the 1500m runner Ben Coldray has paid to be here for this moment of torture, shelling out £1,500 from his own pocket – partly raised by being a butler in the buff at hen-dos.
Mother-of-one Katie Brough has pushed herself one rep further than the rest of the group. Bearing a tattoo on her back meaning "I love life", she is adamant "not right now. This is worse than childbirth and you can quote me on that."
As they run, sharing the terrain with cows and farmers tilling the land, children on the side of the road shout "mizungo" (white man).
Welcome to Project Pinnacle, a new research partnership between British Athletics and the English Institute of Sport aimed at trying better to understand the effects of altitude training, mixing young athletes with established names.
It fluctuates between cutting-edge technology and utter simplicity, from being wired up to machinery like a human guinea pig at the EIS's Loughborough laboratory to a diet of basic organic food in spartan surroundings.
British athletes have been funded to go to Iten since 2009. It is where Mo Farah laid the foundations for his track successes and, on the clay-coated surfaces, it is where Britain is aiming to shape its next breed of Olympic champions.
Barry Fudge, who perhaps fittingly grew up at the base of Ben Nevis, is the head of endurance at British Athletics and has played a key role in shaping Farah's career, working closely with his coach, Alberto Salazar.
"The benefits athletes get are humungous in terms of competing against the best in the world, so for us it's very important," says Fudge.
"This is the first of a series of research projects we have got going on... to actually try to understand what we can do a bit better. A big emphasis on this camp is trying to understand how people respond when they get there so we can fast-track it a bit better next time.
"You need to know this because every day costs money and time and we want people to be moving forward."
The process spans 6,500 miles from Loughborough to Kenya. Before travelling, each of the 16 athletes on this particular three-week training camp takes to a £15,000 treadmill big enough to house a bicycle or wheelchair, masked up and attached to a computer.
Blood samples are taken from an ear lobe after each session to test lactate levels. Meanwhile, the V02 max related to oxygen consumption is measured to break down each athlete's individual running template to prepare them for altitude. It also reads their haemoglobin to measure the different production of red-blood cells at sea level and altitude.
On the ground in Kenya, former athlete-turned-coach Craig Winrow heads up this particular camp, his job as much to rein in eager athletes as set the training programme for them.
"Sometimes it's good to learn the hard way, but actually I don't think this is a good place to learn the hard way," he says, citing examples of athletes who have begun training too hard at 8,000 feet only to feel the full force of altitude and get sick.
As an athlete, Winrow remembers primitive approaches to his own altitude training in Albuquerque, Mexico City and South Africa, ripping off a heart-rate monitor after growing frustrated by the limitations put upon him.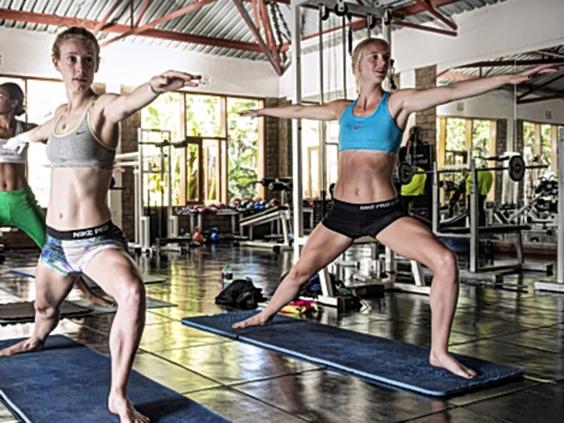 But despite the ever-changing science, he repeats the mantra of the camp's simple way of life – "it's back to basics – train, eat and sleep".
Each morning the athletes visit a physiologist, in this case Gareth Turner, who assesses how each has slept and how they feel, and whether they are fully ready for the rigours of training.
"Part of our job is to step out of the science world and explain to them why we are doing this in lay terms, which is difficult," he says. "If they get a better understanding of it all then they're more likely to buy into it. So the education with athletes and coaches is important and part of our role is to show them why it's going to be beneficial."
But what exactly are the benefits of altitude training? Habitually, four weeks of training at altitude are the equivalent of six weeks at sea level. Most athletes at altitude naturally produce more red blood cells to deal with the changing conditions – the  increase can be as much as five per cent.
"That doesn't sound like much," says Turner, "but if you consider how much oxygen that can transport around the body it's important."
Here the food is far from cordon bleu, often basic curries when the athletes all sit together for breakfast, lunch and dinner each day.
Amid that, they have their own training schedules, mixing runs, gym sessions, physio and rest, all done away from the everyday distractions of home.
It is the fifth time in camp for Londoner Andrew Osagie, a world indoor medallist in the 800m last year who has been struggling to get back from injury in Kenya. His running during his stint in east Africa has been limited to just three minutes and 20 seconds, the rest of the time spent either on the cross trainer or bike, or being put through circuits, all aimed at rehabilitating his damaged Achilles.
"I usually do something different to everyone else, just managing my injuries and trying to get through it," he says, "and the training's tough. It's hard work."
At 26, Osagie is very much the elder statesman of the group, in contrast to the youngest of the intake, the 18-year-old 800m runner Kyle Langford. The first-timer says of his experience: "To be asked to come here was a dream come true. I'm in my element. It's a big learning curve for me, you just try new things and see if it works for you. You can pick up a lot."
Mainstream athletics probably first encountered the widespread effect of altitude at the Mexico Olympics in 1968 and, 46 years on, it still remains a partially untapped science. "One of the big unknowns in altitude research and training science is how we use it before competition," says Fudge. "Traditionally, that's trial and error. What we'd like to be able to do is predict much better what will happen. We're trying to shortcut the normal evolutionary process we get from training."
Mistakes have been made, lessons learnt, with more undoubtedly to come, but it is hoped the first effects will be seen on the track next year.
The British Athletics Endurance Programme is supported by London Marathon, English Institute of Sport, National Lottery, Nike and Polar
Reuse content