Will she stay or will she go? On Saturday's evidence, Jessica Ennis-Hill's involvement in next month's World Championships in Beijing would appear to be a formality.
Having recorded three season's bests over two days of action, the Olympic heptathlon champion is showing all the signs that she is in a position to pick up a medal at the worlds, which she said was the prerequisite for taking the start line.
On the eve of these Anniversary Games, she said it was "too tough to call", and the mood in her camp indicated that it was no better than 50-50 whether she would board the plane for a spot in the team for which she had already qualified. And while she once again defied expectations, her coach, Toni Minichiello, who will convey the final decision to the selectors on Monday, still cast doubt on whether she will go to China.
"For me, there is no point in going there and finishing fifth, eight, 20th. I wouldn't go, I'd just train and then move on next year towards Rio, which is the critical thing," he said. "It's about Rio, there's no British woman who has retained an Olympic title, so that'd be nice."
Quite whether this was merely the ultimate poker face from Minichiello is unclear, as everything else would suggest that Ennis-Hill is ready, the question surely not whether she will go but what medal is attainable.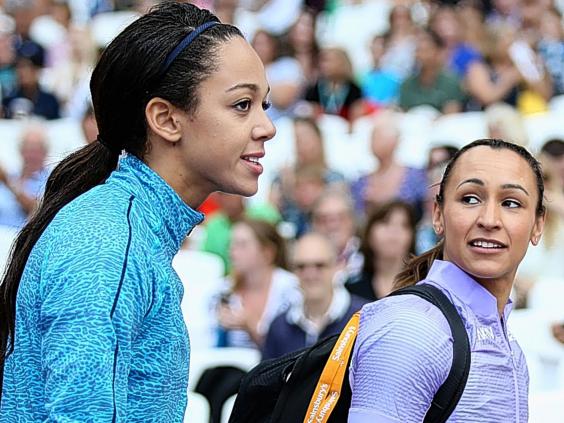 Admittedly she was not in action here in her weaker events – namely the shot put and javelin – but the events in which she did compete went near-perfectly.
On Friday she produced the second fastest time of her career for the 100m hurdles – 12.79sec, a time she has only bettered at London 2012 – when finishing fifth, and she was similarly impressive yesterday.
First, the Sheffield athlete opened the long-jump competition with a leap of 6.39 metres. There was a sense of disappointment that she could not improve on that in her subsequent four attempts, but it was again her best performance in the event since the Olympics. She then ran a season's best of 23.49sec for the 200m.
Afterwards, she very much gave the impression that in her own mind she was China bound: "I want to go because I want to be competitive, I want a medal.
"I know things can go wrong in the heptathlon but if I feel I can contend for a silver medal and things go wrong and I come away with the bronze medal I'd be absolutely ecstatic with that performance. I want to win a medal.
"But I need to sit down with Toni [Minichiello]. He'll probably go, 'No, no' or, 'Yes, yes'. It's just sitting down and having that conversation. I've done three events, it's given me an idea of where my speed is but I've got to make sure my other events are going well."
The build-up to the rivalry with her compatriot Katarina Johnson-Thompson has been long and as yet unresolved. This was the pair's first meeting since the 2013 Anniversary Games – in the same discipline – and sets the tone for a first heptathlon clash since the Games, where Johnson-Thompson was little more than an emerging talent.
All the talk has been of Ennis-Hill's Beijing participation but, if anything, it was the younger of the pair whose participation looked in doubt after a quad injury suffered during the British Championships.
It meant she was able to take part in just one training session ahead of the Anniversary Games and, as a result, she was well short of her personal best of 6.92m for the long jump, with a best effort of 6.50m.
"I originally said I wouldn't be happy with a 6.50, but considering the preparation I've had for it [the Anniversary Games] I'm over the moon at the fact I've come out of it not injured, healthy and happy," she said. "I now need to concentrate on Beijing; I've got four weeks to do a proper build-up to a competition for once."
The European indoor pentathlon champion, a title she won with a 5,000-point haul in Prague but from which she came away with a knee injury, admitted there had been doubts over her participation in Beijing. "I was worried about it before this competition but now I'm completely fine," she said. "I've had five full-out jumps and can't feel anything, so I'm relieved."
But she said that her previous expectation of aiming for gold without settling for anything lesser had since dipped, and that "coming away with a medal would be a great achievement for me, but obviously I'm always going for the gold".
In contrast, the 19-year-old sprinter Dina Asher-Smith is in the midst of the season of her young life. She had broken the British 100m record and run the fastest 200m time by a Briton for over 30 years. Yesterday, she became the first British woman to run under 11 seconds for the 100m, winning her heat in 10.99sec before finishing fourth in the final. "It's been amazing," said the London student. "I thought I was in good shape but I didn't realise [I was] in that good shape. But I've still got a lot to improve; it was messy in places."
It was one of two British records on the day, with Shara Proctor winning the long jump but coming up agonisingly two centimetres short of the elusive seven-metre mark. Whether she can replicate that form is unclear, as the Anguillan-born British athlete was barely able to remember what she had done.
She said: "I didn't feel anything, I just remember blanking out. I didn't remember anything once I started. I just remember getting out of the pit and that was it. Then I saw 6.98, I was so excited."
Reuse content