For an athlete who has broken the 100m British women's record already this season as well as running the quickest 200m by a British woman for 31 years, Dina Asher-Smith could be forgiven for exuding an air of smugness.
But rather than focus on what has been perhaps the stellar story of British athletics this season, the 19-year-old is still kicking herself for her 200m race at last Friday's Monaco Diamond League.
That she finished fourth behind Olympic and European champions was, to her mind, an insufficient outcome following a poorly executed race by an athlete who readily admits she is a perfectionist, a habit shared with her coach John Blackie.
Asked for the most driven of the pair, she has no doubts. "Me, me, me. He reacts to how I feel really. He's got his mindset as well. We thought the same thing [after Monaco] but I was instantly disappointed without having to speak to John."
Her time of 22.41 seconds would have been enough to rank her third on the all-time UK list for the distance, but that is apparently scant consolation for the history undergraduate, free from the shackles of her first-year exams to focus on the climactic part of her season, starting with the Anniversary Games this weekend, where she will run in the 100m and 4x100m relay.
"I wasn't happy with the race. I got back and John was like 'oh Dina'," she said. "It wasn't a bad race overall but I know I can perform much better. I didn't execute my race and I was like 'you just wasted such a good opportunity, why didn't you just go through your paces the way you wanted to do it'.
"My start wasn't as good as it normally is, my transition to the bend wasn't very powerful and in my last 40m my ground contact times weren't as fast, so I was quite slow."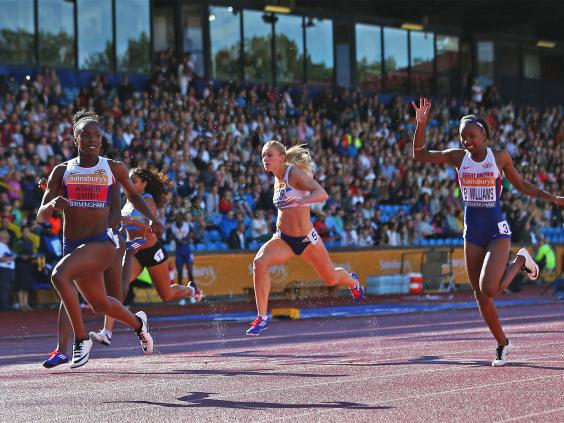 It begs the question what Asher-Smith might be capable of when things do go well on the track.
The story of her remarkable ascent does not fade in the retelling, from being a box carrier for athletes at the same venue just three years ago to being the fastest British woman of all time now. With a personal best of 11.02sec, the obvious next step would be to go sub-11 in the final on  Saturday, when there will be the likes of the American English Gardner, the flying Dutchwoman Dafne Schippers and the Nigerian Blessing Okagbare to push her.
But Asher-Smith is merely happy to be running. "In the Olympics, I was taking people's bags and at the first Anniversary Games I had only just got off the plane from the World Juniors. It's a bit of a switch now," she said.
She recalls the moment the London 2012 crowd went wild when Adam Gemili, missing the Anniversary Games with a hamstring injury, had his name called out.
Whether a similar volume of noise spurs her on to sub-11 is another matter – the bigger picture is the World Championships in Beijing next month, for which the team is announced on Tuesday.
Asher-Smith admits it is still up in the air whether she will compete in the 100m, the 200m or even both, although at 19, doubling up considering her previous hamstring problems is a potential risk.
Her decision rests on London: "It depends where I come in the race, what kind of times I run, how I execute it and how I deal with the environment under that pressure."
On current evidence, she ought to thrive, not that the perfectionist in her will necessarily be satisfied.