The biggest draw of this weekend's Anniversary Games at London's Olympic Stadium is a man who ran a season's best of 10.13 seconds for the 100 metres on Rio de Janeiro's Copacabana Beach all the way back in April.
The fact that the athlete in question also happens to be Usain Bolt distorts the picture, with the fastest man on the planet aiming to reclaim the speeds he knows he is capable of at the scene of his triple gold from London 2012.
A pelvic injury has hindered the Jamaican's progress this season, so this is a last test to see where his form and fitness lie ahead of next month's World Championships and whether he can be a match for Justin Gatlin, an athlete not invited to the capital by organisers because of his murky past.
With Bolt seemingly at his most fragile, it is no surprise that the British sprinter Chijindu Ujah argues this is also Bolt at his most beatable. The British 100m champion says: "I've never raced Bolt before – he's a legend. It looks good for the meet with a lot of people going in there with confidence and him maybe not in the best shape. I might just pop up and surprise."
Such a boast by a British sprinter would have been unthinkable until recently. For one, Bolt had been invincible until his body started to break down in the wake of the 2013 World Championships, and secondly, there is a greater belief than ever among Britain's fastest men.
For the first time, Britain has three current athletes competing who have gone under the 10-second barrier: Ujah, James Dasaolu and Adam Gemili, who tore his hamstring in the process of joining that select band at last month's Birmingham Diamond League and whose World Championships ambitions hang by the recovering tendons of that damaged hamstring.
While Gemili will have to watch the Anniversary Games, the other two in that select triumvirate will line up in the 100m heats at the Olympic Stadium on Friday.
And the 21-year-old Gemili argues it could be the richest period in Britain's sprint history. "I think the last time we had something like this was with Linford Christie going sub-10 and John Regis sub-20 [in the 200m]," he says. "We've had great sprinters since then but never as big a crop of sprinters as we have now, likewise with the women. It's crazy that it's all happened in the last few years."
Gemili is in a class of his own in that he is Britain's only runner to have gone under 10 seconds for the 100m and dipped under the 20-second barrier for the 200m, the 24th man in history to have achieved such a double.
Of joining the sub-10 club, he says: "It's a weird feeling, particularly as the injury took away from the fact that had happened. It's great to be the first Brit sub-10 and sub-20. It's a big thing for sprinters, as you're constantly asked, 'When are you going to run sub-10?'"
It was befitting that Ujah was the man to break the news to Gemili, who continues: "He came over to check I was OK before the result was confirmed and when it was confirmed he was like, 'You've done it'. I was a bit disoriented, to be honest."
Ujah has the current bragging rights among his fellow countrymen after being crowned British champion earlier this month, but admits to being caught up in the fever of British sprinting.
"It's an exciting period as everyone's running seriously fast and I'm just happy to be part of this period," says the Londoner, just five months Gemili's junior. "There's three of us to have done it and there are more getting close to that sub-10 barrier and that's what you need in this country."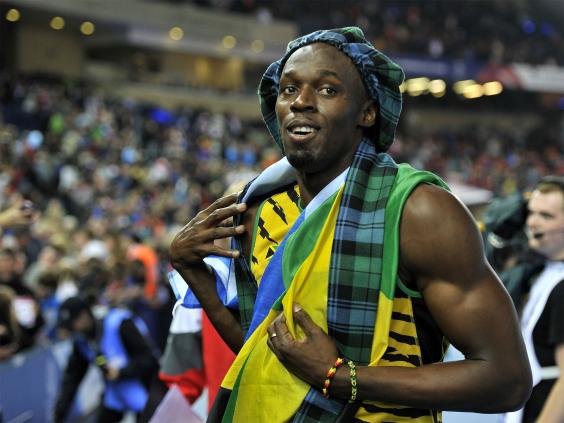 The six British all-time sub-10 runners could become seven with Richard Kilty, also lining up in London on Friday, having run 10.10sec or quicker three times this season, including a personal best of 10.05.
For the quickest of Britain's sprinters, 9.91 man Dasaolu, that electric run, sealed at the trials in 2013, was the springboard he required both mentally and physically.
"When you do something like that, it really gives you confidence that you can do it again," he says. "It's about replicating that and peaking at the right time. And I feel that's where I am right now. Training's going well and I'm in as good shape as I've ever been. And it's not just me. British sprinting's in a really good place right now."
Getting to this point – in the case of Dasaolu and Gemili, who both train under Steve Fudge – has been helped by being based at British Athletics' base at Loughborough with medical support, nutritionists and biomechanists on tap daily.
Gemili, who joined Fudge's group only at the beginning of last season, argues his improvements have come because "we train smarter and harder than before, and there's a lot of hard work going in from so many people".
Gemili disputes the notion that he is pushed on by what the other Brits may be doing, especially the perpetual carrot dangled in front of him by having Britain's fastest athlete training alongside him every day.
Dasaolu, comfortably the oldest of the trio at 27, sees it differently and argues that the legacy of London 2012 has also had an impact on the younger sprinters emerging on the scene.
He says: "It keeps you on your toes, knowing that you have to be at your very best now to make the team. It's not about making the qualifying standard any more, you need the top two in trials [which Dasaolu achieved behind Ujah at the trials].
"There are maybe six, seven, eight guys with the qualifying time. Now you have to strive to be the best."
But the question is whether that best is sufficient on the world stage. Gemili is ranked 17th in the world for the 100m this year, Ujah 39th and Dasaolu a mere 67th, hardly the hallmarks of World Championship medallists.
Can Britain truly believe these runners can be global players on the sprint scene? Dasaolu says: "You'll probably have to ask the Jamaicans and Americans that. But yeah, I think we're up there but we need to get faster to get medals. We've not done that yet and we need to be patient and the times will come."
For Gemili, the reality is that "we need to be quicker if we want to make world finals and win medals.
"I'd like to think we can get up there but we still have a way to go, still getting there and, hopefully, I can do it. It takes time to get up there and people need to be patient."
So can the Brits upstage Bolt in London? Ujah believes so, Dasaolu is less sure, saying: "He's the greatest of all time. He hasn't run a lot in 2015 but we'll expect the very best of him."
How to go below 10 seconds: Ujah's guide to running the 100 metres
On the line
"There's no buzz like it in life. Nothing compares to being on the line, especially as an underdog. I think that's the best feeling. At the start, I look up, that helps me remember that my drive phase has to be world class."
The drive phase
"It's zero to 25 metres – the really powerful bit where the race is won and lost. If you don't put your steps down you'll pay in the middle and at the end. It's the key phase of the race at this level and you just can't think at that point. Your thinking's done in training so it's all automatic come the race."
Transition
"Twenty-five to 40 metres is the transition phase. That's the hardest part of the race as you're upright and you see someone next to you, which automatically makes you ask for more, so ground contact is longer and you start cycling more. Some people go to pushing then but the person who stays most relaxed, balanced and comfortable wins."
The rest of the race
"When you get it right, this point of the race feels like you're flying but it can be very hard to hold the splits. You're at maximum speed and you have to hold it. Sometimes people lose the race here as it's unexpected. If on Friday I find myself on the shoulder of Usain Bolt at 60m, he could mentally lose as he never expects that. That's why you see the shocks – it's the unexpected."
James Dasaolu and C J Ujah will compete against Usain Bolt and the world's top sprinters at the Sainsbury's Anniversary Games in London on Friday. Tickets are available via britishathletics.org.uk
Reuse content