They called it the dirtiest race in history and for nearly three decades the men's 100 metres final at the Seoul Olympics in 1988 has staunchly held on to that claim.
However, increasingly an admirable rival has emerged for Ben Johnson and Co in the form of the women's 1500m final at London 2012, a race in which six of the top nine finishers have now tested positive for performance-enhancing drugs.
For Lisa Dobriskey, it was supposed to be the biggest moment of her career, competing in the final of her home Olympics with friends and family watching from the stands. But as barely a week seems to go by without reports of another failed test, it has left an increasingly bitter taste in her mouth.
"The most upsetting thing is that, when you take 1988, I just felt our sport had moved on so much more," she tells The Independent. "It should be harder to cheat than back then but that doesn't seem to be the case.
"I remember after the race, I wanted to cry and I needed to get out of the stadium. It should have been a joyous moment in front of my home crowd but I felt humiliated. I just wanted the ground to swallow me up. I felt I had to apologise for my performance to my family and friends. I felt I'd let people down."
Dobriskey finished 10th that day but, amid myriad doping cases pending, that now equates to fourth place in her mind. The victor that day was Turkey's Asli Cakir Alptekin, whose result has been removed from the record books and who is now serving an eight-year ban for biological passport anomalies.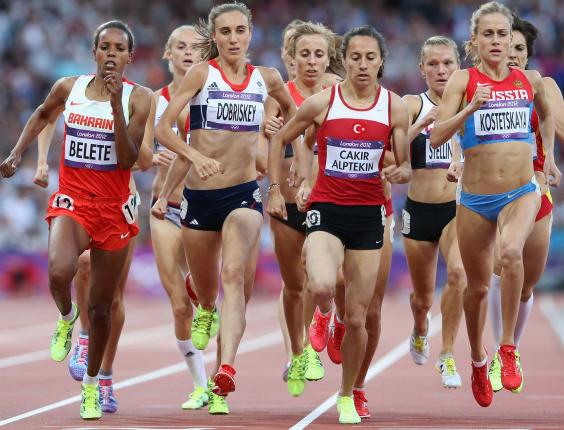 "I stood there and saw her embark on a lap of honour and knew she'd cheated," recalls the 32-year-old Briton. "We were down to watch the last day but that included the 1500m medal ceremony and I didn't want to be there. I couldn't be there when that was happening."
The Kent athlete, who is now based in the States, knew the Turk was cheating and told the International Association of Athletics Federations as much after the Diamond League meeting in Paris a few weeks earlier when she and Morocco's Mariem Alaoui Selsouli, who later tested positive for a banned diuretic, decimated the field. 
"I contacted them and asked how they were both running faster than when they were cheating [the pair had previously received bans]," says Dobriskey, who recalls having come close to confronting Cakir in their hotel in the French capital.
"They came back to me and asked if I had any more information. I didn't have proof but I knew what I saw. For them, it was so easy, they were just jogging. It's hard to run against a cheat as they don't have weaknesses. You can front-run, go hard, have a good kick, it just doesn't matter. You just don't have a chance against a cheat and I'm just being a realist."
Cakir, though, was not alone. Last week, the IAAF announced it had begun proceedings against silver medallist Gamze Bulut over her biological passport while fourth-placed athlete Tatyana Tomashova had served a two-year suspension long before London 2012. 
Of the other suspicious athletes, Abeba Aregawi, the 2013 world champion, recently tested positive for Meldonium, the same illegal substance found in Maria Sharapova's system at the Australian Open, while Natallia Kareiva (seventh in London) is serving a ban for a biological passport violation and Ekaterina Koseteskaya (ninth) is serving a two-year ban.
Dobriskey is one of three Britons to have been directly affected by the events at London 2012 over nearly four laps of the track in London.
At 21, the Steve Cram-trained Laura Weightman was a surprise finalist, having crept in with a personal best in her semi-final. Standing on the start line in front of her home crowd, she did so with rose-tinted spectacles.
"In 2012, I was a naive 21-year-old at my first major championships," she says. "Now four years on it's quite upsetting. It was an incredible experience but I just didn't know what was happening at the time. I was too young to be suspicious and increasingly it's such a shock that people can dishonour the sport like that. It's a great event that's in the press for all the wrong reasons. There are five or six people that were cheating that shouldn't have made that final. I hold on to the positive memories of running in front of 80,000 people at your home Olympics but what's hard is that effectively half of that field cheated to get to that point."
Weightman is of the opinion she would not have won a medal at that stage of her career but, for Dobriskey, that is not necessarily the case.
She had already been denied a medal finishing fourth at the previous Olympics in Beijing with Ukrainian Nataliya Tobias, who later served a ban for testosterone, taking the bronze just three-tenths of a second ahead of her. But instead she has greater sympathy for those that missed out on the final, among them Hannah England, who narrowly missed out having worked her way back to fitness from an Achilles injury.
"I remember watching the final and I was very upset," says England nearly four years on. "I was there with my dad and sister and I remember saying, 'I'm just glad I'm not a part of that any more'. "I never believed in the first two in that race, in fact the whole race didn't sit well for me. It was a total anticlimax when the women's 1500m was always the race I most looked forward to. I feel more for Lisa and Laura to make an Olympic final that was just a joke. That's just such a shame."
England admits she has been guilty of a certain amount of naivety in her approach to the 1500m, giving athletes the benefit of the doubt. "With all the stuff coming out about that race at London 2012, [the British long jumper] Chris Tomlinson said to me the other day, 'I really feel for you guys'," she adds. "He asked how you deal with the doping being worst in the middle distances? And I was like, 'Do we?' I'd never really thought we had or needed people's sympathy."
England will for ever remain an athlete who missed out on her home Olympic final while Dobriskey and Weightman have no idea where they might have finished in a clean race.
Dobriskey would like to have another shot at it. "I'd love to kind of go back and run it again just to create some happy memories, simply to be able to enjoy it, for the Olympic experience to be as it should be... but it's for ever tarnished." 
Reuse content