With the majority of the British public still sound asleep, Saturday morning at 2am Jessica Ennis-Hill and Katarina Johnson-Thompson will finally begin a potentially mouth-watering rivalry in the opening round of the heptathlon, the 100 metres hurdles.
It should be a long journey together which will take them to the Rio Olympics next year and potentially beyond, neither quite at their peak in Beijing, neither quite sure what they are capable of.
At their best both could comfortably come away with the gold but go into the World Championships with their own caveats, for Ennis-Hill the fact that she is still trying to find her way in her first full season back since the birth of her son, Reggie, while Johnson-Thompson's preparations have been beset by knee and quad injuries.
Their situations have changed markedly since their last heptathlon together, which could hardly be called the beginning of their rivalry, Ennis-Hill storming to a gold medal  inside the Olympic Stadium at London 2012 while Johnson-Thompson finished a creditable 15th.
Johnson-Thompson, 22, seven years her British rival's junior, was earmarked then as the athlete to beat at the next Olympics. The Liverpudlian's take is somewhat different. "Coming away from London 2012, I remember thinking how far behind I was and how advanced these girls were and how I was never going to progress that much in four years, so I was definitely really scared," she said.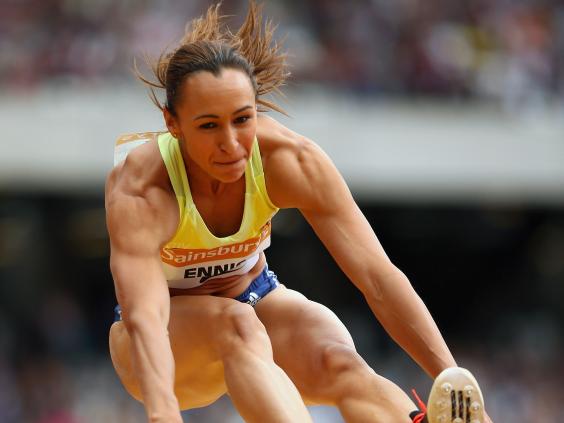 The praise she garnered, she has since admitted, made her "stress a little bit", partly as she envisaged Tokyo 2020 as being a more realistic time to peak than the more imminent Games.
But it was at the last World Championships in Moscow two years ago that the mindset began shifting. "After day one I wasn't in a good position but on day two I had two really strong events and, coming into the 800m, I was so close to winning a bronze medal and that was just the year after," Johnson-Thompson said.
"I went into a competition thinking, 'I'm not ready for this and I'm just giving it my all,' but ever since then I think I have had a different mentality as an athlete."
That attitude was present in March this year as she set personal bests and nearly broke the world record for the pentathlon at the European Indoor Championships in Prague, becoming only the second athlete to pass the 5,000-point barrier. But she limped away from Prague with a knee problem, recovered and then broke down at the trials with a quad complaint. It has, she said, left her at about 95 per cent of her ability.
Ennis-Hill, who watched the European Indoors from home with her baby, recalled: "I was blown away by her performances and thought she was incredible. I definitely sat there thinking, 'Oh gosh, this is going to be hard'. But it's great and I think British heptathletes are some of the best in the world and it's great to see we're so strong and she's got a great few years ahead of her."
It is a change from London 2012, where Johnson-Thompson remembered: "I didn't want to talk to her in case I got in the way of her focus, so I just left her to it."
For both it is a first time inside the Bird's Nest stadium and a chance for the older of the pair to erase the memories of missing the 2008 Olympics with a stress fracture of the navicular and metatarsal in her right foot.
More than the physical pain, it was the mental hurt that ate away at her and which she credits as a springboard for her career-crowning triumph in the next Olympic cycle, to such an extent that initially she could not remember having watched her event at all in 2008.
"Toni [Minichiello, her coach] is just reminding me we watched the heptathlon together at my house. I couldn't actually remember that, it's really bad. So yeah, we watched it together and, obviously, saw bits of other events but it was a really hard time. It was really disappointing and difficult for both of us but it's kind of been made up for in the years that followed."
Back then Ennis-Hill feared her career might be over and that she "didn't want to be that athlete who gets an awful injury and you never hear of her again".
Her form this year has come flooding back at the right time, with three season's bests at last month's Anniversary Games moving her into the position of a genuine medal contender, with the chance of even winning the title should the stars align.
For her, though, her season's goals – of a first heptathlon and the qualifying score for Rio – have been achieved, both in Götzis in May.
As a result, she calls Beijing an "added bonus" but one that has taken her away from her son for two weeks, hence something she wants to "make worthwhile".
It is merely a stepping stone to Rio and the defence of that Olympic crown: "It's about getting back into competition and being in this environment again on the world stage and getting that feeling back in me. Then next year I hope I can start producing some performances that will be reflected later in the year at the Olympics."
A British one-two is not unthinkable in China, although Canada's Brianne Theisen-Eaton will be a formidable opponent for the gold. To win, Johnson-Thompson believes a tally in the region of 6,800 points will be needed, some 100 fewer for a place on the podium.
She should be there, the question is: on which step? "There's a sense that the year hasn't gone quite to plan," she said. "I don't know whether, come the day, I will be able to deliver because I haven't done many outdoor competitions this year. So, it's not a gamble but I am going into the unknown."
In London, she felt like a spare part in Ennis-Hill's victory parade; in Moscow, as the sole British athlete in the heptathlon, she felt alone. This time around, she may have another rival in Ennis-Hill but it is more than that.
"Within your country you are definitely helping each other out and speaking to each other," she added. "It's like a safety blanket, you've always got someone to talk to during the seven events."
Personal bests: Heptathlon events
J Ennis-Hill/K Johnson-Thompson
12.54s 100m hurdles 13.41s
1.95m High jump 1.97m
14.67m Shot put 12.49m
22.83s 200m 22.89s
6.51m Long jump 6.92m
48.33m Javelin 41.44m
2:07.81 800m 2:07.64
6,955pts Total 6,682pts
Owning the podium? Britain's best hopes
1. Mo Farah (10,000m/5,000m)
Britain's best prospect for a gold is undeniably the Londoner despite the controversy that has surrounded him.
2. Katarina Johnson-Thompson (heptathlon)
Knee and quad injuries have curtailed the Liverpudlian's build-up, but, on her day, she is arguably the world's leading multi-eventer.
3. Greg Rutherford (long jump)
Rutherford is attempting to become the fourth British athlete to hold the Olympic, World, European and Commonwealth titles at the same time.
4. Jessica Ennis-Hill (heptathlon)
Just 13 months after giving birth to son Reggie, Ennis-Hill has overcome Achilles injuries to be a medal hope.
5. Women's 4x100m relay
The line-up is noticeably stronger than the quartet who won bronze at the championships in 2013.
6. Men's 4x100m relay
Jamaica and the US remain the top dogs, so realistically the best Britain with the likes of Chijindu Ujah and Richard Kilty can hope for is bronze.
7. Christine Ohuruogu (400m)
The defending champion regularly arrives at a major championships short of her best form and she has done so again. A medal of any colour may be tough.
8. Tiffany Porter (100m hurdles)
With sister Cindy Ofili alongside her in a GB vest, she is aiming to unsettle the Americans and emulate or better her 2013 bronze.
9. Lynsey Sharp (800m)
A year ago, she won Commonwealth silver after a night on a drip in hospital. Training has gone near perfectly, although the opposition will be tougher.
10. Shara Proctor (long jump)
The Anguillan-born Proctor has shone before championships in the past only to falter, but her consistency looks better ahead of Beijing than ever before.
Matt Majendie
Reuse content