Chijindu Ujah may be one of only six Britons to have dipped under the 10-second barrier in the 100 metres but he has yet to pass a relay baton to one of his Great Britain team-mates.
This weekend, Britain's second-fastest current man will make his senior debut in the 4x100m at the European Team Championships on the banks of the River Volga in the Russian city of Cheboksary.
Despite clocking a 100m time of 9.96sec last season, Ujah was overlooked for both the Commonwealth Games and the European Championships, and was in the midst of his university exams during the IAAF World Relays in the Bahamas last month.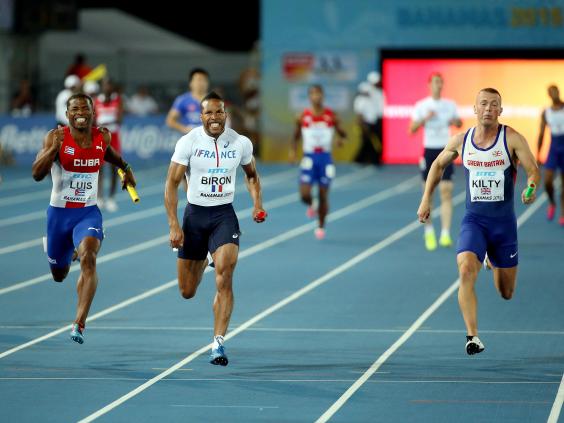 His absence and that of Britain's other leading sprinters led to a public rebuke from Richard Kilty after the reserve line-up failed to achieve an Olympic qualifying spot in the Bahamas. Kilty, who is also in the relay team with Ujah this weekend, pointedly said: "I feel let down by the guys that didn't come out."
It put the spotlight on the likes of Ujah but he is seeking to downplay the spat. "I understand it," Ujah said. "It was frustration as he knew we could have had a stronger team out in the Bahamas but, unfortunately, different people had different situations.  Obviously, not everyone could be out there and he's entitled to his opinion."
Ujah insists there is no animosity, the pair having met in Manchester shortly afterwards to air their differences before competing at the street games there.
The sprint relay team for this weekend is still missing Britain's two other sub-10sec men. Adam Gemili is recovering from the hamstring injury he picked up when dipping under that elusive mark in Birmingham two weeks ago. Meanwhile James Dasaolu is focusing on the individual event at present.
As for what the relay team can achieve in Russia and beyond, Ujah said: "It's an exciting period as everyone's running seriously fast and I'm just happy to be a part of it as it's my first time with the senior relay team.
"I want to be a big part of the relay squad and this is a good chance before the World Championships. Our first ambition is to improve on what the guys did in the Bahamas but still getting the baton around is the main objective. Obviously, we want to be the first over the line."
With Kilty having been selected for the individual 100m event at the European Team Championships, Ujah's focus is solely on the relay in  a team mixing youth and experience.
Olympic high jump bronze medallist Robbie Grabarz returns to a GB vest following a lengthy lay-off from knee surgery, while Dina Asher-Smith, the new British women's record holder over 100m, goes in the 200m two weeks after becoming the second-fastest Briton in history over the longer distance.
For Ujah, it is the first time in GB colours since the European Indoors, in which he was disqualified in the 60m final. "I was annoyed by that  and my race in Birmingham [two weekends ago]," he said. "But it happened and you move on."
Reuse content