Christine Ohuruogu is on a mission, destination unknown.
The 30-year-old talks like she runs the 400 metres: a slow starter who opens up as the conversation goes on.
There is an initial timidity that almost veers towards boredom as she gently prods at questions about the upcoming European Championships – "I thought it was important to do" – and an expectation for her to win gold – "I never really care what people expect me to do".
But as she comes round the virtual bend and into the home straight, she is at her free-flowing, eloquent best. For this quiet soul and deep thinker with a degree in linguistics who is often happiest buried in a book, the goals for the remainder of her career are somewhat endearing.
"I feel like I'm on a mission. I don't know what it is or where it ends but I'm not done," she says. "I will know when my time is up but it's not now."
The Londoner could be forgiven for having packed up her running spikes some time ago. The current world champion boasts two world titles – six years apart – as well as an Olympic gold and silver. But she runs on, the only individual title to have eluded her, European gold, potentially within her grasp this week.
That she is here at all is a nod to her determination. Injuries meant the athletics light that shone so brightly in Osaka in 2007 and Beijing 2008 began to fade, Ohuruogu only getting near to her best just down the road from the house where she grew up, with silver at the Olympic Stadium two years ago. By her own admission, there were times she assumed she would not be there.
"It never got to a point when I felt like knocking it on the head but in 2011 when I was disqualified [the World Championships] in Daegu and then ran a next race that was awful I did think how much more I could push on with the heartache," she says. "I'd been fortunate to be in a position where I'd won Olympic, World and Commonwealth gold. I thought, 'Maybe that's enough, maybe that's what you're allocated in your career, let someone else have a go'.
"I wondered if I should keep pushing myself forward. I never said I was going to give up but I did question whether I could run 49.6 or win a  championship."
The answer did not come in London. Her silver behind Sanya Richards-Ross was personally deemed a disappointment despite the litany of injuries that had preceded it. Instead, Moscow was her crowning glory. The Olympic title may mean more but her run in Moscow was the greatest of her career, certainly the greatest of the championships as she reeled in the long-time leader Amantle Montsho and won by the narrowest of margins with the most dramatic of dips.
"Moscow was phenomenal," says Ohuruogu. "We [she and her coach, Lloyd Cowan] planned Moscow for months and months. We worked and worked and worked. I remember after 2012 I was exhausted and I said to him, 'I don't think it would be realistic to plan on winning gold next year'. So he just suggested going for the British record."
But the seeds of an idea were rooted and, as the body for once held firm and she leant on a sports psychologist, the mental fortitude and, with it, her ambition grew and grew.
"We'd planned how it was going to happen. It happened just how we planned. I knew it was going to be tight in the final and I knew Montsho would give me headaches. She's so tough and I knew I'd have to run her down. I wasn't sure if I'd left it too late. I remember thinking as I was running her down the home straight, 'This is not how it happens, I'm supposed to win this, she can't win this, I'm supposed to'. That gave me even more drive."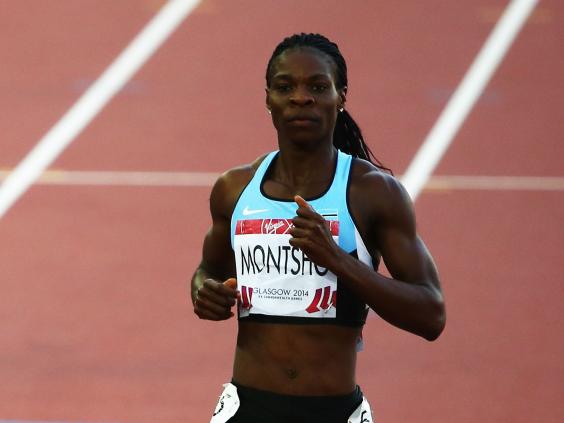 She describes the aftermath as "delirium", almost unable to comprehend what she had achieved, but it is not a gold she allows herself to dwell on. After all, there are other goals.
As for what's next and what else there is to achieve, she insists it will not be a box-ticking exercise. Instead, the goals are minimal on a day-by-day, session-by-session basis rather than having aspirations for more world or Olympic titles.
"I just target ever year and every session, making sure I'm that much sharper than yesterday and that's it," she adds. "It's how I operate."
After events in Moscow, this season was supposed to be a year off, a chance for her body to recover from London 2012 and her subsequent success in Russia as she plans a final hurrah in 2015, 2016 and potentially beyond.
She could come away with another title or a 17th career medal but she similarly gives the impression it might be something of damp squib. Either way, it doesn't matter – 2014 was never meant to be a medal-laden season.
Ohuruogu has a penchant for being vague but there is some basis to her pre-Zurich assessment of whether she can aspire to win gold: "The real answer is I don't know". It is a step into the unknown but that is often the case and there is no less determination in her will to succeed.
An athlete who is Olympic legacy in motion – she has pledged to visit every school in Newham, east London, since the 2012 Games and that quest is ongoing – she has ambitions for 2016 and potentially even beyond. On her mission unknown, is there an end point?
"I don't know as it's more to do with how much your body can get through," she says. "If your body's not working with you there's not really much you can do. Realistically, though, I look to 2016 but the World Championships in London the following year might persuade and the Gold Coast for the next Commonwealth Games might be nice too!"
Reuse content