Two years ago, Dina Asher-Smith played a bit part in Super Saturday inside the Olympic Stadium. Now the countdown is on to a very tense Thursday for the 18-year-old.
A box carrier for the last two days of athletics at London 2012, Asher-Smith witnessed Jess Ennis-Hill, Mo Farah and Greg Rutherford all win Olympic gold.
On Thursday morning the teenager will crouch down in the blocks for the heats of the 200m at the European Athletics Championships moments after finding out her A-level results.
Only now is she beginning to grasp the enormity of the day in question, her first individual senior major event as well as a place at stake at King's College London to read history, for which she needs three As.
"I've been trying to forget about the results day concept," she says. "I really do want to find them out. I really do hope I haven't done that badly in my exams and get my first choice of uni. Hopefully I'm in a good position so I'll be able to look at them in the morning and it's going to be good news."
She will log on to the UCAS portal to find out whether it's a case of congratulations or commiserations. "I'm looking for congratulations as that's the less stressful option," and she insists it will have no bearing on how she might run.
"If I don't get the results that I wanted I have to forget about it. It's not going to do anything other than hamper my athletics performance. Historical dates and stuff are not going to help me run faster on the track."
Juggling academia and athletics is nothing new for Asher-Smith. It has always been thus and she sat her biology A-level at the same time as the trials for the World Junior Championships.
The studies clearly weren't to the detriment of her athletic ability as she won 100m gold in Eugene, Oregon, last month, her winning margin of 0.16 seconds the largest for 14 years at the event.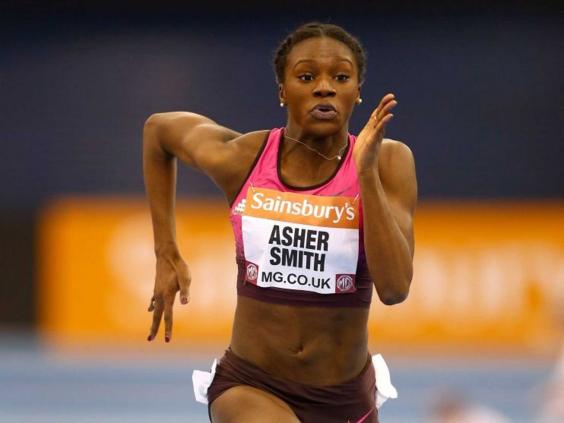 She is a star on the rise, the latest athlete to be given the somewhat poisoned chalice of being British sprinting's next big thing, Nike have her on their books and she has been snapped up by Usain Bolt's agent.
Her ambitions for Zurich, however, are modest and with good reason. She is only the third quickest Briton in the 200m behind Jodie and Bianca Williams, who won silver and bronze respectively at the Commonwealth Games.
Asher-Smith revelled in watching the pair race. "I was so happy for them," she says. "In 2012, Jodie pulled her hamstring at the Olympic Trials — that was heartbreaking. I watched on TV with my Mum and we were like 'oh my gosh'."
Asher-Smith is not your average athlete. A former euphonium player, the academic bright spark relishes modern history in particular.
"I find Mussolini really interesting," she says, a sentence you wouldn't expect uttered from the lips of a British athlete. "I like looking at how it [history] changes and how our perspective of it changes. I think it's fascinating how with an event the facts haven't changed with say Hitler but there are different perspectives on it and different schools of thought."
Seeing herself as a 200m specialist, with a best of 11.14 this season over the 100m, there is a sense she might be her own history maker and break Montell Douglas' six-year British record of 11.05 in due course.
What is clear, though, is that she has few qualms about the often difficult transition from the junior to senior ranks having won bronze as part of the 4x100m relay team at last year's World Championships.
"I think you have to show you're not scared," she adds. "Some juniors come and put seniors on a pedestal. I'm not trying to be disrespectful to athletes who've done so much but there's a difference between idolising them and respecting them. You have to normalise them and don't panic that you have Shelly-Ann Fraser-Pryce next to you."
To think that two years and a week ago, Asher-Smith was inside the Olympic Stadium in London carrying boxes for the athletes lining up. Back then, she squabbled with her friends for possession of Mo Farah's.
"It is one of the those moments that you're not going to forget," she says.
She may still be early on her trajectory but Olympic experiences will be her minimum career requirement.
The Zurich schedule
Tuesday
Having missed out on selection for the Commonwealth Games, James Dasaolu will be hoping to recapture his sub-10-second form of 2013 in the 100m heats. Elsewhere, with the five best throws in Europe this year, Germany's David Storl should win the first gold of the Championships in the men's shot put.
Wednesday
Mo Farah will begin part one of a possible European double in the 10,000m while Tiffany Porter will battle it out with France's Cindy Billaud in the 100m hurdles. Also, Britain's male and female sprinters will be in strong medal contention in the 100m: Dasaolu is the pick of the male Brits and Asha Philip ranked second on the continent behind Holland's Dafne Schippers.
Robert Harting, the man who rips open his vest in celebration, is the favourite in the discus.
Thursday
Will Sharman will be hoping to make up for his error in the Commonwealth Games 110m hurdles, although he faces two quicker men in Pascal Martinot-Lagarde and Sergey Shubenkov. Adam Gemili goes in the 200m heats and semi-finals although Frenchman Christophe Lemaitre is the European form man over the 200m. GB captain Goldie Sayers will also hope to make her mark in the javelin final.
Friday
Christine Ohuruogu predicted 2014 would be a fallow year but then put herself up for individual 400m selection. Quite what her form in the event is remains to be seen. All eyes will be on new 400m sensation Matt Hudson-Smith in the men's while the British trio of Bianca and Jodie Williams, and Dina Asher-Smith, will hope to upstage Gemili over the 200m finals.
Saturday
There has been a rich vein of form in women's middle-distance running and the 800m final acts as another platform for Lynsey Sharp, the Commonwealth silver medallist, and fellow Glasgow finalist Jess Judd to make their mark. Eilidh Child, meanwhile, will have aspirations to turn her Glasgow silver to Zurich gold as No.1 in Europe this season.
The day's international star may be France's pole vaulter Renaud Lavillenie.
Sunday
Depending on how he performed on Wednesday and how his body stood up to it, Farah will attempt part two of the distance double in the 5000m, although his form and fitness is unknown. Greg Rutherford will bid to add European gold to his current Olympic and Commonwealth titles while Britain can expect medals in all four of the day's relay races.
Reuse content