Jenny Meadows was expected to merit the middle-distance glory in Prague for the British team but Chris O'Hare instead led the way with bronze in the 1,500m.
Not even a gash to his foot picked up in the first five metres of the race, which needed two stitches from the British team doctor afterwards, could put him off his stride as the American-based athlete repeated his bronze medal from last summer's European Championships outdoors.
There had been hopes of British medals for Charlie Grice, who was edged out in fifth in the race, and Guy Learmonth, who was eighth in the earlier 800m.
But O'Hare, who had looked in danger of being swallowed up in the home straight with winner Jakub Holusa of the Czech Republic and silver medallist Ilham Tanui Ozbilen of Turkey already clear, held on for the bronze.
"I'm a bit of skin lighter," he said afterwards. "In the first five metres, I just got stood on from behind. I thought 'that's not handy'. The first couple of laps I was like 'this feels like more than a scratch' but it wasn't going to stop me. I'll get a couple of stitches and I'll be alright."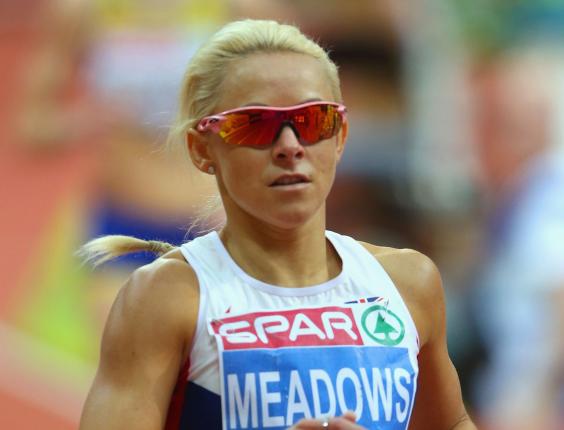 O'Hare, though, was adamant it was not even the best family performance of the weekend. That belonged to younger brother Dominic in taking second at the Scottish School's Cross Country on Saturday despite losing a shoe in the first mile. "This is second best for sure in the family," said the older sibling.
Arguably Britain's best bet for gold in any event heading into the championships had been Meadows but a heavy cold meant the 33-year-old was unable even to take the start line.
Meadows must feel cursed – denied past medals by drug cheats and a litany of injuries – and her latest setback coming when she had dominated the 800m throughout the course of the indoor season.
"I went to bed really hopeful that I could compete and knowing that anything can happen in an indoor final," said Meadows, who had struggled in her semi-final and only reached the final after a Russian rival was disqualified.
"I've deteriorated overnight and, following discussions with medical staff and my coach, this could be one push too far for myself.
"I would have given everything I have got in me over those four laps but I am serious about doing well in the outdoor season this year and that has got to be the bigger picture."
Reuse content