When Richard Kilty was crowned world indoor champion, he was entered in his home town's Hall of Fame alongside the creator of the matchstick. Quite what the bright lights of Stockton-on-Tees have in store for him 12 months on, now he has added a European title, is another matter.
The Teesside Tornado was the star act of the final day in Prague as he emulated Katarina Johnson-Thompson's gold on day one as Britain fell one medal shy of its record tally at the event of 10, dating back to 2007.
There was nearly a sprint double as 19-year-old Dina Asher-Smith matched the British 60m record but had to make do with silver behind the indomitable Dafne Schippers, while the women's 4x400m relay team also took an impressive silver.
But the supposed duel between "Spiderman" Chijindu Ujah and "Superman" Kilty, both nicknamed for their all-in-one lycra outfits, never materialised. Another packed crowd never got to see the battle of the superheroes as Ujah was disqualified from the 60m final for a false start, the first of his career.
The starter has been accused over the three days of holding the athletes in position too long but Ujah, who celebrated his 21st birthday on Thursday, proved monstrously over-eager. "I've never false-started in my life so for it to happen here is just gutting," said Ujah. "The guy next to me twitched. I also felt they were holding us for so long."
As the seven remaining finalists settled in their blocks, the Londoner, quicker than Usain Bolt at the same age with a personal best of 9.96 sec in the 100m last year, lay with his back on the outer track, left to ponder what might have been.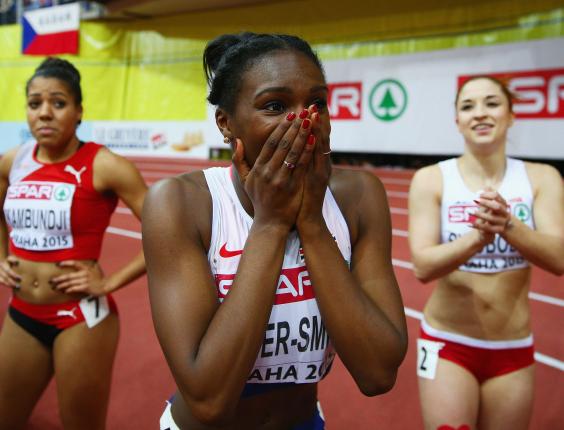 Britain's men have not failed to win a medal in the 60m at this event since 1987; Kilty continued that remarkable record, becoming only the third Briton – following Dwain Chambers and Jason Gardener – to hold both European and World titles. He claimed the gold in a time of 6.51 sec.
"A few people called me a one-hit wonder and counted me out again," said Kilty, 25, who struggled to convert his indoor form of last season to outdoors. "I don't think they should do that again because I've come out here and proved I'm a fearless competitor. I come alive on the battlefield."
There was some sympathy for Ujah's predicament but Kilty, who paid tribute to coach Linford Christie, to whom he reverted this spring, was adamant that had his British rival been in the field the result would have been the same. "I'm certain I was going to take the victory no matter what the circumstance," he said.
It so nearly could have been double sprint gold but Asher-Smith was just edged out by the Netherlands' Schippers on the line. It made her the fastest teenager of all time over the distance as she matched Jeanette Kwakye's national record of 7.08 sec. It was also historic for being a first British medal in the event since Heather Oakes won bronze in 1985. Asher-Smith has just a day off from her history studies at King's College London before returning tomorrow morning for lectures on the French Revolution.
"Everyone said 'you could do really well here' but there's a difference between people predicting that and really doing that," she said. "So I'm really happy and to get a PB in the final –that never happens to me. To equal the British record, I'm over the moon."
The silver medal-winner celebrated by sharing a pizza with room-mate Morgan Lake, the 17-year-old multi-eventer, who finished ninth in the pentathlon won on Friday by Johnson-Thompson.
In the women's 4x400m, individual bronze medallist Seren Bundy-Davies showed fresh legs in her fourth race in three days on the second leg following Kelly Massey; Kirsten McAslan, taking the baton from Laura Maddox in third place, came within a whisker of the gold but was nudged out by 0.18 sec by the French quartet.
It left Britain third in the medal table and took their tally to nine for the championship: two gold, four silver and three bronze. Having proved definitively that he is not a one-hit wonder, Kilty now needs to prove he is not just an indoor wonder.
Reuse content