Greg Rutherford believes he is still a "ginger kid looking for acceptance" despite holding every global title available in the wake of his long jump gold in Beijing.
The 28-year-old joined an elite band of British athletes – Linford Christie, Jonathan Edwards, Sally Gunnell and Daley Thompson – to have held Olympic, world, European and Commonwealth titles simultaneously.
But he said he struggles to put himself on the same level as that quartet, compounded by the fact that the public have occasionally been dismissive of his achievements.
"My entire life I've been searching for acceptance," he said. "I was that ginger kid who always wanted people to accept them. It's hard and you've got a big chip on your shoulder for a long time.
"I don't care what people think of me but, on the flip side, it's hard to understand when people don't like me when all I'm trying to do is do well. That's the thing that I struggle with a little bit."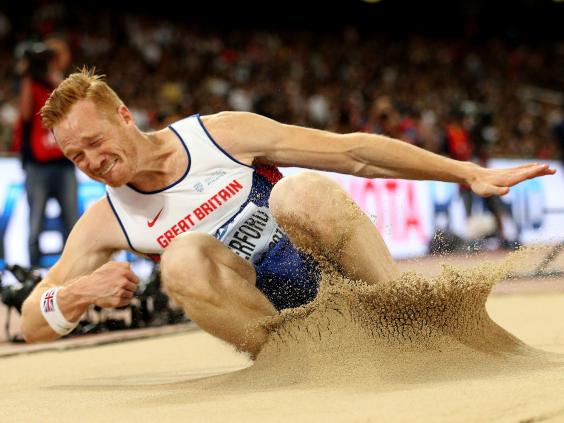 Jessica Ennis-Hill and Mo Farah became household names after winning gold at London 2012 but Rutherford, the other gold medallist in the Olympic Stadium on Super Saturday, struggled for the same attention, with many suggesting his winning jump three years ago was lucky.
And having won a first world title to complete the set here with a jump of 8.41m – longer than he achieved in London – he said: "All I want is for people to be really pleased when I do well. I don't want to be having to come out and say, 'I'm not a fluke', and trying to prove people wrong."
But he is hopeful that the mindset of the wider public will change in the light of his historic set of titles. "What has been amazing is the response of the people to winning the majors and joining the club," added Rutherford, who has had messages of congratulation from Christie and Gunnell on social media.
"That helps make it a little bit more special because when you throw those sorts of names into the hat then everybody goes, 'They are some of the biggest names in British athletics history'."
For one of the most affable figures in the sport, there has been a prickliness to Rutherford in the build-up to Beijing, particularly with reference to his relationship with British Athletics.
He criticised the national governing body for its failure to place a Union flag on the British vest and also because of a perceived lack of backing.
But he said he planned to have clear-the-air talks with the UK Athletics chief executive, Niels de Vos, and chairman, Ed Warner, in order to improve things for him and his fellow British athletes for the good of the sport.
He added: "If you're not happy with your job you have HR you can go and speak to. Athletics doesn't have that and the issue we have as athletes is that I think we're seen as a bit boring because nobody ever says anything. In my opinion, there are things that need to change. I think athletes should speak out more if they see something wrong."