Does Greg Rutherford have a case for being Britain's most underrated sportsman? In a stadium where he had previously been criticised for underperforming, he silenced his doubters once and for all to become only the fifth Briton to hold the Olympic, world, European and Commonwealth titles at the same time.
He joined luminaries Linford Christie, Jonathan Edwards, Sally Gunnell and Daley Thompson but has not quite risen to the same bracket of household name despite his achievements.
His victory was akin to a boxer unifying every division and Rutherford has certainly fought his way to the top, most notably with UK Athletics over a perceived lack of support for him, despite his notable achievements, as well as over the lack of a Union flag on the current team vest.
The outbursts led Michael Johnson to advise him to do "more jumping, less talking", advice to which he adhered for the duration of the final.
He resolved the issue of the Union flag by wearing an armband with the design on it and by draping a large flag over his shoulders moments after the last competitor – Jianan Wang of China – failed to get close to the Briton's best jump. His winning mark of 8.41 metres, his longest in a major championships and a season's best, was recorded in the fourth round after two no-jumps.
Following a far happier finale than in the 2008 Olympics at the Bird's Nest stadium, when he could finish just 10th, he said: "Seven years later, I can put that demon to rest and walk away with a bit of a smile. I am absolutely over the moon. I'm the Olympic, world, Commonwealth and European champion now."
Back then, he had woken up with a lung and kidney infection, this time he was greeted with a searing headache – the effects of too much sunshine – and thought: "This can't happen again". But thanks to two paracetamol and the adrenalin of competing, he had no averse effects.
Rutherford's victory means that all three of Britain's stars of Super Saturday at London 2012 have added world titles to their Olympic crowns. While at those Games, Rutherford was overshadowed by the exploits of Jessica Ennis-Hill and Mo Farah, this time Beijing was in rapture for the long jump, with three Chinese men on the start list.
After repeating the Super Saturday hat-trick in China, Rutherford added: "I take my hat off to Jess and Mo. Jess came back a year after giving birth, poor Mo comes back after an absolute horror of abuse all year. They both go out and become world champions again then the ginger one from Super Saturday comes out and does it again as well! I'm pretty happy with that."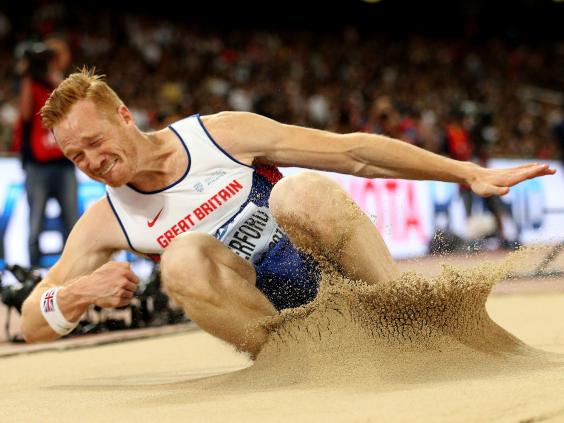 Unlike Ennis-Hill and Farah, many said he was lucky in London; Rutherford's response after another major title: "I'm hoping that's enough for people to accept I am a half-decent British athlete now."
The 28-year-old, who had prepared for the championships by having a long jump pit and runway built in his garden, took just 20 steps on the runway to emulate  his earlier golden achievements, but missed the first steps of his son Milo in the process, which happened while away for this competition.
Of his son, he said: "I can't wait to get home and see him and celebrate and share this moment with him. The last couple of titles I won he was still in [his wife] Susie's belly. Now I have gone out and won a world title."
It was a bizarre competition, with many of Rutherford's rivals struggling to land a legal jump. It was an issue he had personally struggled with in 2008 and he had warned the fast nature of the surface would cause a litany of fouls.
It proved the undoing of pre-event favourite Jeff Henderson, who had predicted a jump of 8.70m was in the offing. Twice he looked like he had attained such a distance but twice he fouled and his best jump of 7.95 meant he dropped out of the competition when the bottom three were cut from the 12 finalists. The Chinese crowd were apoplectic in the ensuing rounds with three of their athletes, Wang, Xinglong Gao and Jinzhe Li, but none of that trio had the capability to overhaul the leader, although Wang took the bronze and Australia's Fabrice Lapierre silver.
Rutherford now finds himself in an elite group, which led Gunnell to tweet: "Welcome to the club". In response, he said: "That's very special. The names in there are some of the greatest in British history. These are the guys I grew up watching."
Reuse content