Hannah Cockroft can be classed as one of the many athletes for whom Rio is coming to represent something more than just an idyllic location on Brazil's coast.
The city's name is taking on new meanings by the day, assuming an almost mythical status in the way it did last summer when the World Cup rolled into the capital.
In 2014, Rio became the prime location for a tournament mired in off-field controversy. The Maracana stadium, the heartbeat of the event for many, was the setting for James Rodriguez's stunning volley against Uruguay. His shot soared through the air and then swooped like an eagle to light up the tournament. Next year the city will demand new heroes and provide a platform for more moments of genius. Cockroft intends to be there.
The 22-year-old enjoyed a successful 2014, winning gold in the IPC European Championship T34 100m and 800m, as well as being named British Athletics Paralympic Athlete of the Year. The latter achievement is one that inspires Cockroft in her quest to convert the promise of Rio into something tangible.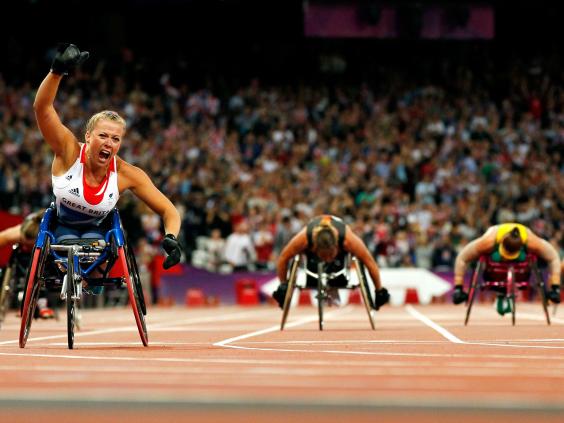 "It's really awesome because the general public vote for that, so it shows people are paying attention to what you do," she said.
"Sometimes when you're having a bad day, it's those people that pop into your head and you think 'I don't want to line up in Rio in 2016 and let them down because I missed a day of training'.
"It really is just so humbling to have that kind of support, to have people believe in what you're doing."
As one of the standout performers at London 2012, Cockroft will be expected to recreate her heroics in Rio. However, she passes up the idea of complacency as though it were a hot potato, choosing to prioritise October's World Championships in Doha instead.
"In reality, I need to become world champion to even consider getting to Rio," she said.
"I'm racing the 800m now because that is the event on offer in Rio for me. I'm training every single day because I don't know what the other girls can do.
"The World Championships will be the first time I can see what I'm going to face in Rio. Between now and Rio anyone could come out and absolutely dominate the track. So it's kind of scary thinking about it, but Rio is always the end goal."
As tempting as it might be to subscribe to the notion of Rio as a place where heroes are moulded and dreams are either realised or evaporated, Cockroft's keen sense of awareness seems to prevent her aspiration from becoming overwhelming.
It's this awareness that serves her well, too, in her role at 17 Management, an agency set up by Cockroft and managing director Ian Byers. The newly founded company represents Cockroft as well as the prolific wheelchair tennis doubles champion Jordanne Whiley and Britain's No 1 race walker, Tom Bosworth.  
Aggravated by difficult experiences with management, Cockroft joined Byers to create 17 and prevent other athletes from enduring the same problems that affected her.
"Because I had so many bad experiences I just want to protect other people from that," she said.
"It's a horrible position to be in because some companies fell out with me because they didn't like my manager. It can really ruin your reputation."
The suggestion that Cockroft is a 21 century superwoman, winning gold medals by day and protecting other young athletes in her spare time, would be anathema to the woman herself. Her role at 17 is not about glory. That pursuit is destined to take place in Rio.
Reuse content