What Sebastian Coe did not say, when he spoke for the first time at length yesterday about the crisis which is sorely testing Britain's faith in Mo Farah, was how awkward this whole business is proving to be for those many people, like him, whose relationship with Nike, its sports science set-up and Alberto Salazar is so long-standing and intricate.
Coe trained in the 1970s at Athletics West – the community set up by Nike to develop track-and-field stars, which was a precursor of the Nike Oregon Project now at the centre of claims by up to 17 athletes that Salazar crossed the line into drug abuse to create winners. Coe was one of the shining lights there, alongside Salazar and Mary Slaney, according to the former senior Nike executive Julie Strasser, author of the definitive book on the company's development.
There is evidence of Coe's importance to the project in a letter written in 1982 by Jeff Johnson – the executive who dreamt up the name "Nike" – in which he despaired of the company's expensive roster of 1,500 athletes and argued the need to get back to the simple task of supporting grassroots events, like the Massachusetts cross-country championships the firm had saved.
"The return on our investment simply isn't there," Johnson wrote in October 1982, the year Coe ranked No 1 in the world at 800m. "We are throwing our money away… So, no more endorsements. If Salazar and Coe and Decker are absent from next year's annual report, then we'll just have to substitute a photo of an entire cross-country field in Nike shoes at a high school championship. Frankly, I think that tells the shareholders a hell of a lot more."
Coe would later serve on a Nike advisory board. He wrote in his autobiography that his Nike income was something he took some comfort in when the costs of a libel case against The Sun were nudging £100,000 in 1984. He had been wrongly accused by the paper of acting boorishly at an annual Athletics Writers' Association event and, unlike his old friend Salazar, he was not backward in coming forward to defend himself. Coe doorstepped editor Kelvin MacKenzie at the paper's office in Bouverie Street, off Fleet Street, and later sued the backside off the paper.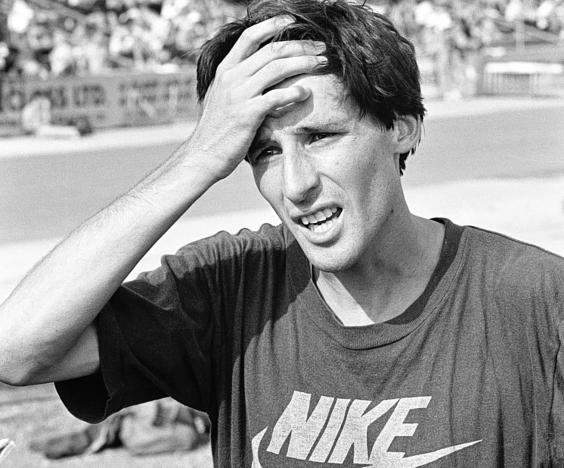 Coe's association with Nike and its coaches does not mean that he is displaying anything less than the utmost integrity as the sport seeks to get underneath Panorama and ProPublica's claims that Salazar's athletes took the doping aid testosterone. But it does underline the length and depth of dependencies and relationships which have formed with Nike, comfortably the biggest and most active sponsor in British athletics. It raises the question as to whether the company has gone beyond the role of financial partner to become an influence on decisions in the sport. Such as whether Farah's training base should, in the first place, be moved to the Nike Oregon Project, 12 hours away on the United States west coast. The company has not returned calls on this and other questions.
The depth of the damage to the credibility and sanctity of the sport grows greater by the day. That is why we are entering the week when Salazar must either emerge from his wreaths of silence and meaningfully challenge the claims made against him or be shown where the door is.
There should be a presumption of innocence, of course. One former Nike executive who knew Salazar from the Athletics West years quietly articulates that she just does not buy that such an impeccably good father as he is would use his son as a guinea pig to determine how much testosterone would trigger an anti-doping test, as has been claimed. "I can't believe that man, with the qualities I know, would do that," she tells me. Salazar does, indeed, deny all allegations.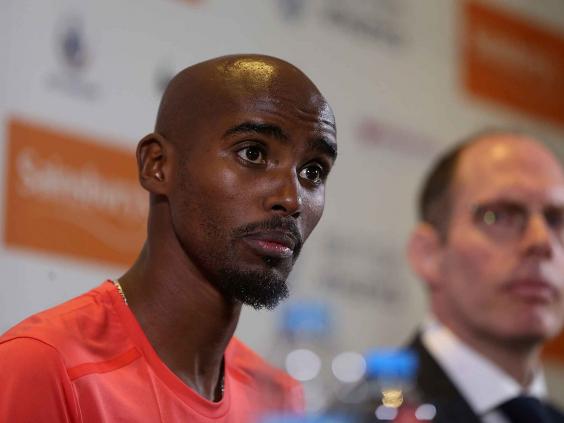 Yet there is an urgency about hearing the details of a rebuttal. All we have had from Salazar in the 12 days since the broadcast of testimony is an email to The Guardian attacking the BBC and ProPublica's journalism and making the gravely serious allegation that their sources had "knowingly" made false statements. That claim of deliberate, wilful deceit is very different from saying there had been misinterpretation.
As Salazar's silence prevails, those at UK Athletics (UKA) who invested faith in him are left to do their best to shore up the sense of sanctity in their sport. But faith and trust threaten to drain away, while UKA is dependent on the Oregon Project complying fully with the request it says it has made for Farah's medical records, which might establish, for example, whether he is using thyroid hormone and whether – based on blood test readings – he needs it. "If you request the medical information you didn't have, and it is incriminating because it supports allegations, then why would that athlete, who has presumably withheld this from you, provide it now?" says Prof Ross Tucker of Free State University, Cape Town. "It's like going to a criminal, who you think stole your things, to please hand them over. He'll empty his pockets but not his bag."
There was evidence last Thursday of a world far beyond Salazar, Oregon and Nike, when the golden moment of the Diamond League event at Oslo suddenly and improbably belonged to Laura Muir, the  22-year-old Scot who is three years into a five-year veterinary medicine degree at Glasgow University. Her 1500m gold, secured by seeing off Sweden's world indoor and outdoor champion Abeba Aregawi and the Kenyan record holder Faith Kipyegon at the Bislett stadium, suggested she is combining the rigours of study and running very well. "It's the biggest thing I've ever won," Muir said. "I was just so scared they were going to catch me; I just ran as fast as I could." Analysis which, at a stroke, seemed to take all the complications out of athletics.
That such an accomplishment elicited precisely 42 words of copy in the printed versions of the national newspapers illustrated the task UKA faces in finding the profile and the money it requires in an environment football monopolises. The process of "tapping into" Salazar and his "expertise around athletic and high-performance analysis" – as Ed Warner, the head of UKA, described it yesterday – has been rewarding but if he cannot answer the questions which have shrouded this sport in a climate of suspicion, then this nation can live without him. This is the week for some answers.
Reuse content