Jessica Ennis-Hill has revealed that doubts from coaches and fellow athletes about her physical size and abuse from Twitter trolls provided her with the drive to win heptathlon gold here over the weekend.
The 29-year-old produced a magnificent sporting comeback on Sunday to win a surprise second World Championships title – with a third potentially on the way if a Court of Arbitration for Sport hearing proves successful in ruling out Tatyana Chernova's 2011 gold.
But the inspiration for the diminutive athlete – she stands at 5ft 5in tall – to achieve such global success dates back to comments by other athletes and coaches after she finished fifth at the World Youth Championships back in 2003.
"I've always been small and one of the smallest out there," she said. "I faced that from coaches and athletes, who felt I was too small to be a multi-eventer. It gives you a push to show you can do it. It helps to motivate me."
Despite her subsequent success, culminating in Olympic glory at London 2012, the doubters re-emerged 12 years on when she opted to make her return to the stage that she had previously dominated.
"In the world we live in now with social media in your face, you try not to read everything," she said, "but you see comments – it might be a nobody on a computer but you read things that make you want to prove you can do it, to focus and come back stronger."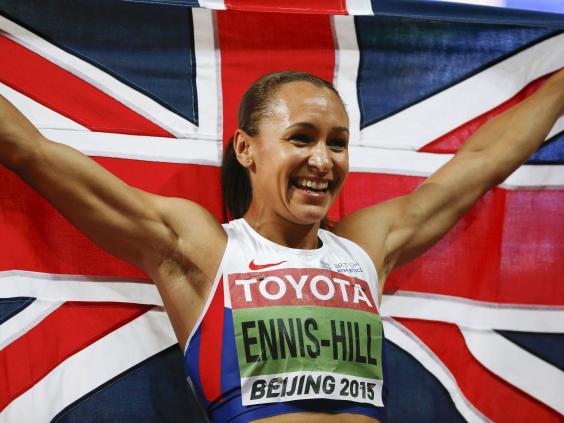 A second world title was never part of the plan for this year. When she tentatively returned after giving birth to a son last year, it was merely a case of dipping her  toe in the water. When she pushed herself, her Achilles crumbled but she was patched back up to take part at the Hypo-Meeting in Götzis at which she got the required qualifying score for next year's Olympics.
Competing here was merely an afterthought but, as it became clear her progress had exceeded expectation, talk turned to a medal but never the gold and world title No 2.
On the prospect of a third being retrospectively awarded, Ennis-Hill had previously given up hope of having Chernova's 2011 gold rescinded despite a backdated ban for doping but the matter is still going through the appeal courts.
The tag of three-time world champion would further cement her legacy and she said: "With regards to 2011, it's frustrating and ongoing. I still want to be world champion for the third time but I hope to get that medal at some time whether that's next year or 10 years down the line."
Her coach Toni Minichiello was rather more pushy on the current medal situation, calling on the newly elected IAAF president to get involved in the matter.
"If Seb Coe is to create a real legacy then make the wheels turn quicker," he said. "Give people their rightful medals before they retire."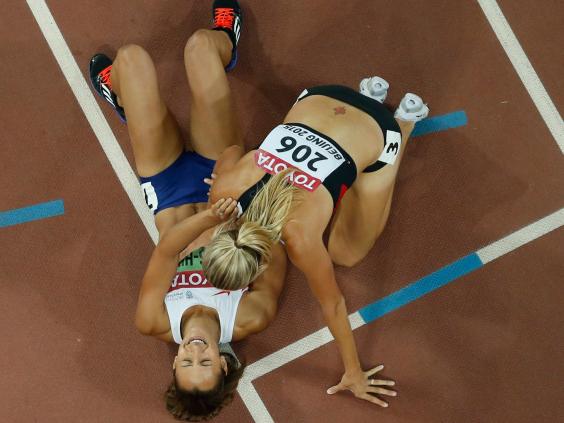 But her time in Beijing was much more a case of celebration of the present than looking back in anger. Last summer, the British athletics sporting story was of another Supermum as mother-of-two Jo Pavey was crowned European champion, one of the athletes to have inspired her on the path back. Only two athletes have had a baby and retained an Olympic title in a four-year cycle: Shirley Strickland, who achieved the feat in the 80 metre hurdles in 1956 for Australia, and Françoise Mbango Etone, a double triple jump gold medallist in 2004 and 2008. That Ennis-Hill is even entertaining the idea is astonishing. Come Rio next year, her son Reggie will be just two.
The 29-year-old says she is a happier athlete than in London 2012 despite a near-300-points tally drop in the intervening three years. "Motherhood has changed me as a person," she said. "When you become a mother it changes your whole life in an amazing way. I'm a much happier person and very content with life. That can only transfer positively. It will make me a better athlete."
Motherhood has turned everything on its head. Where once she would build her entire waking moments around training, the life balance has changed. There are the late-night garage weights sessions after Reggie's bedtime, the realisation that she can no longer have a nap between her two daily sessions and an agreed flexibility between athlete and coach – Minichiello has his own young daughter – on how to best juggle their training programme.
That particular juggling act, she admitted, has been the hardest part of her return, but with the focus on a common  goal – defending the Olympic title.
Not to denigrate from her achievement, Rio will be considerably tougher. The Canadian Brianne Theisen-Eaton will have learned from having crumbled under the pressure of being event favourite while Katarina Johnson-Thompson – whose jump of 6.82 metres would have pushed her team-mate mightily close for the gold had it not been marginally disallowed – will too be stronger for her sharp Beijing learning curve.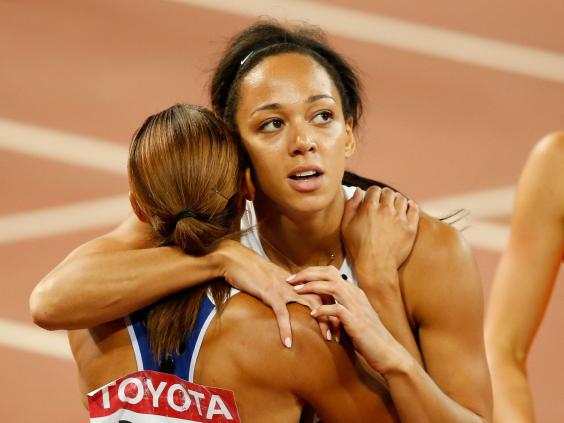 If successful, would it triumph everything that has gone before, even the giddy days of London 2012? "I think it would," she concluded, "without a doubt."
Reuse content