Such is the positivity that oozes from Katarina Johnson-Thompson, she can even make an injury sound like a plus.
Last year a stress fracture in the heptathlete's take-off foot for the high jump and long jump forced her to miss both the Commonwealth Games and the European Championships, the tiniest fissure of bone effectively erasing her outdoor season.
It was, she admits on reflection, meant to be her time. Instead her time has merely been delayed, for this year the 21-year-old is one of the world's form athletes in any discipline.
"I think last year, that injury changed me as a person and I'm not afraid to compete any more," she said on the eve of the European Indoor Athletics Championships in Prague, where on Friday she begins her attempt to win the pentathlon title. "I know that's  what I love and that's what I want to do. I just want  to compete."
Prague will be her first pentathlon since 2012 and, should she win, it will be her first major title. The form book and her victory last May at the annual Hypo-Meeting in Götzis – the  de facto world championships for multi-discipline athletes – suggest she should.
Already this season, she is ranked second in the world in the long jump and fourth in the high jump, events in which she is effectively a  part-timer.
Those results – both British records – have raised eyebrows, but not of the Liverpudlian: "I haven't exceeded my own expectations," she said. "I wanted to show the world what I should have done last year so I'm still continuing that journey and hopefully into the summer too."
Johnson-Thompson admits that the pentathlon is arguably better suited to her skill set than the heptathlon as it has just one throwing event – the shot put – to contend with.
Those personal bests of 1.97 metres in the high jump and 6.93m in the long jump in back-to-back weekends last month would be enough to warrant 2,347 pentathlon points, almost halfway in just two events to Jessica Ennis-Hill's British record of 4,965.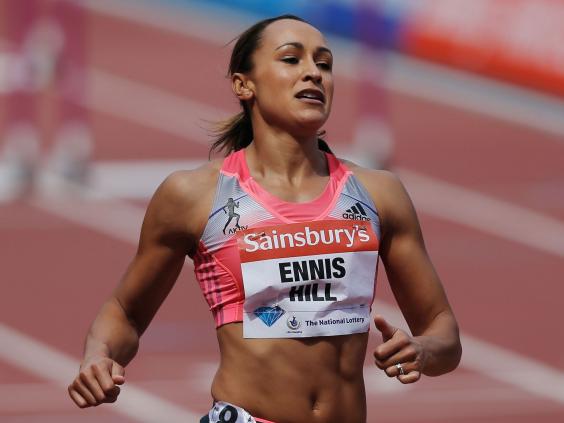 That record looks attainable; so too the world best of 5,013 by Nataliya Dobrynska, the only athlete in the history of the event to have cleared the 5,000-point mark.
Johnson-Thompson is adamant neither record is a target in Prague: "I don't want to go there and look back and say, 'oh if I'd have done this I could have got this record'. I haven't been in a European Indoor Championships before and I haven't done a pentathlon in a major championships before, so I just want to go there and do myself justice.
"I don't really get it when people go after records and targets and certain things in their head that they want to achieve. I think being competitive and medalling should be the main target for people. For me it's about being there in the competition and being competitive."
The diminutive figure of Ennis-Hill, plotting her own return to action this summer after the birth of her son Reggie last year, is never far away from any conversation with Johnson-Thompson.
But the suggestion that Prague could be a chance to lay down a catch-me-if-you-can marker to the Olympic champion warrants little more than a laugh from the young pretender.
It is a tantalising rivalry including the up-and-coming talent of schoolgirl Morgan Lake, who will also compete in the pentathlon at the European Indoors, to such an extent that Johnson-Thompson jokes it could one day become the UK's national sport.
For all Johnson-Thompson's light-hearted approach, there is an expectation on her to win gold, with the athlete very much seen as a flag bearer for the 38-strong British team.
Despite that, she is laid back to the point of horizontal, even as the clock ticks to the opening event, the 60m hurdles on Friday morning.
"My coach [Mike Holmes] said 'are you all right about next weekend?' and I was like 'yeah, yeah, I'm fine, good to go'. I wouldn't be one of those people who go within themselves and start to worry.
"This year I haven't felt nervous to compete or worried and stuff. I've just wanted to go out there and compete so it's obviously helped me, as the results are showing. It's doing me good. I am very riled up and raring to go and I want to know what I can score because it's been a while."
Reuse content