For Katarina Johnson-Thompson, 2015 is a year of change. A diehard Liverpool fan, she is still reeling from the news that Steven Gerrard, the player whose name adorned her club shirt growing up, will quit Anfield at the end of the season to join LA Galaxy.
Meanwhile, in her other sporting love – the track – she is set for a proper head-to-head with Jessica Ennis-Hill, taking on the Olympic heptathlon champion for the first time on an even footing, depending of course how Ennis-Hill returns to action this season.
Of the two upcoming events, news of the impending departure of Gerrard, who made his Liverpool debut when Johnson-Thompson was just five years old, is still the more challenging for her to take in.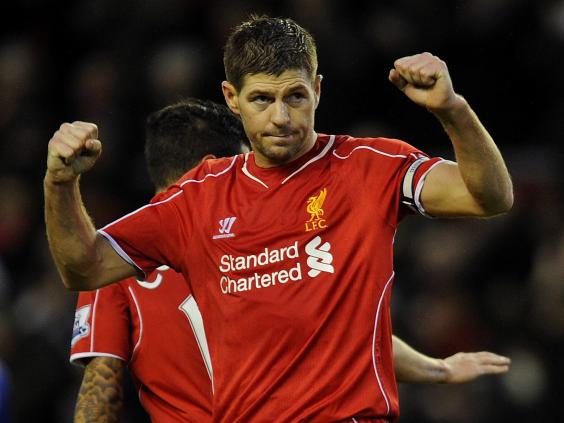 On hearing it just a week before her 22nd birthday, she says: "I was devastated. For me, I can't see Liverpool  without Steven Gerrard because he's just been there since I was a kid. I had him on the back of my shirt, he's always been on the team every time I've watched Liverpool. It's going to be really weird next season... a Steven Gerrard-less Liverpool side."
While the former England captain's career is inevitably approaching its twilight years, Johnson-Thompson's is very much in its infancy, the 2014 season proving to be a partial coming of age. With Ennis-Hill out of the sporting spotlight giving birth to son Reggie last summer, she was able to shine.
There was a World Indoor silver medal in the long jump – an event in which she is not more than a part-timer –  followed by victory in the prestigious annual Hypo Meeting in Götzis, Austria, attended by the world's leading multi-eventers.
But with the Commonwealth Games and European Championships looming, a foot injury brought a sudden and premature end to Johnson-Thompson's season, robbing her of a chance of a golden end to the summer.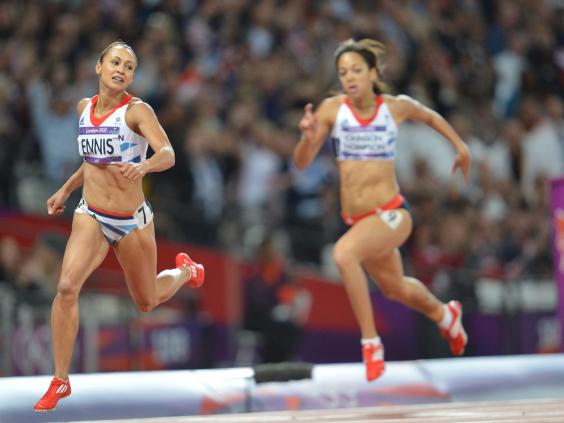 Back fully fit, the Ennis-Hill rivalry – a facet that has followed the younger heptathlete's career since she properly made her competitive bow at London 2012 – will become even more pertinent now.
Ennis-Hill is herself back in full training and confirmed she will compete in Götzis at the end of May, creating a showdown that has the  makings of shaping the sport in the seasons to come.
Of her rival's return in Austria, Johnson-Thompson says graciously: "It's definitely good news. Every heptathlete knows it's the biggest event to do outside the Olympics and World Championships. It was obvious this was always going to be the return heptathlon for Jess so it's good all the big names are being announced."
As defending champion, Johnson-Thompson knows she is the one to beat while Ennis-Hill, for all her past heroics most notably at London 2012, has the  rarity of being somewhat of an unknown quantity.
But does the young pretender ponder what her British rival might be doing in training? Is there a sense it drives her on as she approaches her own first event of the year, the England Athletics Senior Combined Events Championships in Sheffield this weekend?
"My mind doesn't work like that," she insists. "It used to work like that when I was younger with different competitors. Like I used to think 'they're doing that' and sometimes you can see what they're doing on Facebook. But especially in heptathlon, it's an individual event with all the different stages so you've just got to look after yourself to an extent."
Her medical team have done just that, getting her back to full fitness in eight to 10 weeks and she is adamant such injury problems are in the past and will not in any way curtail her this season.But there is still the disappointment of a missed summer having already put in all the ground work, limping out of her last warm-up event for the Commonwealths before having to take the painful decision to call time on the season.
"It was really disappointing I did all the work and couldn't gain the rewards in terms of doing well in the actual competition," Johnson-Thompson says. "It's history, I just have to move on and look forward to this year. Not thinking about it will help me concentrate on this year."
--
KTJ's SEASON AHEAD
14-15 February* Indoor British Ch'ships and Trials (Sheffield)
21 February* Indoor British Grand Prix (Birmingham)
4-6 March European Indoor Championships (Prague)
30-31 May Hypo Meeting (Götzis)
7 June* Diamond League (Birmingham)
24-25 July* Diamond League (London)
22-30 August World Championships (Beijing)
*to be confirmed
--
Katarina Johnson-Thompson will compete at the Sainsbury's Birmingham Indoor Grand Prix on Saturday 21 February. Tickets are available now via www.britishathletics.org.uk
Reuse content