Professional athletes, seasoned marathon runners and first-timers will all take part in Sunday's Marathon around the capital.
The 26.2 mile course is incredibly gruelling so here's some last minute advice for lasting the distance.
Don't do too much training before the race - relax
Whether you are a marathon veteran or are participating for the first time, the likelihood is that you will have trained for months to get yourself ready for the race. Preparations should have been toned down in the weeks leading up to the marathon anyway, so make sure not to do too much in the few days before the race. After all, you need to be fresh on the day.
Be rested and ready
Make sure that you are getting enough sleep in the build-up to the race and aim for eight hours on the night before the race. This will help your body to recover and ensure you are ready to complete the circuit.
Don't wear new running shoes
Stick to what you have worn throughout your training. In the past, some runners have complained of buying fresh trainers and then struggling with blisters throughout the race. Comfort is vital when running a marathon so wear what you are used to.
Make sure you have breakfast beforehand
Don't go into the race without eating beforehand, but make sure your body is familiar with the food you decide to consume and don't eat too much. Have your breakfast around two hours before the marathon starts and stick to carbohydrates and protein.  
Arrive early to ensure pre-race preparation is completed
You don't want to arrive late, rush through some stretches and panic when you can't find where to go. So get to the start early, relax, perhaps by listening to music, and make sure your body is ready for the demands of the marathon. Remember to stretch properly and keep in mind that public transport is likely to be crowded in the hours before the race.
Don't start too fast
It's easy to let adrenaline take over and charge off at an unsustainable speed. Don't do that. Start at a comfortable, slow pace to reduce the risk of feeling as though there is nothing left in the tank later on in the race.
Take on enough fluids
It's vital to stay hydrated throughout the marathon. There are stations located throughout the course where runners can take on water and glucose drinks. Make sure not to take on excess amounts of fluids and don't consume anything that your body isn't used to.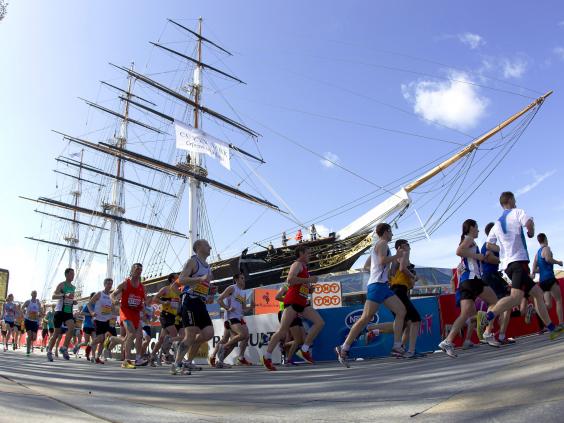 Break the race into sections
Running a marathon is a long old slog. Don't look at the course as 26.2 miles; break it down into more manageable distances. For example, getting beyond the halfway mark can provide a real psychological boost. Think about why you are taking part, who has helped you through your training and dedicate a small distance to them. Believe in yourself.
Enjoy it!
Completing the marathon is an achievement to be proud of. Take in the atmosphere, absorb the cheers of the crowd and take in the views of some of London's top tourist attractions.
Take time to recover after the race
Plan a day off work after the marathon. Make sure you relax - if you feel the need to exercise, start with a short walk. Eat well, making sure to consume plenty of carbohydrates. If you feel brave enough, have an ice bath or alternatively enjoy a massage.