Double Olympic champion Mo Farah collapsed shortly after crossing the finishing line in an incident-packed New York City half-marathon on Sunday.
Farah recovered from a painful fall approaching halfway to finish second to Kenya's Geoffrey Mutai, but was then pictured lying on the ground in the finishing area before being taken away in a wheelchair.
Thankfully, he recovered quickly and did not need to be taken to hospital. The fact that Farah felt well enough to talk to reporters within an hour of the race was proof that his condition was not too serious, although the incident was hardly ideal preparation as he prepares for next month's London Marathon.
"I do remember sort of passing out," Farah said. "I tried so hard in the race, taking a fall and then going through. But yeah, I'm all right. It's fine. It's not a big deal."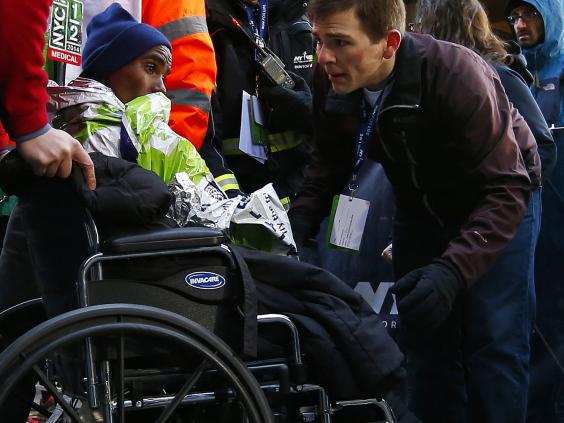 Farah was in the leading pack of eight athletes when he was sent crashing to the Tarmac after seemingly being accidentally tripped from behind. He quickly got back to his feet and resumed running, but Mutai took full advantage of the incident to pull clear with compatriot Stephen Sambu.
Mutai, who clocked the fastest marathon time in history in Boston in 2011 and has six sub-60 minute half-marathons to his credit, eased away from Sambu on 42nd Street and went on to win in 60 minutes 50 seconds.
Farah slowly reeled in Sambu and eventually edged ahead with 800 metres to go before holding off the 25-year-old on the line to clock 61min 8sec, just outside his British record of  1hr 59sec set in New Orleans in 2013.
The 30-year-old, who won the 5,000m and 10,000m golds at the 2012 Olympics and is now preparing to run his first full marathon in London, added: "I'm not sure what happened [when he fell during the race], I just remember sort of falling down and just hitting the ground quite hard. I got caught on my hip, my ankle, the whole right-hand side.
"When I fell, I fell pretty hard. I told myself 'don't rush' but when I saw the gap, the gap was big. London won't be as cold as this.
"For the last four miles I struggled a bit. I was pretty much seeing stars. It would have been nice to win today, but he [Mutai] is a good athlete. Nothing changes for London – I will just keep training."
Farah  later took to Twitter to allay fears for his health.He wrote: "Hi guys... I'm doing ok... thanks for the concern... disappointed with today... I gave 110%... couldn't do any more... sorry guys..."
His team attributed the collapse to the stark change in temperature after spending two months training at high altitude in Iten, Kenya.
Farah, who had said he was targeting his British half-marathon record in New York, is due to return to Kenya on Tuesday for two more weeks of training under the tutelage of his American coach, Alberto Salazar, before coming back to Britain ahead of his marathon debut.
It is not the first time the Somali-born athlete has collapsed after finishing second in a race. He did the same in the 2009 European Cross Country Championships in  Fingal, Ireland.
Reuse content