Rolanda Bell's tumble into a water jump is definitely not the way to tackle the steeplechase, but if she were in a diving contest, the Panamanian runner would have scored top marks.
During today's action at the Athletics World Championships in Beijing, Bell made literally the biggest splash of the day.
Competing in the 3000m steeplechase event, the 27-year-old misjudged a jump and the consequences were as spectacular as they looked painful.
Bell managed to pick herself up and finish the heat, but after the tumble, it was little surprise that she failed to qualify for Wednesday's final. She finished 20 seconds behind the winner in last place.
Watch the fall below...
Vidéo: Rolanda Bell (Panama) invente une nouvelle discipline aux Mondiaux de #Beijing2015 : le 3000m steeple plongeon pic.twitter.com/MG8mtBgZkZ

— Grégoire Corthay (@yahtroc) August 24, 2015
Bell thanked fans for their support shortly after the race, writing on Twitter: "Thanks to Panama for all the support of our team this year."
Gracias a Panamá por todo el apoyo de nuestro equipo este año. vamos a animar a Alonso y Yvette juntos en su competencias aquí en Beijing!

— Rolanda Bell (@R0_BELL) August 24, 2015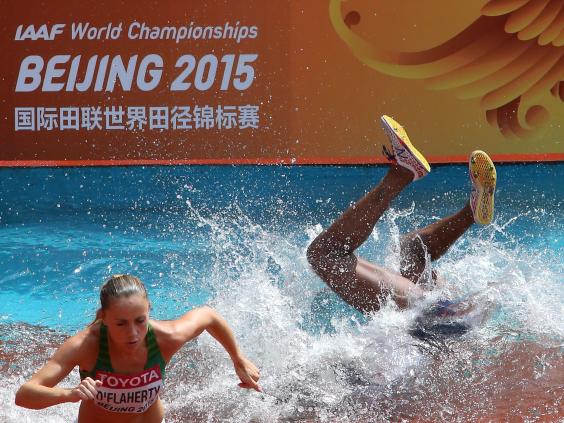 The final takes place on Wednesday.
Reuse content