The cameraman who sensationally knocked down Usain Bolt while on a Segway after the Jamaican's 200m triumph yesterday has spoken for the first time since the dramatic incident, and has given Bolt a good luck charm to wear on his wrist as his way of apology.
The cameraman has been identified as Song Tao, who has covered many sporting events such as the Asian Games and the Olympics. He was back at work today at the World Athletics Championships in Beijing, where he gave Bolt to gift on the podium after the sprinter collected his gold medal.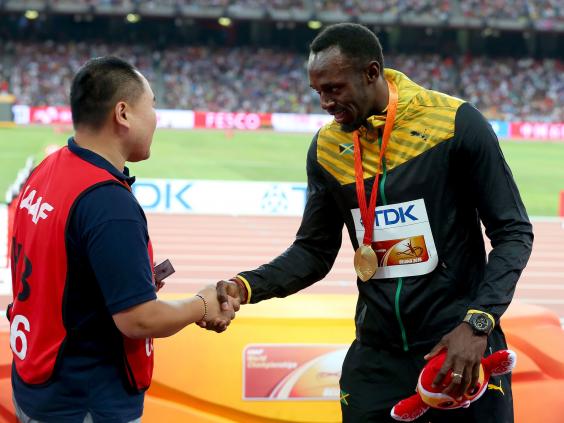 "The important thing is that he is OK. I'm fine and ready to get back to work," Song told the Guardian via his colleague who translated for him.
The incident looked nasty as the time, with the cameraman accidentally driving into Bolt, wiping him out.
WATCH: CAMERAMAN TAKES OUT BOLT
Bolt got up and laughed it off, however. In his press conference after the race, he jokingly blamed it all on his rival, who he had beaten for the second time in five days, Justin Gatlin.
Bolt knocked down by Segway
Bolt knocked down by Segway
1/5

Usian Bolt of Jamaica is hit by a cameraman on a Segway as he celebrates after winning the men's 200 metres final at the 15th IAAF World Championships at the Bird's Nest Stadium in Beijing, China,

Reuters

2/5

Bolt falls after being knocked over by the cameraman on a Segway

Reuters

3/5

Bolt quickly recovers his feet as the cameraman apologises

Reuters

4/5

Bolt sees the funny side though as the cameraman lies on the floor embarrassed

Reuters

5/5

Bolt soon returns to see if the cameraman is ok

Reuters
"I did not hit a cameraman. He took me out," said Bolt, who held on to his track spikes with his right hand as he did a backward roll to get back onto his feet.
"The rumour I am trying to start right now is Justin Gatlin paid him."
Silver medallist Gatlin, sat next to Bolt at the post-race news conference, quipped ruefully: "I want my money back."