Usain Bolt has no problem running against drugs cheat Justin Gatlin but also has no doubt about beating him in their hotly anticipated duel at next month's World Championships in Beijing.
Gatlin has been the form sprinter this season with four times under 9.8 seconds over 100 metres including a best of 9.74, while Bolt has barely featured on the track. But the world's fastest man, who returns to the Olympic Stadium this weekend for the Anniversary Games after a season of relative inactivity and a pelvic problem, has no qualms about his lack of competition.
Gatlin has not been invited to the event because of his two doping bans and, with his chequered past, should the American be the sprint star at the Worlds it would provide headlines that athletics could do without.
Asked if a win by the American in Beijing would be bad for the sport, Bolt said: "I'm not planning to lose so I can't really answer that."
But Bolt interestingly admitted he did not have a problem with Gatlin's past, despite two doping indiscretions by the American. Gatlin was first banned in 2001 after testing positive for amphetamines with a latter suspension in 2006 after a positive sample for testosterone.
Bolt, who has never been beaten by Gatlin at a major championships, said of his rival's previous misdemeanours : "Justin Gatlin was before my time. I'm not saying it's right what he did but it happened when I was first coming up through the sport."
Instead, Bolt's venom was saved for Tyson Gay, who will also be at the Worlds. Gatlin's team-mate has been Bolt's closest rival for much of his career but he tested positive for a banned steroid in the summer of 2013 and was given a two-year ban, later halved following cooperation with the United States Anti-Doping Agency.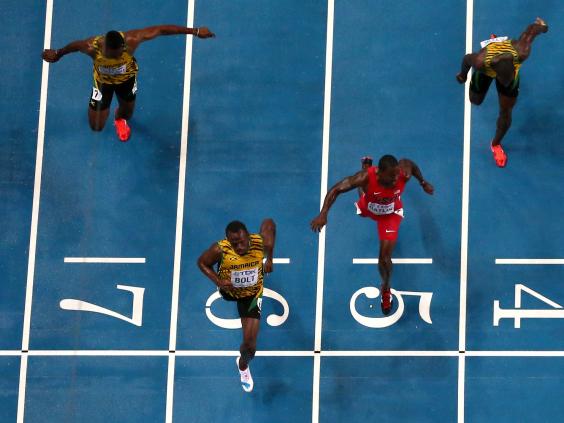 Explained Bolt: "The only person I had a problem with was Tyson. The reason is I competed against him throughout the years and had so much respect for him. I looked at him as one of the greatest I have ever competed against. He worked hard so, when it happened, I was really disappointed. That was the one that really hurt me.
"I always talked about Tyson with my best friend and said there was one thing I was sure about and that was that Tyson would show up for competition. It made me work hard and dedicate myself, so when you hear that someone is cheating it really hurts as an athlete to know the person you really look up to is banned for drugs. It really bothers me."
It is a testament to the position in which athletics currently finds itself that many of the questions at his pre-Games press conference were less about Bolt's return to the track, of which he admitted there was an element of the unknown – "we'll see tomorrow" – than doping, including the position of Mo Farah in the wake of allegations against his coach Alberto Salazar.
Bolt and Farah share the same agent in Ricky Simms and swapped poses at London 2012 – something Bolt said could be repeated with both men in action.
The Jamaican said: "I have come through the ranks with Mo so I've seen the work he's put in so I'm sorry for Mo because every day they are trying to tear him down. He works so hard to get where he is so for somebody's mistake to cause him problems.
"I just hope he doesn't take it too seriously, that he doesn't let it stress him out. It's part of the sport that people like to point fingers sometimes but hopefully he won't take it too seriously."
As for Farah's decision to stay with Salazar despite an ongoing Usada investigation into his alleged practices, Bolt added: "When you have confidence in your coach over the years and you know who he is as a person, of course you're going to want to support him as an athlete. If he believes in his coach, I believe in him."
Reuse content