Amir Khan says that should he get past Devon Alexander on 13 December he would rather test himself against the unbeaten Floyd Mayweather than the Philippine great Manny Pacquiao.
One of the two super-fights could await Khan next year if he prevails against Alexander in Las Vegas, and for the 27-year-old, beating Mayweather would be a bigger deal than overcoming former sparring partner Pacquiao.
"Obviously Mayweather is unbeaten. Pacquiao in his last few fights has been beaten," Khan told The Independent. "If you beat Pacquiao people are going to be like 'he got beaten in his last few fights anyway,' whereas if you beat Mayweather who's undefeated, I think that'd be a massive win."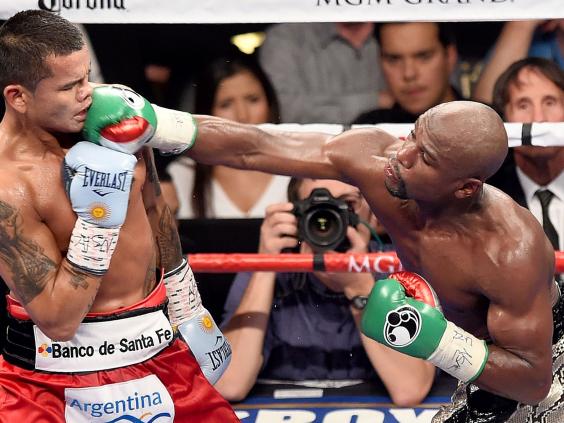 Khan was speaking to The Independent last week before Pacquiao, who faces the unbeaten Chris Algeri in Macau on Saturday, spoke with The Telegraph about his desire for a bout with Khan.
Career in pictures: Floyd Mayweather
Career in pictures: Floyd Mayweather
1/6 Floyd Mayweather

Floyd Mayweather triumphs in his rematch against Maidana last month by a unanimous decision, making easier work of his opponent than in their first bout

REUTERS/Steve Marcus

2/6 Floyd Mayweather

Floyd Mayweather and Marcos Maidana square off during their press conference to promote their rematch for September 2014

GETTY IMAGES

3/6 Floyd Mayweather

Floyd Mayweather hands previously unbeaten Saul Alvarez a boxing lesson and leaves him slumped and desolate in his corner in September 2013

Getty Images; AP

4/6 Floyd Mayweather

Floyd Mayweather throws a jab to the face of Robert Guerrero during his comfortable win in May 2013

5/6 Floyd Mayweather

Floyd Mayweather is forced against the ropes in his last fight, against Miguel Cotto but prevailed by a unanimous decision in 2012

AFP/Getty Images

6/6 Floyd Mayweather

Floyd Mayweather knocks out Victor Ortiz in the fourth round of their 2011 bout at the MGM Grand, Las Vegas

AP
The 2004 Olympic silver medallist says that he is now at the stage of his career where only the biggest fights interest him, and he would relish the "tactical" battle with Mayweather, who holds an unblemished record of 47-0.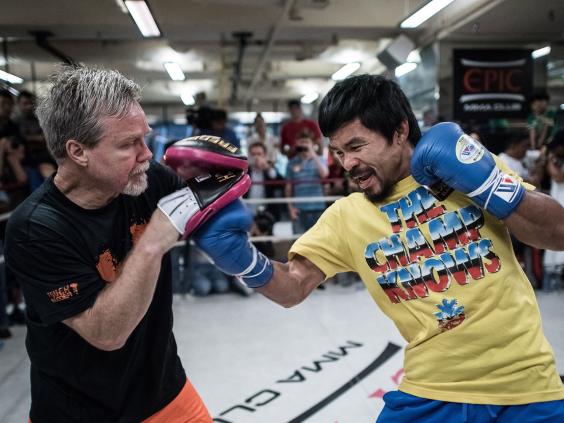 "I think Pacquiao would probably be a more [of a] work fight where you have to throw a lot more punches and more pressure and it would be much more work." he said. "Whereas with a Mayweather fight it would be more of a tactical fight: more skilful, more movement, more picking the rights shots at the right time."
But first up is Alexander.
"It's one of, definitely one of the biggest fights. Devon is a fighter who is very skilful and quick like myself so it's going to be who's the quickest and who's the more skilful fighter. I don't think there's anyone that comes to me with that quickness and that skilful style in all my 32 fights," Khan said.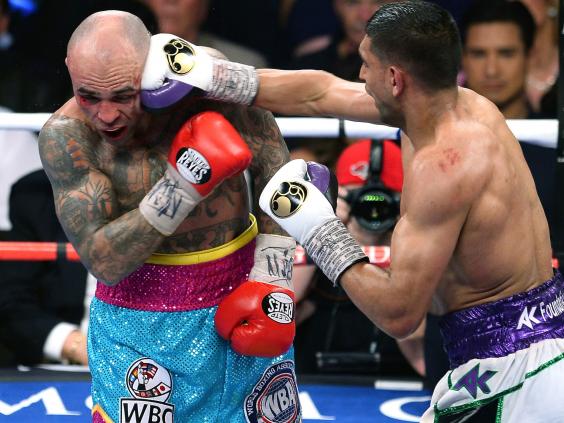 "This fight will only lead to bigger and better things. I never say no to an opponent, I take it."
Read the full interview with Amir Khan in The Independent Magazine, published on 29 November
Reuse content