Amir Khan intends to win in style when he faces Chris Algieri in New York on Friday night but knows a setback against the American would be disastrous for his career.
Khan has rejected a meeting with British rival and IBF welterweight champion Kell Brook in order to duel with a fighter who was knocked down six times by Manny Pacquiao in his last outing.
The 28-year-old from Bolton is ready to send a message out to Pacquiao and Floyd Mayweather that he is a credible challenger, while accepting the consequences if he fails to deliver.
"It's not only about winning this fight, it's about winning in style and looking good," Khan said. "I want to put a great performance in and send a statement around the world about who is Amir Khan. I'm 28 now and at that stage of my career where I can't afford to make any mistakes."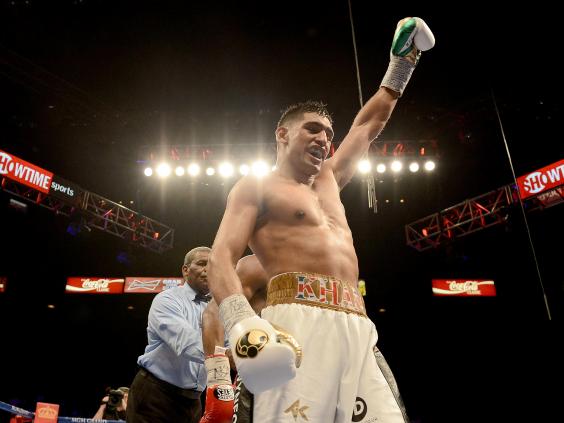 Brook, meanwhile, is hoping to send shockwaves through the welterweight division when he defends his IBF world title against Frankie Gavin at the O2 Arena in London tomorrow night. Brook had sought a lucrative bout with Khan, only for his bitter rival to decline a Wembley Stadium fight this summer in favour of facing Algieri.
Instead, Brook will face another British fighter in Gavin and the 29-year-old from Sheffield intends to put on a spectacle for the 18,000 crowd while extending his unbeaten record to 35 wins. "I'm expecting Frankie Gavin to come and fight. We will give the fans what they want and that's action," Brook said.
"I'm looking to seek and destroy and prove I'm the  No 1 in the world in the division. I know Frankie will be up for it because if you're not up for a world title fight, you won't be up for any fight.
"No corners have been cut in the gym and we're ready. Frankie is a class act and can cause anyone problems at world level."