Three boxers in two hotels, in just one city will try on Saturday night  to secure a fight with either of boxing's two raging cash cows on a night in Las Vegas that should be called Retirement Day.
Amir Khan fights for his life as an elite boxer when he meets former double world champion and the invisible man of modern boxing, Devon Alexander, over 12 rounds at the MGM. Khan, now 28, has slugged his way through 10 memorable years of highs and dreadful lows inside the ring to end up facing Alexander; his entire career is the prize and not just a hastily manufactured leather and diamond belt.
The real prize, however, is a fight during the next 12 months with either Floyd Mayweather or Manny Pacquiao, probably back in Las Vegas and with as much as $5m attached to the $950,000 that he is getting for Saturday night. However, both of boxing's major earners have the type of options that Khan and the other fighters that are desperate for a last waltz can only dream about: Mayweather and Pacquiao can pick and chose and, it has to be said, neither seem too keen to entertain Khan.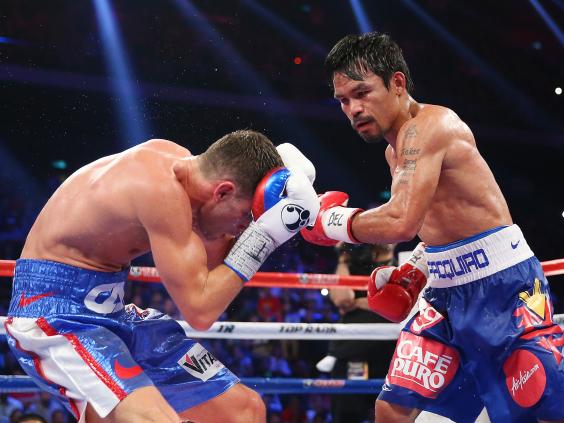 Alexander is younger than Khan, has lost only twice, been avoided by too many and has the type of slippery southpaw skills that ruin the plans of the very best pugilists in any era. Khan has fought a lot of southpaws but nothing he picked up in any of those scraps will help him once the fight starts and he could find his clumsy attempts at imitation clattered by Alexander's fists.
Khan now has Virgil Hunter in his corner and the Californian's soothing voice and calm and cautious approach can only help balance the anarchy that far too often rules Khan's head once he is hit. "It's in my blood to fight and that has been my problem," said Khan. "I get beat when I rush in, hands low and throwing punches wildly. Virgil has taught me to think."
In May the pair, having had nearly a year in the gym, put the new Khan on display against Luis Collazo and it was impressive.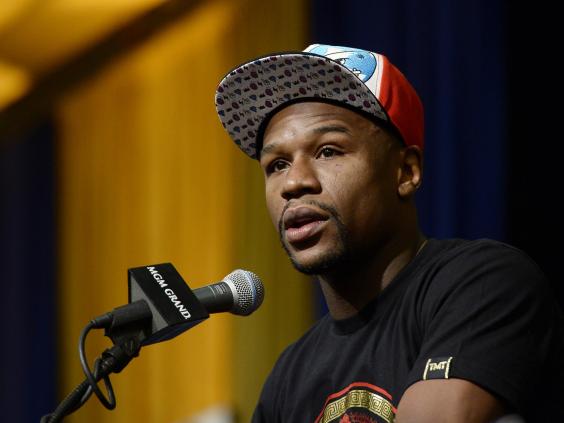 On Saturday, Khan has to put Alexander under enough pressure from the first bell without trying too hard; the real problem is that Alexander makes people commit and that is when he pounces with his deceptively powerful counters. Khan could be five rounds down after six and that is when his relationship with Hunter will be put under severe pressure. There is every chance that the old slugger will have to emerge at some point on Saturday night, which will risk the wrath of Hunter but keep Khan in the chase for the cash and a fight with Mayweather or Pacquiao.
On the same bill as Khan is a dangerous puncher called Keith Thurman in a defence of his interim WBA welterweight title against a man called Leonard Bundu, who is 40 and unbeaten in 33 fights. Thurman knows that he is close to getting a call for either a Mayweather or a Pacquiao fight and if he can manage to stop or knock out Bundu he could possibly replace Khan as the leading contender.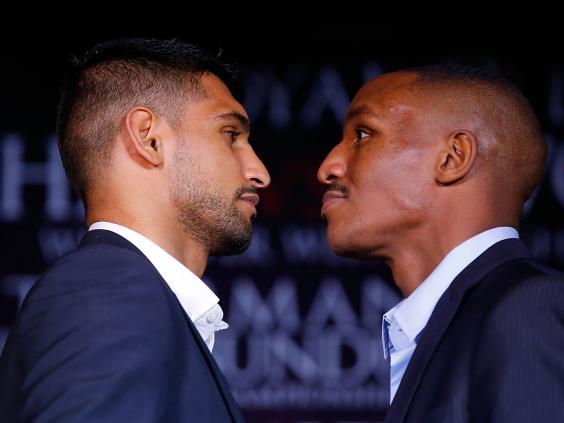 Meanwhile, not far from the MGM there is another casino called the Metropolitan and they have perhaps the very best of the welterweights on display on Saturday  when Tim Bradley, who has won and lost in fights with Pacquiao, meets a dedicated dirty fighter called Diego Chaves from Argentina. Chaves has perfected illegal punches and moves that the great gladiators from the Fifties would applaud and on Saturday  he is under pressure not to elbow Bradley, knee him or slice his eye with the inside of his glove.
Bradley, one of only two men to have beaten Alexander, has to keep it clean, stay smart and then he will be in prime position for a May fight with Mayweather at the MGM. Bradley is one of boxing's good guys and should have been on Mayweather's shopping list two or three years ago.
Career in pictures: Floyd Mayweather
Career in pictures: Floyd Mayweather
1/6 Floyd Mayweather

Floyd Mayweather triumphs in his rematch against Maidana last month by a unanimous decision, making easier work of his opponent than in their first bout

REUTERS/Steve Marcus

2/6 Floyd Mayweather

Floyd Mayweather and Marcos Maidana square off during their press conference to promote their rematch for September 2014

GETTY IMAGES

3/6 Floyd Mayweather

Floyd Mayweather hands previously unbeaten Saul Alvarez a boxing lesson and leaves him slumped and desolate in his corner in September 2013

Getty Images; AP

4/6 Floyd Mayweather

Floyd Mayweather throws a jab to the face of Robert Guerrero during his comfortable win in May 2013

5/6 Floyd Mayweather

Floyd Mayweather is forced against the ropes in his last fight, against Miguel Cotto but prevailed by a unanimous decision in 2012

AFP/Getty Images

6/6 Floyd Mayweather

Floyd Mayweather knocks out Victor Ortiz in the fourth round of their 2011 bout at the MGM Grand, Las Vegas

AP
Khan should win, Thurman and Bradley will win and then the dark cold desert night will conceal the negotiations that will inevitably take place – Mayweather has previously picked his next opponent by phoning in his nomination from his Las Vegas home.
There is, sadly, little chance that Alexander, Bundu or Chaves will get a ticket to the Mayweather and Pacquiao sweepstakes unless they win with chilling knockouts. Mayweather and Pacquiao and their people know what they want and it is just a pity that they do not want each other. It is good news for Khan and the others.