It was 30 years ago that Tottenham's Roy Gumbs travelled to South Korea to fight for the IBF super-middleweight title at the old distance of 15 rounds in what was the sport's newest division.
Gumbs was stopped in two rounds by Park Chong-pal that afternoon in Seoul but it was the start of a glorious love affair between the 12-stone division – the super-middleweight limit – and British boxers that includes the title reigns  of Chris Eubank, Nigel Benn, Joe Calzaghe and Carl Froch.
On Saturday James DeGale, a fighter with all the privileges Gumbs lacked, will meet Andre Dirrell for the same IBF super-middleweight title in Boston, seeking to keep the tradition active. The belt is the one that previously belonged to Froch before he was forced to relinquish it.
Once the title was vacant there was a purse-bid process. DeGale's promoter, Eddie Hearn, put in a bid of $2.1 m (£1.35m), which should have been enough, but Dirrell's secretive adviser Al Haymon stumped up a bewildering $3.1m (£2m) to win easily. DeGale will make just over £1m, a vast sum for an afternoon fight, against a quality but anonymous fighter.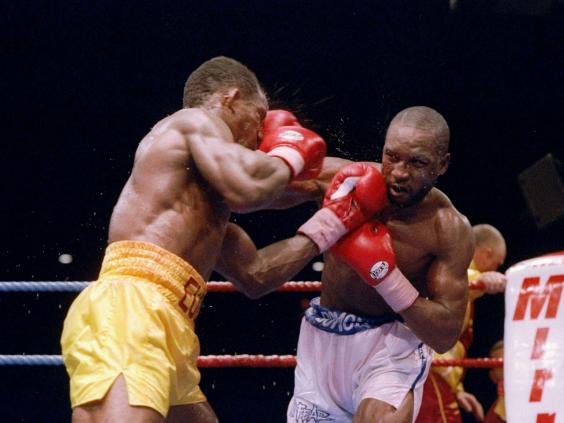 Dirrell is not an attraction in America but he is an excellent boxer, a mix of craft and guile, and he caused Froch plenty of problems when they met in 2009. On that night the British fighter won by a split vote and after that Dirrell's career took a crazy turn. In his next fight it looked as if he was out of the sport for good after suffering a curious head injury in a bad-tempered encounter with Arthur Abraham. Dirrell won by disqualification when, in a fight he was winning on all three scorecards, he slipped on the wet canvas in a corner and was clobbered illegally by Abraham in round 11.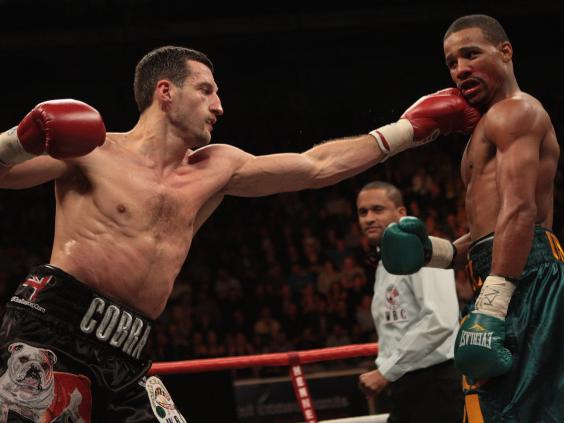 Dirrell was forced to take a break of 18 months when a brain scan revealed some type of abnormality, but he was eventually declared fit to continue and has fought just five times since. Abraham, by the way, is the WBO champion at super-middleweight right now. In their fight in 2010 it actually looked like Dirrell was running short of ideas, retreating and holding when Abraham stupidly whacked him as he slipped. The subsequent scan conveniently ended all talk that Dirrell would have been stopped in the remaining minutes.
If DeGale can get to Dirrell on Saturday he will become the first British Olympic gold medallist to win a professional boxing title. He will also add his name to a glorious list that includes the quartet of Froch, Benn, Eubank and Calzaghe – the four have dominated the super-middleweight division since 1991 when Eubank, watched by 17 million people on ITV, became the first British super-middleweight world champion. They all, by the way, won their titles in Britain and seldom took their belts on the road.
Gumbs was not the first British boxer to fight for the super-middleweight world title; the inaugural champion of the IBF's belt back in 1984 was Murray Sutherland, who was based in Canada and born in Edinburgh. Sutherland was knocked out by Park and then Park stopped Gumbs – both fights took place in South Korea.
DeGale will certainly have more chance of hearing the first bell than Gumbs, who was always on a losing mission going to Seoul in 1985, but winning any world title on the road is always a lot harder. DeGale has the extra money, but that will not help him during the fight and that is because it is impossible to put a price on home advantage.
Reuse content